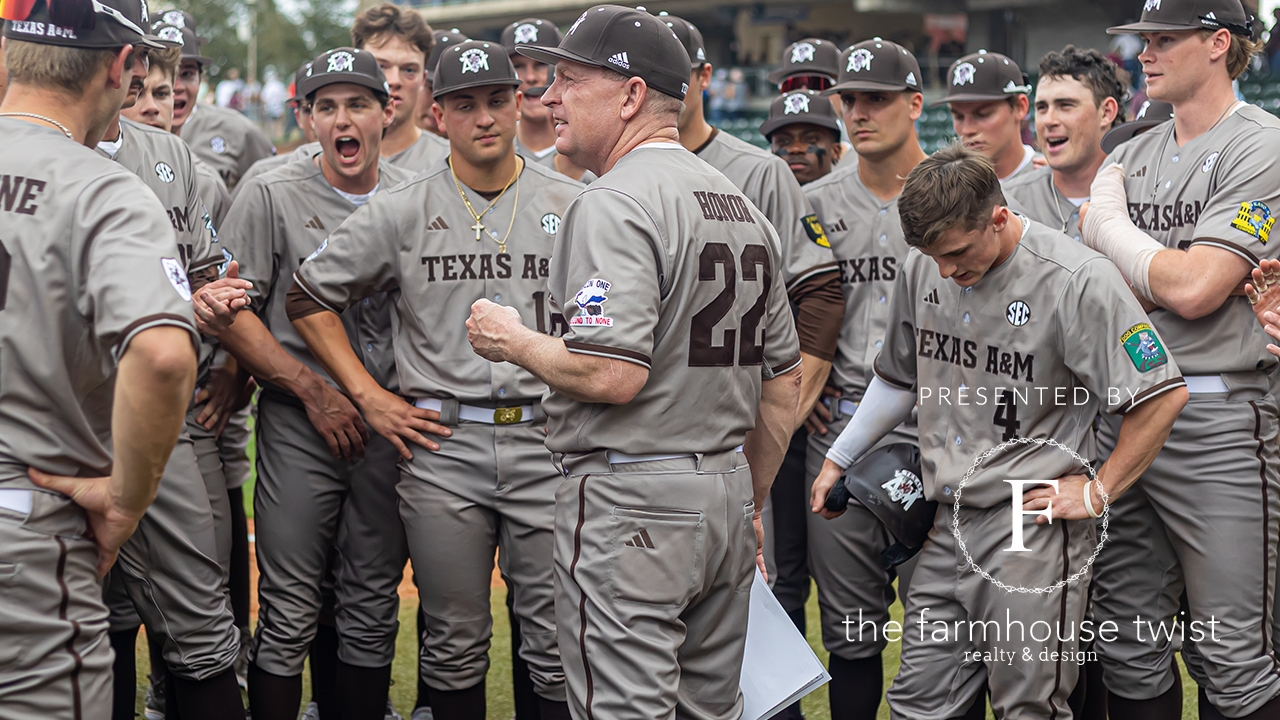 Photo by CJ Smith, TexAgs
Texas A&M Baseball
Schlossnagle talks series win over Mizzou, continuing momentum forward
---
Jim Schlossnagle and Co. took two of the three from Missouri over the weekend, claiming their third-straight conference victory. The head coach joined Monday's edition of TexAgs Radio to look back on the weekend and continue that momentum forward.
---

Key notes from Jim Schlossnagle interview
Thought that all in all, we will take winning the series. We will take winning three straight series in the SEC. It's the process that goes by winning and losing that is hard to take. I thought the crowds were awesome like they have been all year. We need to find a way for the SEC to have us play Friday to Sunday on Parent's Weekend. We just have to continue to improve. We haven't played our best brand of baseball, yet, and we're certainly going to need it here ahead.

I've never attempted using an opener. I've gone into games trying to piece it together. I've never gone into a game with an opener mentality which we went in with Josh Stewart and Carson Lambert. I'm a pretty traditional baseball guy and developing three to four starters is the best way to go.

Jace LaViolette had a lot of backside home runs in the fall and practice, you just haven't seen it in the games yet. He's staying on the baseball. He's taking walks. He still has inexplicable strikeouts every now and then. He's also leading our team in stolen bases. I think he is a super star in the making. We just need to surround him with better players and pitching.

Jordan Thompson has been such a big game player for us so it was a tough call playing Travis Chestnut. When the wind is blowing out, we know that JT has hit some home runs for us. On the other side, he's a good defender in center field but we have three guys who are elite defenders in center field. Chestnut is similar but different to Logan Britt. Guys who have similar tools but can they put it together in a baseball game? Chestnut is a guy we would love to have in there more.

On the pitching side, there are guys that we would like to see more of. Jaren Warwick, we would like to see him a little bit more. These are not exhibition games though. We're not just going to roll out some player because he hasn't played in a while and he needs some at-bats. I'm not the guy to just throw AB's at anybody. You have to earn that. We are going to play the games to win the games and the guys who earn the playing time are going to play.

I think at the end of the day I'm 1000 percent for these new NCAA recruiting rules. We shouldn't be asking guys who are in eighth grade and ninth grade to make a decision like that. The culture of recruiting has gotten so competitive and so much money involved that this is what it has led to. The first thought in everyone's mind is going to be what is the work around. At the end of the day, we can still watch these players develop and then when they get to their junior year we can start building those relationships.
Never miss the latest news from TexAgs!
Join our free email list
PRESENTED BY