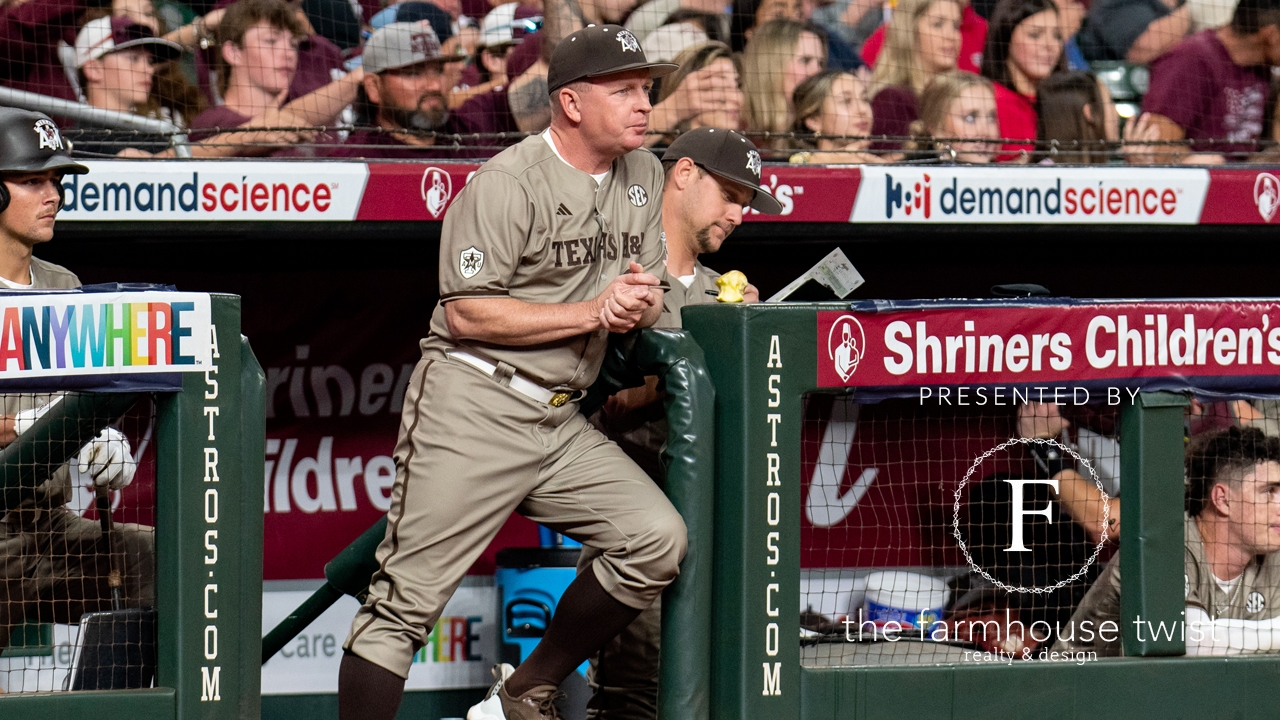 Texas A&M Baseball
Schlossnagle discusses the defending national champs coming to town
---
Texas Aggie head baseball coach Jim Schlossnagle joined Thursday morning's edition of TexAgs Radio to share his thoughts on the current state of his club, the defending national champion Ole Miss Rebels coming to town and more.
---

Key notes from Jim Schlossnagle interview
What has to happen to get us back on the right track is pretty simple to me. The game begins and ends with starting pitching. If you can run a guy out there that can give you a good chance, that's it.

Shane Sdao did a good job against Texas. There was a lot of soft contact. Evan Aschenbeck did a nice job, but we have to get more than just these guys. This team is only going to go as far as the starting pitching and as far as the veteran pitchers are going to take it. They are still the same players, and we are coaching them the same way. There's no magic formula. These are good kids. They have the energy. It's all baseball-related issues that we are attempting to work out every day.

We need to focus on the strategy. You can see flashes of it with Trevor Werner. We are still searching for opportunities to get Jordan Thompson off the ground. Statistically, win-wise, it's not good, but some of the analytics like fastballs in the strike zone, that has gone up over the past few weeks. Maybe that's a good thing, but at the end of the day, you have to win the game, and good teams find ways to win. If we limit free bases on the mound, our chances of winning increase, no matter the offense. We will have to have an Opening Day mentality tomorrow night and get the win.

Brett Minnich I thought was solid in his return. He got another 10 at-bats yesterday in practice. You have to keep giving them opportunities. He's not moving that great, he has a leg thing going on too, but I'm excited to continue ti get him at-bats as it lengthens our lineup.

Ty Sexton was awesome. A huge highlight for this year as well as the future. He has extreme value, and I am just really excited about him. We may see him start a game at some point if these guys don't step it up.

There's no desperation at all—no panic button. We talk about the Opening Day mentality every day. All fall and all spring. In this game, even when you are winning, you have to get back to neutral. Everyone feels positive and good on Opening Day, but the past never equals the future. After the games this weekend, the season is over half the way over. We will fight our rear ends off today and see where we are tomorrow.

Ole Miss has struggled a little bit, but we have some super-elite teams in this conference. Tennessee, LSU, Vanderbilt, Florida, and even Arkansas. We've played two of those teams to start conference play, and Ole Miss is a much better club than what they've shown. The desire to win has to be high because they are definitely going to bring it.

To the fans, I want to say hang in there with us. We are fighting our rear ends off and trying to make everyone proud. I just wanted to thank all the fans for showing up on Tuesday night.
Never miss the latest news from TexAgs!
Join our free email list
PRESENTED BY