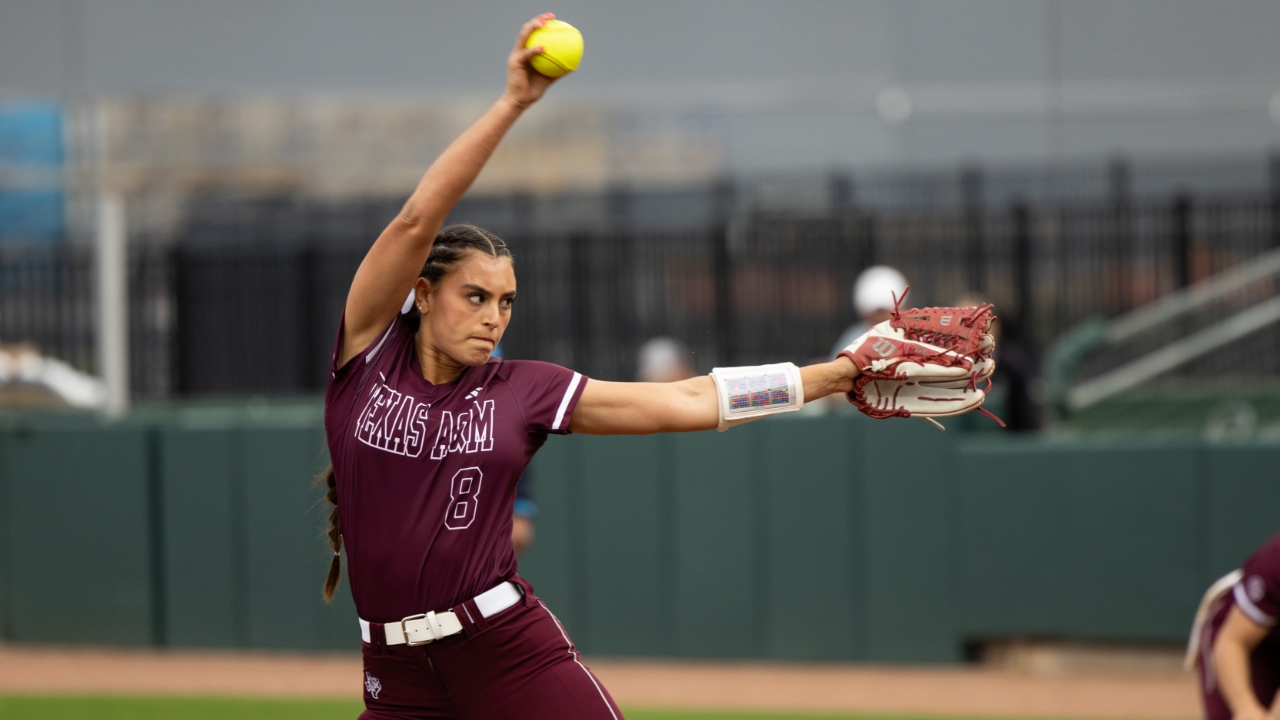 Trisha Ford
Uribe & Smith
Texas A&M Softball
Grace Uribe & Shaylee Ackerman combine to blank Incarnate Word, 6-0
---
For the second time in two days, No. 21 Texas A&M softball returned to Davis Diamond again to challenge Incarnate Word on Wednesday following a walk-off win against Lamar on Tuesday.
The ladies in Maroon & White took care of business in a much-less dramatic fashion, winning 6-0.
"We played some clean defense," A&M head coach Trisha Ford said. "Pitching-wise, we were cleaner. We got a lot of good live reps off of real pitchers, so that was good."
Both the offense and defense had spectacular outings on the field. The duo of Grace Uribe and Shaylee Ackerman combined to throw a shutout, allowing only two hits each and tallying four strikeouts total.
"Typically I'm not a strikeout pitcher, so I'll put the ball in play often," Uribe said. "Two balls hit hard is more than I would want, but it didn't worry me."
Uribe tossed four scoreless frames in the circle to earn her first win of the year, striking out one in the process.
Ackerman took over in the fifth and picked up a rare three-inning save. She punched out a trio of Cardinals.
"I thought Grace came out and did what she was going to do," Ford said. "The plan tonight was to use Grace and then Shaylee to split it and then, depending on where we were in the lineup, use Emiley Kennedy, but where we were at, it didn't make sense."
Offensively, the Aggies got a run early before breaking the game open with a four-run fourth.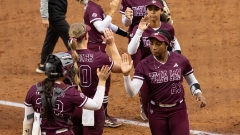 Chris Swann, TexAgs
Trinity Cannon's RBI triple in the first opened the scoring, and the contest remained 1-0 until Koko Wooley scored on a fielder's choice in the fourth.
After Keely Williams worked a bases-loaded walk, right fielder Morgan Smith put the game away with a two-run single, asserting her dominance and keeping the momentum on the home team's side.
"Mentally, I was just thinking getting a pitch and hitting it hard," Smith said. "Wherever it went, I was going to be happy with that. Just wanted to be patient and have a good at-bat. She was throwing quite a few balls, so I wanted to make sure I got a good pitch to hit."
A&M added their sixth and final run on another RBI groundout that plated Star Ferguson.
"We took advantage of some errors they made, and I think our base running helped us," Ford said. "But I need a day of practice on the field to get ready for this weekend."
The buzz of the two-midweek wins fades quickly as No. 3 Tennessee comes to College Station on Friday for a top-25 match-up at Davis Diamond. Sitting atop the SEC, Tennessee brings an impressive staff in the circle as well as a dominant offense that hits .328 as a unit.
"We're going to have to get better in the circle," Ford said. "I think that's what is going to make this weekend successful or not."
It'll be a quick turnaround for the Aggies as they'll be back at Davis to open the three-game set with the Lady Vols on Friday at 5 p.m. CT.
Never miss the latest news from TexAgs!
Join our free email list