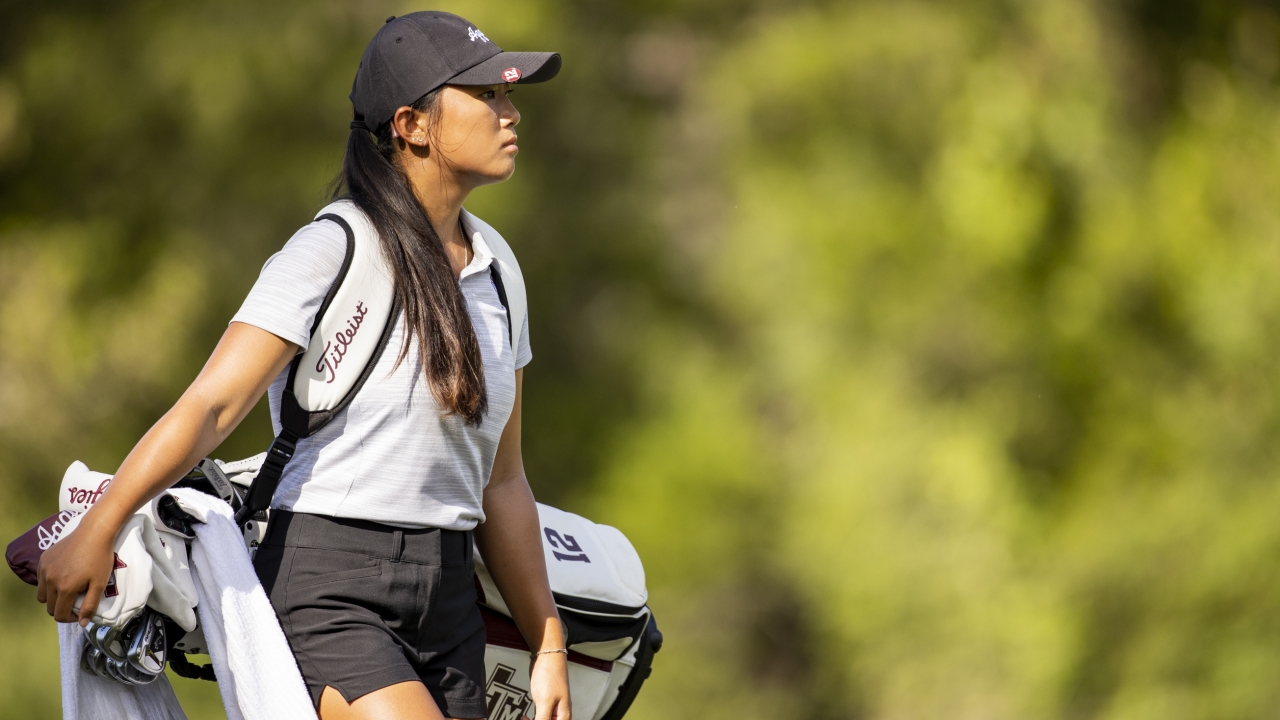 Photo by Brendall O'Banon/Texas A&M Athletics
Texas A&M Women's Golf
A&M's Jennie Park tees off in 2023 Augusta National Women's Amateur
---
Texas A&M women's golf recently took home the Clover Cup team title in Arizona alongside their semifinalist rings from their remarkable 2022 final-four run.
But they are determined to reach even greater heights this season, both as a team and individually.
With Georgia on her mind, Texas A&M senior golfer Jennie Park is on track to do just that as she heads to the 2023 Augusta National Women's Amateur, what some consider the pinnacle event of her sport.
The prestigious tournament begins on Wednesday, March 29, and will conclude on April 1 at the famed Augusta National Golf Club where the world-renowned Masters also take place.
Park begins her first round on the 10th tee at 7:12 a.m. CT. She'll start at 9:55 a.m. CT on Thursday at the first.
"I have dreamed of playing at Augusta, and getting the invitation was at the top of my bucket list," Park said. "No one gets to go out to Augusta, so I am super excited, and I'm ready to compete with the best players in the world."
She didn't just "get" an invitation to Augusta. She earned it.
"Mentally, I can't think of this as the Augusta Tournament. I have to think about it as any other tournament. I am pretty confident with how I've played in tournaments, and I'm just going to take it like any other tournament."
In what's been a strong senior campaign so far, Park is currently leading the Aggies with a 71.16 stroke average. Of the seven tournaments she has played in with A&M, Park has finished inside the top five twice and top 10 four times.
Consequentially, Park will be one of 72 of the world's best amateurs to participate in Augusta. She will be joined by Texas A&M signee Cayetana Fernández García-Poggio, the No. 7 ranked amateur in the world by the World Amateur Golf Rankings (WAGR).
"I'm so excited to be invited to the Augusta women's amateur this year," Park said of her invitation. "This was one of my biggest goals starting my senior year. It took a lot of patience and hard work to get to where I am today in my golf career, and this invite is one of my biggest achievements. I can't wait to go and compete with the best amateurs around the world and have an experience of a lifetime."
The Augusta National Women's Amateur is meant to inspire a greater interest in women's golf, and it does so by creating new and exciting pathways for the participants to reach their dreams. 2023 marks the fourth iteration of the tournament.
The first 36 holes will be contested over two days on the Island and Bluff nines at Champions Retreat Golf Club in Augusta on March 29 and 30. The entire field will then play Augusta National for an official practice round Friday, March 31, before the final rounds are played at Augusta National on April 1, featuring the top 30 players to make the cut.
The site of golf's first major every spring, Augusta National Golf Club, founded by Bobby Jones and Clifford Roberts in 1932, is known for its unequaled beauty. Perfectly manicured brilliant green fairways and no rough to be found, only the second cut.
Augusta's 12th hole, nicknamed "Golden Bell," is the course's shortest par-3 and one of golf's most well-known settings.
"It is the picture hole of the course, and I am excited to see it in person," Park said.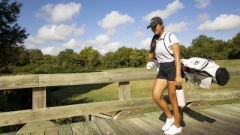 Brendall O'Banon/Texas A&M Athletics
But that isn't the only thing Park is excited about. Of course, there is a tournament to try and win.
"I am just going to take it shot by shot," Park said. "I am just going to play my own game and stay confident.
"Mentally, I can't think of this as the Augusta Tournament. I have to think about it as any other tournament. I am pretty confident with how I've played in tournaments, and I'm just going to take it like any other tournament."
Given her success this season, sticking to the same approach should pay off.
In Texas A&M's runner-up finish at the Carmel Cup at Pebble Beach, Park finished third with a three-round score of 109. Two weeks later, she finished tied for fifth in the Aggies' home-course victory in the "Mo"Morial Invitational.
She also finished ninth in the stroke-play portion of the East Lake Cup before helping the Aggies reach the tournament finals in matchplay, where they fell to Auburn.
Earlier this month, Park again secured a top 10 finish, tying for seventh in Texas A&M's Clover Cup victory at Longbow — a title the Aggies captured by 15 strokes.
Playing Augusta is a different beast entirely, and Park's participation this week is monumental for her individual career and the entire A&M program.
And perhaps she'll be able to give fellow Aggie Sam Bennett some tips before he competes as an amateur in the 2023 Masters Tournament in April.
"I don't know if there is any other school that has both participants going to Augusta," Park said. "A&M has come a long way in the golf program."
---
How To Watch:
The first two rounds of the Augusta National Women's Amateur on Wednesday and Thursday will be aired on the Golf Channel with live coverage from 12:30-2:30 p.m. CT each day.
Saturday's final round will be televised live on NBC from 11 a.m. - 2 p.m. CT.
For more information, visit AWNAgolf.com.
Never miss the latest news from TexAgs!
Join our free email list