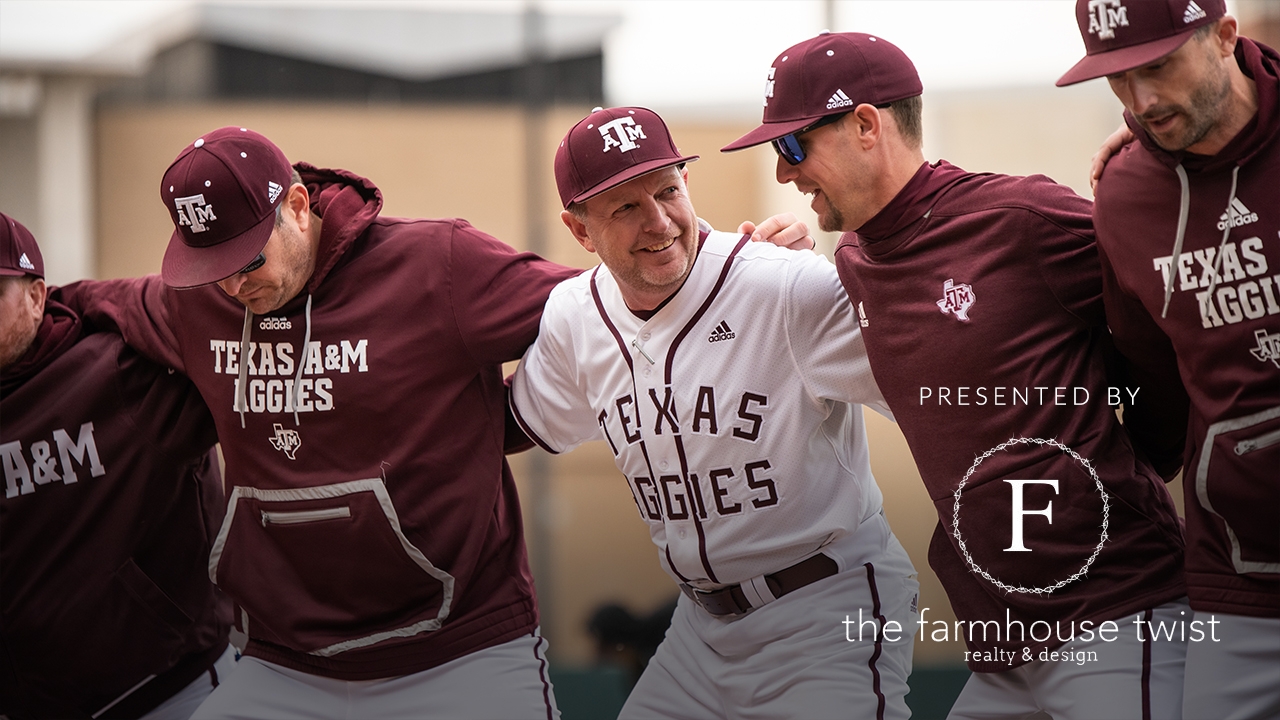 Photo by Jamie Maury, TexAgs
Texas A&M Baseball
Jim Schlossnagle looks back on A&M's weekend series vs. No. 1 LSU
---
After avoiding the sweep vs. No. 1 LSU on Sunday, the Aggies look to carry positive momentum into the rest of SEC play. Head coach Jim Schlossnagle joined TexAgs Radio on Monday to break down the details of the weekend and looks ahead to yet another meeting with Rice.
---

Key notes from Jim Schlossnagle interview
That win was super important. A win overall is important. Considering how ugly things were on Saturday, we needed to see someone pitch well and fill up the strike zone. Justin Lamkin and Will Johnston gave us that. We needed free bases and good at-bats. If you give away free bases, you aren't going to win. Combine that timely hits, and things will work out.

LSU is a pretty complete team. Comparing Paul Skenes to Mark Pryor and Stephen Strasburg, I think he's better than those guys. He is cleaner, and he can pitch longer. That would be my guess. That saves your bullets. Chase Shores threw wild pitches and walked some to give us a chance. That's a pretty deep staff. We know the offense they have. I was impressed with their catcher, Brady Neal. Their Jordan Thompson is much improved from last year. We have a good team, and we will see that over time when we get healthy.

I don't want to get deep into the pitching staff because I want to talk to them first. Y'all have a large audience that includes players and parents. We have a chance to make both the starters and bullpen stronger. Guys that haven't pitched for us much will have to pick up loads for us. Wyatt Tucker will start tomorrow night. These others dudes have to earn their keep and fill up the strike zone. I'm not out on guys yet, and there need to be mindset chances. I'm tired of having the same conversations.

Friday night, it is what is it. Saturday was the game to win, but we walked 11. I literally didn't sleep on Saturday. It was disgusting and embarrassing. We set up the table for the guys to drive in the runs. I almost started Stanley Tucker yesterday. They brought out the lefty, and he put together two great at-bats and had that catch. I'm sure we'll see him Tuesday.

Trevor Werner is really close. I want to see him do everything on the field without hesitation. I want to see him make a play where that left leg is extended. Brett Minnch is going to see a doctor today in Houston to get an X-Ray and see where he is at. He could start to dry swing this week. He will be extremely doubtful for Ole Miss but maybe the week after that.

There is not a breath in this league. It's a beatdown every weekend. We were two innings from being swept. You have to play better baseball. If you throw strikes, you could be talking about a series win over the No. 1 team in the country.

Will Johnston has found neutral thinking. He was an overly emotional guy last year. Now, he has found that middle ground of aggression and control. Tommy White came in with five walks and five strikeouts. He swings, and he doesn't miss the ball. White was punched out convincingly by Johnston. You have to be a good pitcher to punch him out.

I don't have any clue where we would be without Hunter Hass. Very impressive at-bats. Can't say enough good things about him. Once we get Werner and Minnich back, we need to get Haas hitting with men on base.

Every experience is making the younger guys better. We all wish they were hitting .350. Tucker's hit was huge, but the play of the game was Kasen Wells stealing third. Those young guys are awesome. Max Kaufer has had great at-bats. The hitting would be great, but you just need them to get on base.
Never miss the latest news from TexAgs!
Join our free email list
PRESENTED BY