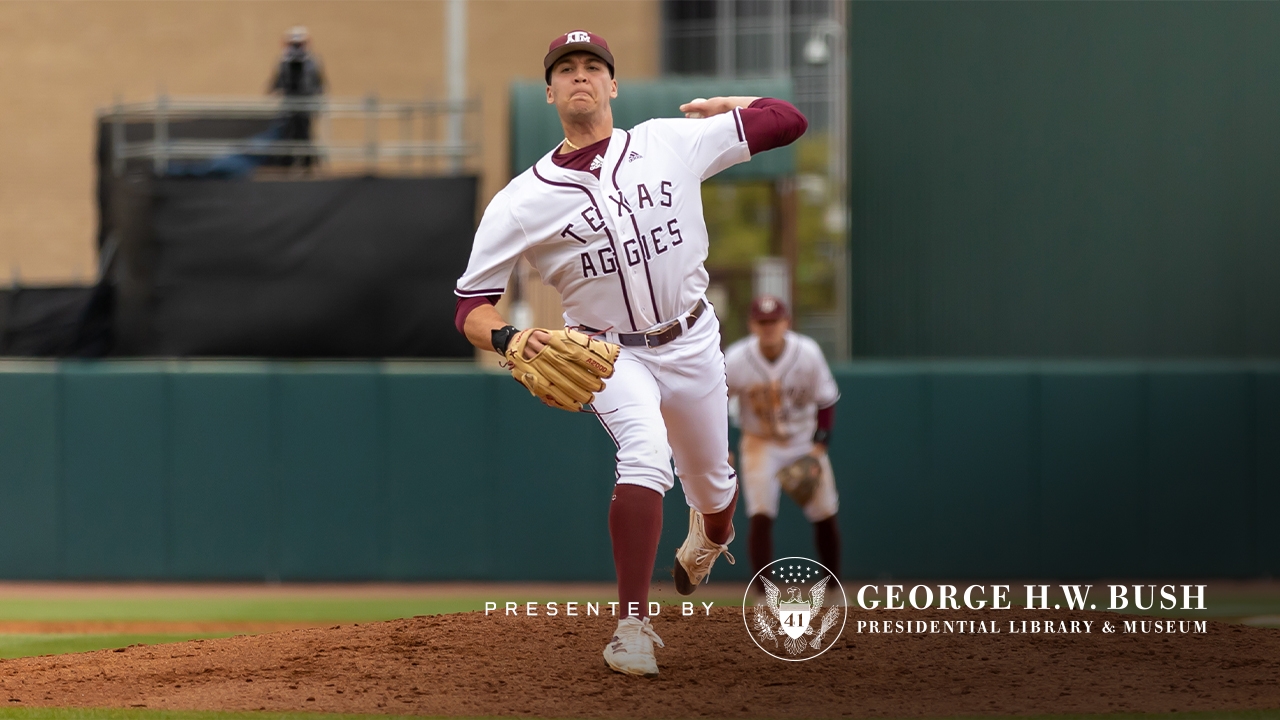 Photo by CJ Smith, TexAgs
Texas A&M Baseball
A&M pitching issues 11 walks to No. 1 LSU as Aggies suffer 12-7 loss
---
Game #19: No. 1 Louisiana State 12, No. 15 Texas A&M 7
Records: Texas A&M (13-6, 0-2), Louisiana State (18-1, 2-0)
WP: Garrett Edwards (3-0)
LP: Matt Dillard (0-2)
Box Score
---
Desperately needing a response, No. 15 Texas A&M suffered yet another body blow.
However, the Aggies appeared to be punching themselves.
A&M pitching issued 11 walks as No. 1 Louisiana State clinched the series by beating the Aggies 12-7 on Saturday afternoon at Blue Bell Park.
"I can't remember a time I've been part of a pitching staff that walked 11 guys," A&M head coach Jim Schlossnagle said. "We spotted them."
Combine the high number of walks with a trio of hit batters, and the Aggies issued 14 free passes.
The flirtation with the eventual disaster started early.
In the second, A&M starting pitcher Troy Wansing walked the bases loaded, but the lefty struck out Brady Neal and Paxton Kling to end the threat.
Again in the third, a trio of free passes loaded the bases. With two outs in the third, Schlossnagle brought in left-hander Evan Aschenback, who induced an inning-ending liner right at Hunter Haas.
Wansing finished with six walks and four strikeouts in 2.2 innings. His inability to consistently find the strike zone prevented him from working deep into the ballgame despite not surrendering a hit.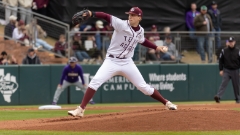 CJ Smith, TexAgs
"I thought he was the perfect pitcher to match up to the team we played today, and then everybody after him, it's the inability to throw strikes," Schlossnagle said. "The guys we didn't walk, we pitched behind in the count.
"Obviously, we let a really good team back in the ballgame."
The dam finally broke in the subsequent stanza.
LSU again loaded the bases, and with two outs, Schlossnagle pulled Aschenbeck for another lefty Matt Dillard with the right-handed power bat of Tommy White at the plate.
"I just wanted somebody to come in that had a little bit more on the baseball," Schlossnagle said. "We wanted to be as left-handed against them as we can. Their numbers are significantly different against left-handed pitching."
A two-run single by White began a run of four consecutive two-out base hits as the Tigers built a 6-4 lead that they'd never relinquish as Dillard recorded just one out.
The Tigers earned their damage vs. Dillard, and he was the lone A&M pitcher to not allow a walk.
"Guys are hitting .500 against righties and .200 against lefties, even the right-handed hitters," Schlossnagle said. "Think about what they see every day in their own practices. Right-handed pitchers that throw 94-98 mph? … We're starting one tomorrow, so he better be really good because they see a lot of it.
"You're going to have to keep those good hitters off the fastball, and so you've got to be able to throw off-speed pitches for strikes. Our best pitchers are left-handed. There is no right-hander down there that wowed me to want to put them in the game."
The disastrous fourth erased a promising offensive start for the Aggies.
A&M scored twice in the second on Kaeden Kent and Hank Bard RBI singles. They added more in the third as a Ty Floyd error allowed a pair of unearned markers to give A&M a 4-0 short-lived edge.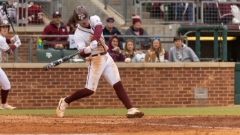 CJ Smith, TexAgs
They even responded to the six spot with a Kasen Wells RBI groundout to score Jace LaViolette in the bottom half.
However, LSU's potent offense struck for three in back-to-back innings.
Jared Jones' sixth-inning three-run bomb and two-run single in the next frame rounded out LSU's scoring. Jones finished 3-for-5 with seven RBIs.
By the time Ryan Targac scored on LaViolette's ninth-inning sacrifice fly, the outcome had already been decided.
"You've got to keep playing offense," Schlossnagle said. "It's not just on the pitching staff. You've got to be on time to hit a fastball."
Through two games in College Station, the top-ranked Tigers have flexed their abilities and have proven worthy of their lofty ranking.
"They've got a great club," Schlossnagle said. "They have a deep club but certainly not one we can't compete with if we throw strikes."
With an uptick in desperation heading into Sunday's finale, the Aggies' mindset remains the same: respond and avoid getting swept.
First pitch is set for 1:02 p.m. CDT.
Never miss the latest news from TexAgs!
Join our free email list
PRESENTED BY