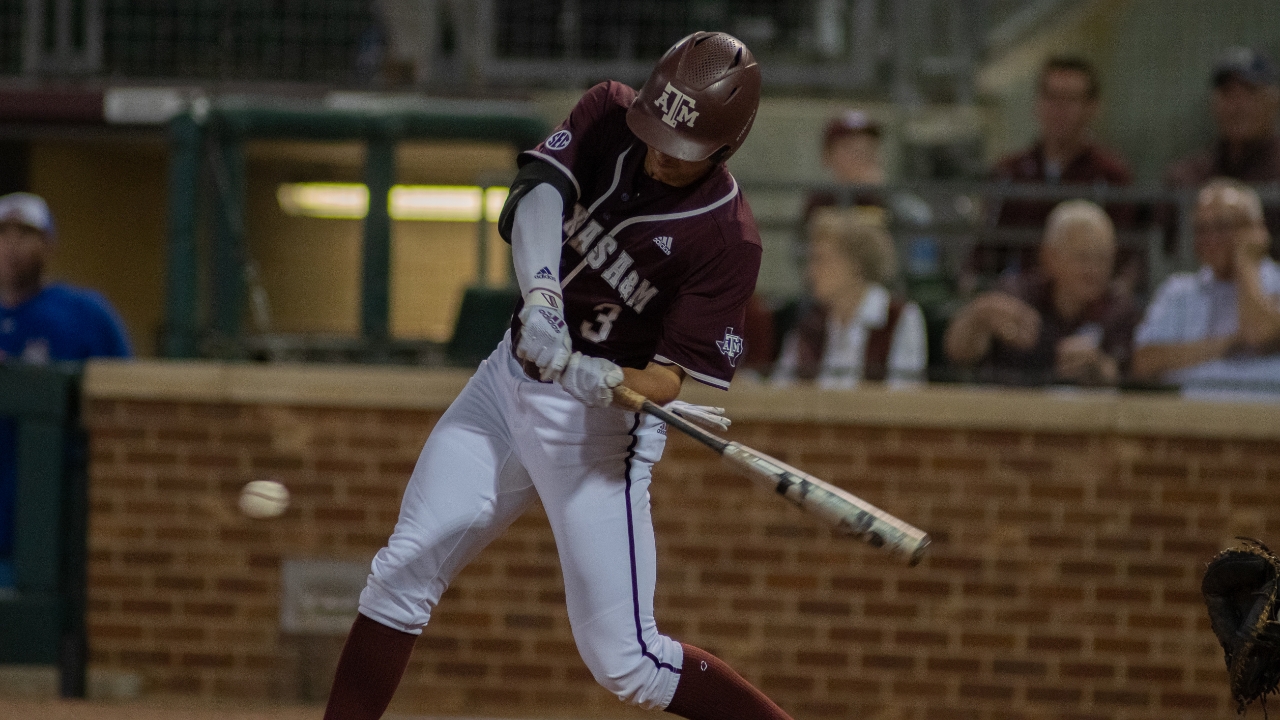 Jim Schlossnagle
Hunter Haas
Kaeden Kent
Texas A&M Baseball
Haas & Kent each plate four as No. 15 A&M dispatches Incarnate Word
---
Game #12: No. 15 Texas A&M 13, Incarnate Word 5
Records: Texas A&M (8-4), Incarnate Word (6-7)
WP: Brad Rudis (2-0)
LP: Seth Higdon (0-2)
Box Score
---
Opportunities aplenty.
In the first of five games this week, No. 15 Texas A&M defeated Incarnate Word behind a high-powered offense, 13-5.
"Everybody knows we have five games this week, but that's also a lot of opportunities for a lot of players," A&M head coach Jim Schlossnagle said.
The Aggies took advantage of those opportunities on Tuesday night, especially at the plate.
A&M's bats came out hot as they posted a four spot in the first inning behind a three-run double from freshman Kaeden Kent, who was one of the many Aggies who took advantage of his opportunities at the plate. Kent finished 2-for-3 with a walk and four RBIs.
"I'm seeing the ball well and getting good pitches to hit," Kent said. "The big thing for me is backing the ball up, and I'm doing that really well right now."
Kent doubled once more in the third inning, driving in another run to extend the Aggies' lead to 6-0.
Someone who has had opportunities all season is sophomore shortstop Hunter Haas.
Despite those chances, Haas was homer-less coming into the game before hitting home runs in the fourth and the sixth innings of Tuesday's contest.
"The first one was a 3-2 count, and the guy kept throwing me cutters, so I was just trying to stay on the ball and see it really well, and I kind of just reacted on that one," Haas said, who also had four RBIs. "The second one, I was looking for a fastball that I could handle in a 3-1 leverage count, and I got it."
With Trevor Werner exiting the game in the top of the second with hamstring cramps, Kasen Wells was given an opportunity in left field.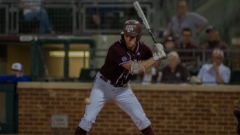 Cade Ingersoll, TexAgs
Wells singled with two outs in the third and later came in to score on Kent's second double. Wells ended 1-for-3 at the plate with a stolen base.
"He's got some toughness to him," Schlossnagle said of Wells. "He can obviously run. He's got a little power in there that I think will show up at some point in his career, but he's an extremely tough and confident player."
For just the second time this season, center fielder Tab Tracy was given the start in the leadoff spot. Tracy finished the day 3-for-4 at the plate with a walk and scoring three times.
"He can really run, and he's got really good bat-to-ball skills, so even if he doesn't hit it hard, he's got a chance to beat it out," Schlossnagle said of Tracy. "That gives us a lot of length to the order when Haas doesn't have to hit first, and then you get a guy like Werner hitting sixth and Jace LaViolette hitting eight. You'd like to feel pretty good about that."
On the mound, starter Wyatt Tucker had his longest appearance of the season, tossing 4.2 innings and punching out two UIW hitters.
"I thought it was a step in the right direction against a team that you see how much they swing early in the count," Schlossnagle said of Tucker's start.
After Tucker, A&M relievers were given opportunities to establish themselves as late-season options out of the bullpen.
Freshman Shane Sdao pitched two innings, allowing zero runs on two hits and striking out one. USC transfer Carson Lambert tossed two innings as well, yielding one run on two hits and fanning three UIW hitters.
Despite good efforts all around on the bump for the Aggies, hitting remained the story of the game. The Aggies scored 13 runs on 14 hits while drawing seven walks in the victory.
"It's big for us to get [the bats] rolling for a five-game week," Kent said.
The Maroon & White will have a chance to keep the bats rolling as they travel to Rice tomorrow for another midweek matchup at 7 p.m. CT.
Never miss the latest news from TexAgs!
Join our free email list