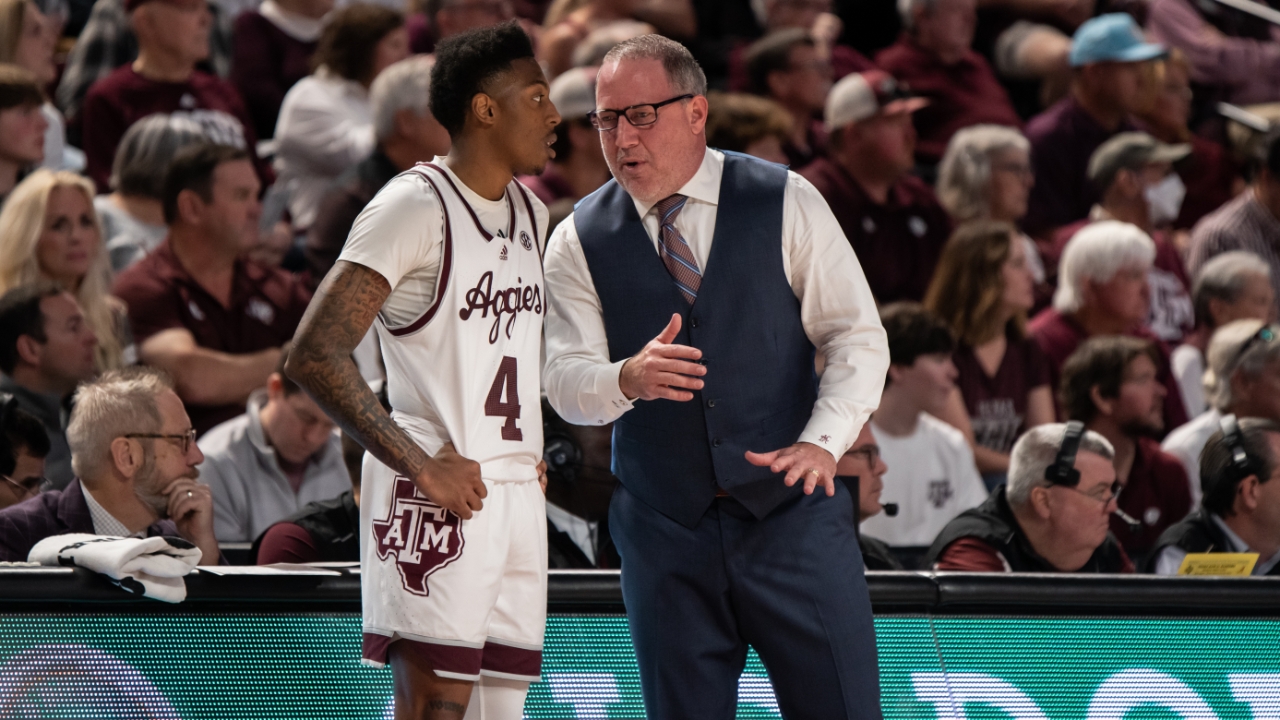 Photo by Jamie Maury, TexAgs
Texas A&M Basketball
Closing a chapter: Buzz Williams reflects on calming the Crimson Tide
---
No. 24 Texas A&M upset the SEC Champions and No. 2 Alabama over the weekend at Reed Arena. On Monday morning on TexAgs Radio, Buzz Williams joined the show to detail the electric win over The Tide and A&M's response to adversity this season.
---

Key notes from Buzz Williams interview
I love the Red Hot Chili Peppers. The views at Red Rocks are the best in the world. I love 'Sand in my Boots' by Morgan Wallen. Red Rocks is remarkable, regardless of who is playing.

We call them specials and tells like a poker tell. Our guys have done incredible in remembering those tells and being receptive. I think that the line between winning and losing becomes so thin. I think it's invisible.

Our group has an ability like I've never seen to comprehend those situations. That speaks to our group and our staff. You have to research that stuff. You have to be aware of the specials of us and the opponent. It's solutions and understanding the time, score and momentum. There are a lot of layers. Our staff has been phenomenal in figuring out those specials that apply to the game. Those games happen so fast. You have to know what information they need.

We held Alabama to their lowest scoring output for a half with 22. They were averaging 26-27 points in a half before. They are the fastest team in the league and the second-fastest in the country. We did not want to play at that pace. We did an excellent job at controlling tempo. In the first 12 seconds, they shoot 86 percent of their balls. We did a good job of getting them past that 12-second imaginary threshold. When you play someone that is as good as they are, they will go on a run. We have been in so many games where there are ups and downs, but the response shows the year we had. That comes from starting 6-5. That was at its lowest. It's the response over the next nine weeks.

Solomon Washington has had more growth as a freshman in the month of February than anyone I have seen. He has a lot of Wade Taylor IV's tendencies. He's really intelligent. When you tell him something, he doesn't forget it, and he applies it. That's rare for someone of his age. Henry Coleman III and Julius Marble had zeros. The job Andersson Garcia and Solomon were doing was elite. Solo was defending arguably the player of the year in Brandon Miller. Dexter Dennis is not the best prospect on the team, but he has really moved the needle in our program. He is the most consistent person and player I have ever been around. I think he is the best defender we have had since I've been here.
Never miss the latest news from TexAgs!
Join our free email list