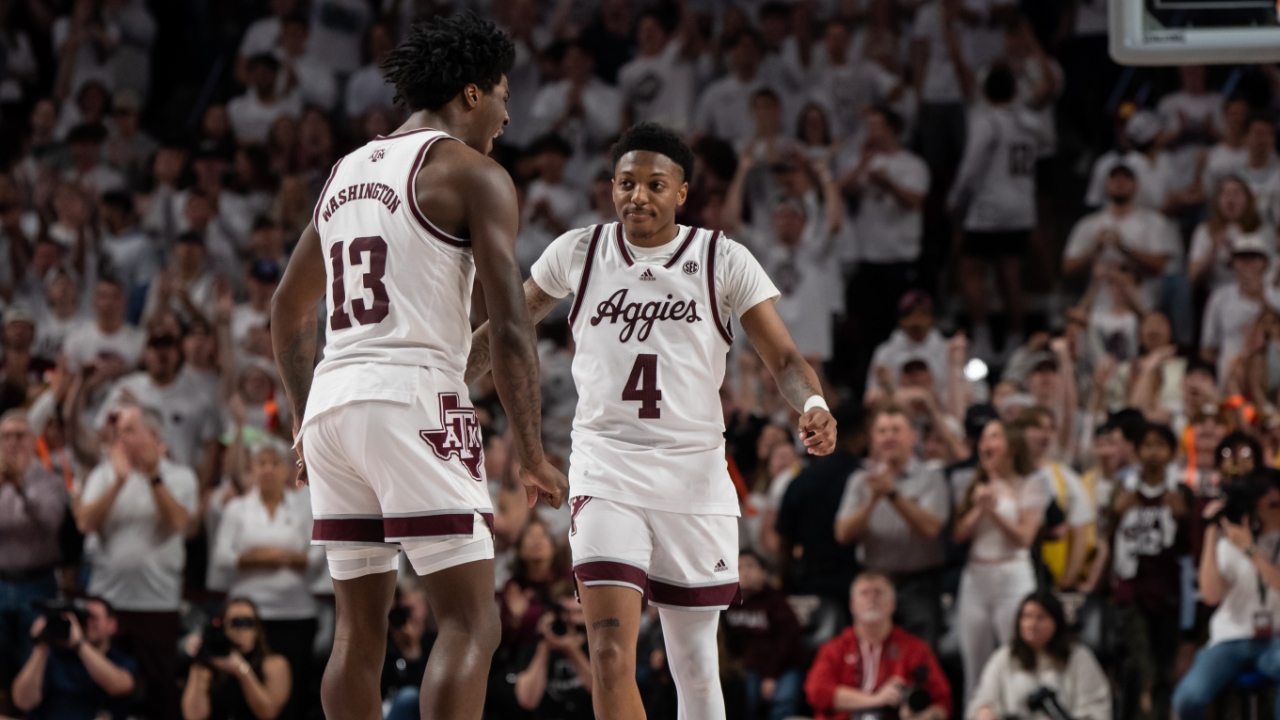 Buzz Williams
Taylor & Radford
Texas A&M Basketball
No. 24 A&M 'sticks together' to finish figurative fight over No. 2 Tide, 67-61
---
With tension increasing at Reed Arena, a stiff drink might have been needed to calm the nerves of 12,989 anxious fans.
An Alabama Slammer would have been an appropriate order.
So would toasts to Wade Taylor IV and Tyrece Radford, Andersson Garcia, strong defense and clutch free throw shooting.
All were major factors in No. 24 Texas A&M (23-8, 15-3) slamming the door in the final four minutes of play to claim a thrilling 67-61 basketball victory over Alabama (26-5, 16-2) in the Southeastern Conference regular-season finale on Saturday.
Taylor scored 28 points, and Radford had 21. Garcia came up with a vital steal. A&M limited Alabama to its second-lowest scoring output of the season. The Aggies converted 27-of-28 free throws.
A&M was especially effective in the final four minutes. The Aggies have long proved they don't flinch when under intense pressure.
But they took that characteristic to another level.
Alabama — which boasts the nation's fourth-highest scoring offense at 83.6 points per game — trailed almost the entire contest.
But the Crimson Tide took a 54-51 lead — and seemingly momentum — on a 3-pointer by Jahvon Quinerly with 4:47 left.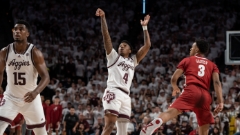 Jamie Maury, TexAgs
The Tide led for exactly 30 seconds. Taylor came off a Julius Marble II screen and hit a game-tying 3-pointer from the top of the key with 4:17 to play.
"Me and my teammate Khalen Robinson always talk about going 1-and-0 after every shot," Taylor said. "I saw we were down by three. We got a fast break and called a drag. I wasn't thinking about anything. I just shot it again. It went in. I went 1-and-0 in that segment."
A&M dominated play afterward. Alabama managed just three field goals and committed three turnovers the rest of the way. The Tide's last basket was a meaningless dunk with one second remaining.
Meanwhile, Taylor, Radford and Dexter Dennis combined to convert 13 consecutive free throws to clinch the victory in the same clutch fashion as in hard-fought wins over Tennessee, Arkansas, Auburn, Vanderbilt and Florida (twice).
"I think when you're in the fights we've been in over the last nine weeks, your ability to not flinch just improves," A&M coach Buzz Williams said. "In the figurative fights, they've learned not to flinch. Their ability not to flinch … There's example after example after example. It's not a player. It's multiple players."
To Williams' point, Solomon Washington had a big steal with A&M holing a 56-54 lead with 3:06 left.
A couple of minutes later, Garcia had an even bigger steal.
A&M was trying to increase a two-point lead in the final minute, but Alabama's Mark Sears rebounded an errant Taylor 3-pointer.
Sears passed toward teammate Rylan Griffen, but Garcia swooped in for the steal. Garcia then passed to Taylor, who was quickly fouled.
Taylor made two free throws for a 63-59 lead with 29.9 seconds showing.
"In the figurative fights, they've learned not to flinch. Their ability not to flinch … There's example after example after example. It's not a player. It's multiple players."
"He just makes winning play after winning play after winning play," Williams said of Garcia. "And they never show up in the stats. He just has incredible instincts.
"Solo (Washington) gets that steal and whatever it was — two possessions later? — to ice the game, Andy gets that steal. Just winning plays."
Radford was then fouled after two ensuing Alabama misses. He made all four free throws to put the game out of reach.
There were immediate indications an upset might be brewing.
First, Dennis — the Aggies' best defensive player — was back in the lineup after sitting out a victory over Ole Miss on Tuesday.
Then, Alabama — which is 11th in the nation in 3-pointers per game — converted just two of 19 attempts from behind the arc in the first half.
A&M capitalized on that inaccuracy to take a 32-22 halftime lead. That was Alabama's lowest point total for any half all season.
However, the Aggies were keenly aware Alabama had rallied from double-digit deficits in its last three wins. That included rallying from 17 down to defeat Auburn on Wednesday.
"We talked about it at halftime," Taylor said. "They were down 10. They've been down 10 the last three games."
Added Radford: "We were kind of waiting on that punch, so we can respond."
Those punches started coming midway through the second half. Quinerly and Brandon Miller hit back-to-back treys to bring Alabama within 42-40.
Miller, who scored 19 points before fouling out, hit another trey with 9:30 left to keep Alabama down by just two.
Taylor and Miller seemed to exchange baskets for the next several minutes until Quinerly's 3-pointer with 4:47 left gave Alabama its first and only lead.
"We just continue to play as a team," Radford said. "Keep that faith in one another, believe one another. We knew, eventually, the game was going to get tight. We just stuck together."
The Quad I victory figures to give A&M a significant boost in the NET rankings and should raise the Aggies' projected seed in the NCAA Tournament.
Most bracketologists had the Aggies projected as a No. 7 or No. 8 seed. They could jump as high as a No. 5 or even No. 4.
That's remarkable for a team that was 6-5 after losing to Wofford on Dec. 20.
However, Williams said he hasn't been preoccupied with NCAA Tournament seeding.
"I think the one thing I wanted to be accountable for is we were 6-5 at Christmas with two Quad IV losses and left for dead," Williams said. "The burden that our guys and our staff have carried over the last 60 days, I didn't want to not do my part.
"I didn't think filling my brain with social media or what (ESPN bracketologist) Joe Lunardi was saying. I don't want that to infect me because I don't want it to infect our group.
"It's (A&M's) most conference wins in 100 years. We've lost three road games. We beat the No. 2 team (Alabama) in the NET. We beat the No. 3 team (Tennessee) in the NET. The regular season is over, so I would like to understand (NCAA projections) a little better."
Never miss the latest news from TexAgs!
Join our free email list