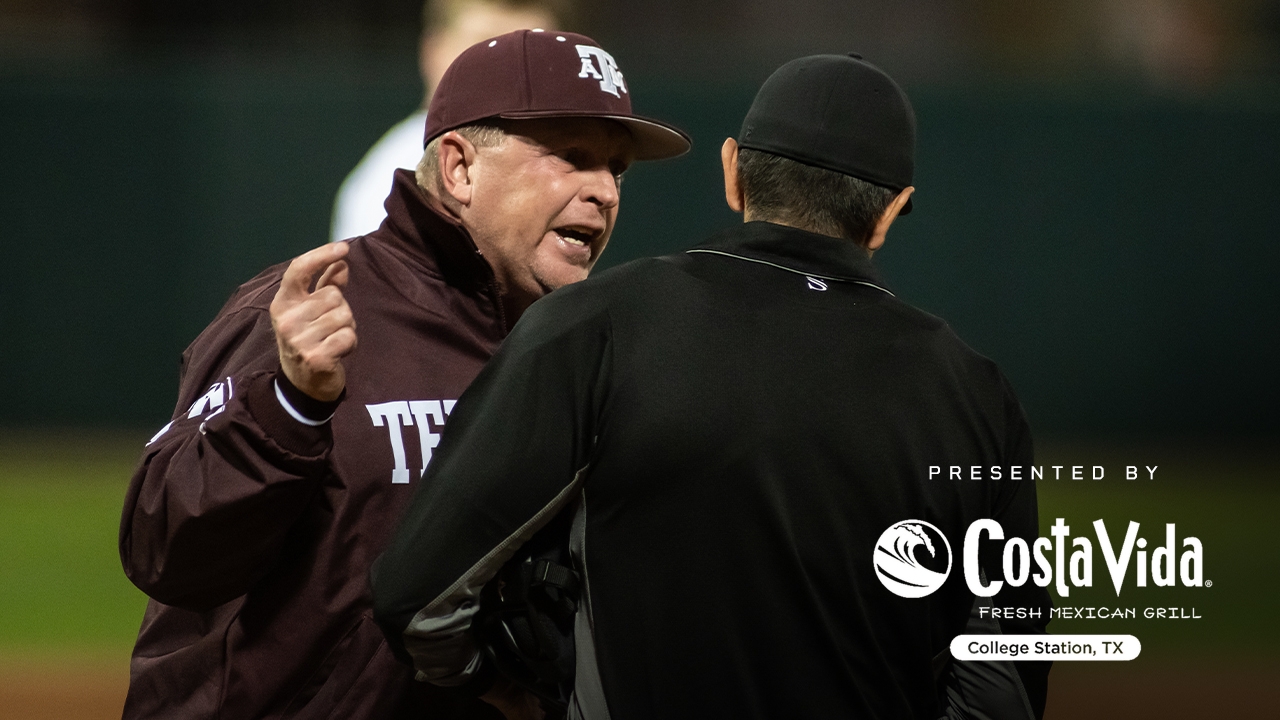 Photo by Jamie Maury, TexAgs
Texas A&M Baseball
Early frustrations boil over Friday as Aggie offense continues to sputter
---
Game #5: Portland 10, No. 5 Texas A&M 3
Records: Texas A&M (3-2), Portland (4-1)
WP: Jack Folkins (1-0)
LP: Justin Lamkin (0-1)
Save: Kaden Segel (1)
Box Score
---
"Kind of more of the same."
Texas A&M head coach Jim Schlossnagle summed it up perfectly.
The fifth-ranked Aggies dropped a second consecutive ballgame as the Portland Pilots took Friday night's series opener at Blue Bell Park, 10-3.
Once more, A&M was outhit, 9-4, and just like Tuesday vs. Lamar, the bullpen failed to protect a slim lead late.
"In the last two games, I thought that Lamar's bullpen and Portland's bullpen both came in, did exactly what we saw on the scouting report, threw strikes," Schlossnagle said. "They did what they do.
Working on a pitch count, Nathan Dettmer's efficient start ended after 75 pitches with one out in the seventh as he departed with a 2-1 lead. The Aggie ace allowed just one earned run and struck out seven.
After a would-be inning-ending double play was overturned by review in the seventh, Justin Lamkin walked Jack Holcroft. The first batter Robert Hogan faced, Nich Klemp, lined a two-run double to right to take the lead.
"I don't want our players talking to umpires, and if I feel like things aren't right, then it's my job to protect them. I'm not proud of that. It wasn't intentional, but I'm human too."
Portland never surrendered the advantage.
Klemp, who entered as the nation's leader in hits, finished 2-for-5 with three RBIs.
The Aggie offense failed to answer in the seventh and eighth, and after Ryan Targac was rung up late by home plate umpire Brandon Tipton to conclude the penultimate frame, Schlossnagle was ejected for arguing balls and strikes.
"There were a lot of bullets being verbally thrown, I guess; I don't know," Schlossnagle explained. "I don't do those things on purpose. There is a lot of emotion in the game.
"I don't want our players talking to umpires, and if I feel like things aren't right, then it's my job to protect them. I'm not proud of that. It wasn't intentional, but I'm human too."
Schlossnagle is eligible to manage tomorrow's contest and will not serve a suspension.
The wheels fell off in the ninth as Portland scored seven two-out runs as the all-important 27th out eluded Shane Sdao, Will Johnston and Josh Stewart.
"The game is pitching, defense and timely hitting," Schlossnagle said. "Starting pitching has been OK, but it's basically been auditions, trying to find who can come out of that bullpen.
"Sdao has shown signs. (Ty) Sexton has shown signs, but it's basically tryouts right now to try and see who can take what they do in practice and take it to a game."
Offensively, A&M flew out 10 times as Portland pitching punched out 11 Aggies.
"We didn't put enough good balls in play," Schlossnagle said. "We knew the starting pitcher was going to be tough. All their pitching, this is a good team. At least on video, they're a good team."
Portland starter Joey Gartrell allowed one earned run over 4.1 innings of work. Reliever Jack Folkins tossed three scoreless while striking out five, and Kaden Segel picked up the final five outs en route to a save.
Before Jack Moss' RBI single with two outs in the ninth, A&M's only runs came on a Trevor Werner little-league home run in the fourth, which was scored as a double with two Portland errors.
"We're just hitting balls in the air, fly balls, pop-ups," Schlossnagle said. "Guys aren't trying to do that. It's just ugly baseball right now."
Hunter Haas finished 2-for-4 with a single and a double. It's now the fourth time in five games that A&M has been outhit.
"I do believe in our offense as long as we stay true to what we're supposed to be," Schlossnagle said. "We have some guys just really, really trying to do too much."
As if the offensive struggles are a bigger problem than just early-season stumblings, Schlossnagle is taking the wait-and-see approach.
"This season will tell us what we are," he said.
A&M looks to find some answers as the series continues tomorrow at 2 p.m.
Never miss the latest news from TexAgs!
Join our free email list
PRESENTED BY