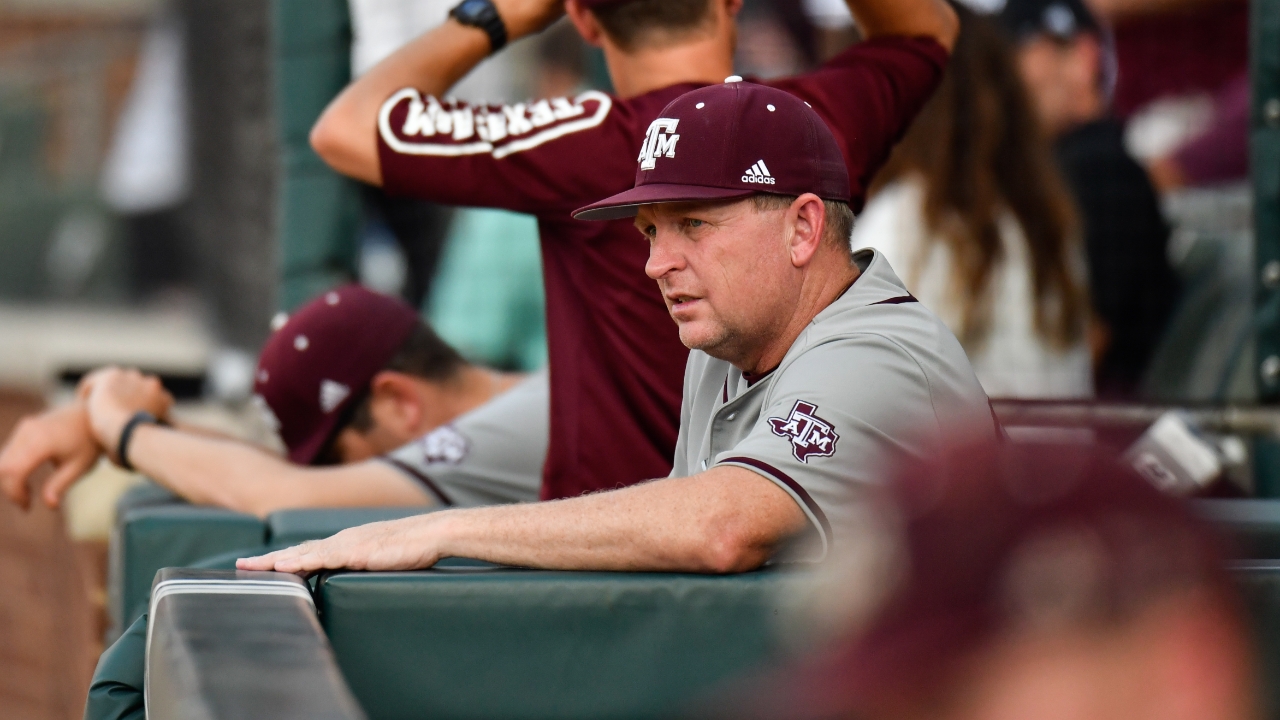 Photo by Jamie Maury, TexAgs
Texas A&M Baseball
Jim Schlossnagle & Co. 'ready to go' ahead of season-opener vs. Seattle
---
On Monday's edition of TexAgs Radio, Texas A&M baseball's Jim Schlossnagle stopped by the studio to preview his 2023 squad ahead of their season-opening series with Seattle. The head man detailed how his pitching staff has improved, key players and more.
---

Key notes from Jim Schlossnagle interview
I think our team is really ready to play. There is no doubt about that. It's a older group of guys. After two weeks of spring practice, it's my job to get the horses to the gate and get them feeling great about themselves. We are ready to go. Just praying for some good weather and make it to Friday.

I don't know that there is a defined plan, but we have to get different guys at-bats. We have to continue to develop them and have them ready when there's an injury, which there usually is, but also develop our program. The challenge in that is every at-bat you give one person, you give somebody else one less. We only play four games a week, and one week, we have five. You have to win games, even in the midweek. Not that playing those guys give us any less chance, but people will say in the midweek games, you play those guys. I'm not a big fan of that. I don't want to have Austin Bost going five days without in-game at-bats. Same with Brett Minnich. We will manage our way through it. Every Wednesday, we have simulated games for the pitchers that haven't pitched and the position players that haven't had at-bats. We chart and video them and try to make it as competitive as possible. The 11th and 12th position players, we are going to be looking for opportunities to get them in there depending on the matchups.

If there is some sort of rotation, Ryan Targac may play one day a week at second base. One day, he may play first base or third. We will see. He will be DHing and playing. I could see Kaeden Kent being a part of that as well.

Carson Lambert has earned the right to pitch. Justin Lamkin too. Wyatt Tucker has made a big jump. He's a guy that I can see getting a start, especially when he have the fifth game a week unless we have used him before then. He has been a more consistent strike-thrower. Shane Sdao, for sure. Robert Hogan is pitching better now than he did last year. There are some guys, but we have to go play the games. The starting guys will be on shorter pitch counts, especially Nathan Dettmer, on Friday night. There will be innings to be had early. As we get deeper, there will be fewer innings to be had. The guys that pitch the best will pitch the most.

Chris Cortez has progressed great. Just because he has progressed doesn't mean he doesn't have a bad day. I told him that he doesn't need to worry about that for two seconds. There will be times during the year where you have a bad day. On those days, it's my job to take the ball out of his hand and move to the next guy. On Saturday, I didn't do that and were going to roll the inning to get to 75-80 pitches, so he is ready to go do that next weekend. He threw some good changeups and breaking balls for strikes, but he didn't throw enough.

Against our lineup, if you are not going to fill the strike zone up, we aren't swinging. You are going to get bloodied against this lineup. Good pitching beats good hitting every day, but if you are not going to fill the strike zone up, it's going to be a long day.

Minnich is moving better. He's making plays in the outfield that he didn't make for us last year because he literally couldn't move. Everybody in the outfield is as good as they were last year, if not better or faster. I would take Dylan Rock back last year with 19 homers, but he is moving well. He is staying on the ball.

There's a comfort level for the hitters with our pitchers because they see them every day. When you play an opponent, you don't have that level of comfort.

Yesterday, Jace LaViolette had three or four hits, and there are days where he punches out three times. We are going to have to ride that. There may be days where he has a day off. For the most part, he will be a typical freshman that has flashes of brilliance. Jace is certainly capable of being an All-Conference player as a freshman. There will be a learning process. Babe Ruth died a long time ago, so we need to temper the expectation and let him be a good, young player and develop.

As for the Sunday starter, I haven't fully decided. I'm pretty sure it's going to be some combination of Dettmer, Cortez and Troy Wansing. Lamkin deserves the right to start a game. More than likely, that would be the first-midweek game of the year. What order that goes, I have not decided. Those will probably be the four starters.

I don't think there is pressure. Great players, especially our group, run towards expectation, not away from it. The experience gives you confidence, but you can't assume anything. The past doesn't dictate the future. If I did, Mississippi State would have been back in Omaha last year. In this conference, health determines everything. If you could have one thing all season, what would you want? Healthy players. If they are, the baseball gods will take care of everything else. This team should be in those conversations unless there is a big falloff. They are not afraid of that.

With Max Kaufer, I have never seen anything like it. I have never had a guy graduate early. His mentality away from the field alone is so impressive. He's been away from home for two years living in Florida at IMG. He's coming into the perfect group of guys. Only one catcher can play at a time. Max will be a part of that, but so will the other two. Hank Bard has made massive strides as a defender. JD Gregson is a like Logan Britt. If he touches the ball, it's 100 mph. We will need all three of them.

I'm a huge college basketball fan. Wednesday will probably be the last game I get to go to a game for a while. At a place like this, you have champions all over the place. These a commitment to excellence in every sport. Winning breeds winning. I've been around it at TCU, and we have that here in spades.
Never miss the latest news from TexAgs!
Join our free email list
PRESENTED BY