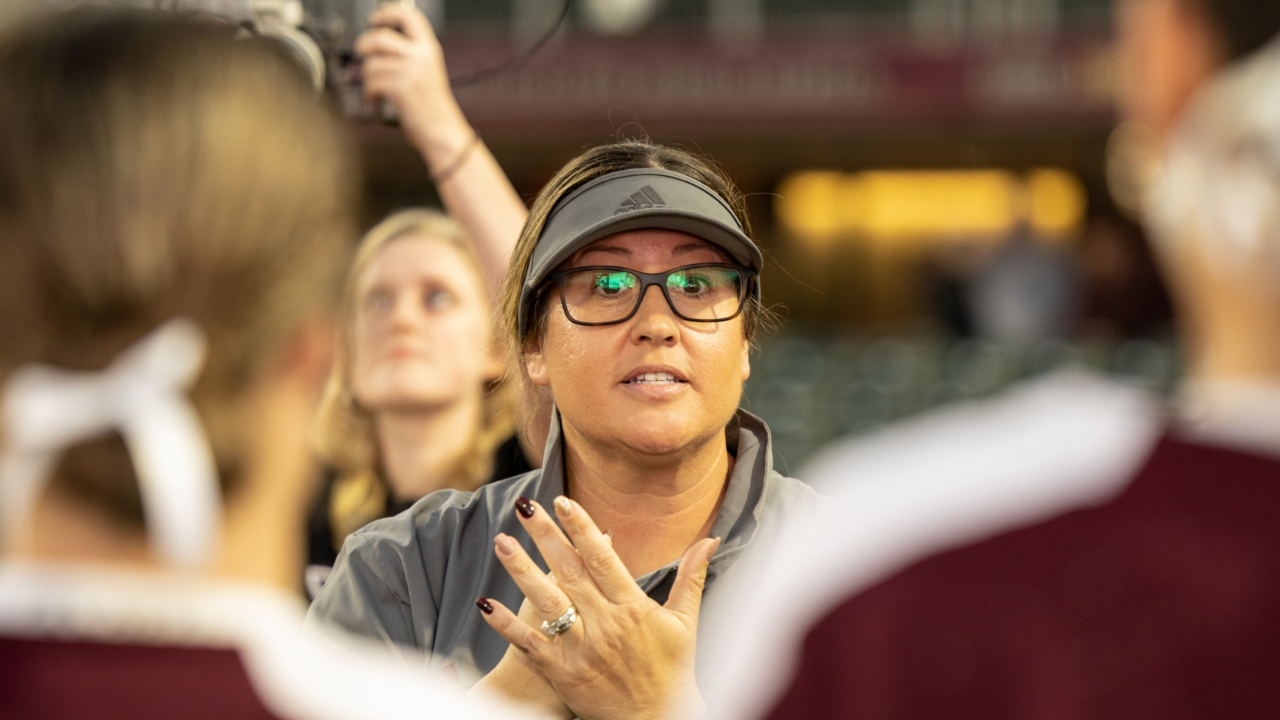 Trisha Ford
Coleman & Preston
Texas A&M Softball
Ford earns career win #400 as A&M takes both ends of Friday's twin bill
---
Game 1: Texas A&M 6, Northern Kentucky 1
Starting the second day of the Texas A&M Invitational, the Aggies kept the momentum flowing as both the offense and pitching staff held strong through seven innings in Friday's 6-1 win over Northern Kentucky.
A&M pitcher Shaylee Ackerman led the way in the circle, posting seven strikeouts and only one error through 4.1 innings.
In the top of the second inning, Ackerman asserted her dominance with three consecutive strikeouts. She hit a wall in the third, but was able to navigate out of it thanks to a big defensive stop from Julia Cottrill behind the plate as she threw a runner out at third.
After making an appearance in yesterday's contest, sophomore Emiley Kennedy relieved Ackerman and registered six strikeouts through 2.2 innings of work.
"I thought Shaylee threw a great game. Her ball was moving well, and Kennedy just came and mowed them down. She does what Kennedy does."
"I thought Shaylee threw a great game," Texas A&M head coach Trisha Ford said. "Her ball was moving well, and Kennedy just came and mowed them down. She does what Kennedy does."
Though the offense was not able to get the bats moving in the first two innings, the Aggies eventually found a way to set things off as they scored four of their six runs in the third.
A handful of fielding errors from NKU helped A&M be in scoring position more than once to ignite the impressive inning.
Leading off, Trinity Cannon was hit-by-pitch before Bre Warren singled. Morgan Smith then came up to plate and laced a single that scored Cannon and Warren on a throwing error by first base.
With only one out on the board, Allie Enright singled to right field to bring Smith home and eventually scored on a wild pitch that capped off the inning's offensive barrage.
"I did not love our energy to be honest," Ford said. "We did a good job of getting runs early and obviously finishing that game."
The Aggies continued to keep their distance and rounded the score in the bottom of the fourth when Star Ferguson stole home.
Game 2: Texas A&M 10, Tarleton 0 (Five innings)
Following a decisive win against Tarleton in five innings on Thursday, the Aggies had no intention of slowing down in their rematch with the Texans late Friday night.
Coach Ford earned her 400th career win with another run-ruled game, defeating Tarleton in five innings, 10-0.
Returning to the circle for the first time in two years, Madison Preston shined. She tossed a complete game (5.0 IP) with five strikeouts while only yielding one hit.
Despite walking five batters in total, she was quick to recover and nearly achieved a no-hitter until shortstop Koko Wooley mishandled a grounder that turned into a single near the end of the game.
"I don't know what that was due to," Preston said. "I guess we can chalk it up to the fact that I haven't pitched in a game for a while. I think that it did take me a minute to calm down."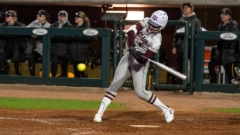 Jamie Maury, TexAgs
Offensively, the Aggies stayed red-hot and showed no signs of letting up. Wooley started the charge early in the first as she smashed a leadoff triple to left center and scored on a throwing error.
Cottrill scored on an RBI double from Cannon before freshman Gracyn Coleman doubled down the right field line.
Warren and Keely Williams loaded the bases with walks, and Amari Harper's two-run single brought the explosive first inning to a close.
Cannon then added more insurance in the second with a one-out homer to extend A&M's lead to 6-0.
Coleman provided an exciting finish to the doubleheader as she hammered a grand slam off the scoreboard to put the game completely out of reach from the Texans.
In total, Coleman brought in five of the ten runs scored with her RBI double in the first and slam in the third.
"I was looking for the perfect inside pitch," Coleman said. "Her speed was perfect on the fastball. I honestly was not looking to see if the ball went out, I just started running"
With a final score of 10-0, Ford officially earned her 400th career win as she continues her promising start in Aggieland.
"Obviously it's great, I love to win," Ford said. "I don't really pay attention to that stuff, I was happy with how our team played. Tomorrow is going to be a big day."
Up Next
The Aggies will continue the Texas A&M Invitational on Saturday as they face Michigan State at 3:30 p.m. CT followed by Texas A&M-Commerce at 6 p.m. at Davis Diamond.
Never miss the latest news from TexAgs!
Join our free email list