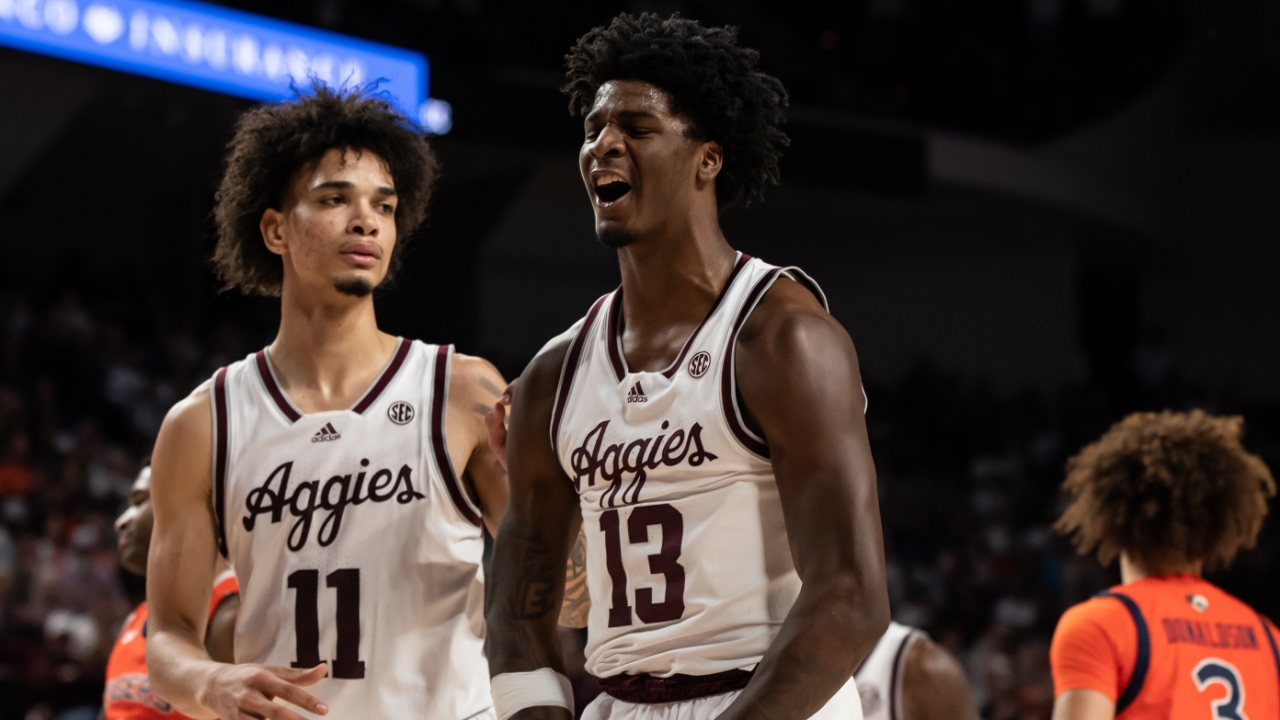 Buzz Williams
Washington & Marble
Texas A&M Basketball
Gutsy rally helps A&M secure season series sweep of Auburn, 83-78
---
The Aggies' second Southeastern Conference basketball victory over Auburn was almost a mirror image of the first.
Well, in the last four minutes, anyway.
In that pivotal span, the Aggies dominated play with big shots, clutch free throws and suffocating defense to capture an 83-78 victory before a thrilled crowd of 10,248 on Tuesday night at Reed Arena.
"You just have to have so many — as a coach would say — 'winning' plays to have a chance," Texas A&M coach Buzz Williams said. "I thought that even though we weren't our best in some regards.
"I thought Auburn made play after play after play. It took everything that we had to have a chance."
The unshakeable Aggies (17-7, 9-2) repeatedly made winning plays when they needed them most.
"You just have to have so many — as a coach would say — 'winning' plays to have a chance. ... I thought Auburn made play after play after play. It took everything that we had to have a chance."
A&M trailed 74-72 with less than four minutes remaining. But Julius Marble II made three consecutive field goals — the final one with physics-defying spin. A&M also hit five-of-six free throws and allowed Auburn (17-7, 7-4) just one field goal down the stretch.
On his final basket of the sequence, Marble — who finished with 20 points — gave the Aggies a 78-76 lead on a jump hook with 2:09 remaining.
But it was not without suspense.
The ball spun in and out of the cylinder and seemed to be rolling off the left side of the rim. But then it came to a sudden stop and dropped back through the hoop.
"I was worried, for sure," Marble said. "I'm getting back on defense because I'm thinking it's in. It just keeps on bouncing. I'm thinking it's got to go in or I'm going to be a little pissed. It went in. (I) Got a little hyped about it. And, you know, we did our job at the end."
The Aggies never surrendered the lead.
Guard Wendell Green, who led the Tigers with 20 points, cut the margin to 78-76 with a layup. But A&M's gusty defense would not allow Auburn another field goal.
A&M sophomore guard Wade Taylor IV, who had a game-high 22 points, almost settled the issue with a 3-pointer that rimmed out with 54 seconds to play.
On the ensuing possession, Auburn coach Bruce Pearl called timeout presumably to set up a 3-point shot in hopes of regaining the lead.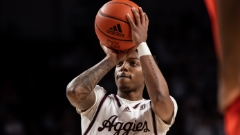 Jamie Maury, TexAgs
The Tigers continuously passed the ball around the perimeter in an effort to get a good look against A&M's tenacious defense.
"I don't know if they were trying to shoot a 3. We knew the action they were running," Williams said. "We had taught our guys yesterday at practice their sideline-out plays and what our adjustment was going to be. I think Dexter (Dennis) was involved in that."
Indeed, Dennis applied telco-like defense and forced Green to launch a closely-contested shot that came up way short. Tyrece "Boots" Radford snatched the rebound and was immediately fouled.
He promptly converted two free throws for an 80-76 lead with 24.9 seconds left.
Auburn misfired on its next two possessions and were forced to foul afterward.
A&M then converted three-of-four free throws to close out its second victory over Auburn.
Two weeks ago, the Aggies dominated the first half en route to a convincing 79-63 triumph that ended Auburn's 28-game home winning streak.

This time, A&M had more trouble getting started.
The visiting Tigers went on a 14-1 run to build as much as a 12-point lead in the first half.
"I thought we played terrible for 14, 15 minutes in the first half, and somehow, going into halftime, we were up one," Marble said. "I was just glad we were able to turn it around."
The Aggies fell behind again in the second half. A 13-2 run enabled Auburn to take a 49-41 lead with 15:36 to play.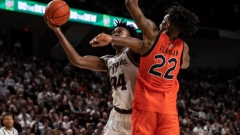 Jamie Maury, TexAgs
"Coach Buzz just told us to stay composed," freshman forward Solomon Washington said. "Just do what we do. Follow our recipe, and we would be able to win the game."
A&M controlled play the rest of the way, primarily by getting to the free-throw line. The Aggies converted 24-of-27 free throws in the second half.
They also got huge contributions off the bench from Andersson Garcia and Solomon Washington. Garcia scored 11 points, had six rebounds and converted 7-of-8 free throws. Washington had six points and five rebounds.
"I thought Solo (Washington) was tremendous," Williams said. "I thought Andy (Garcia) was arguably player of the game again. The efficiency he's been playing with over the last six games is phenomenal."
With their help, A&M rallied to regain the lead, 62-61, on a Radford 3-pointer with 7:43 left.
The lead changed 10 times over the next five-and-a-half minutes until Marble's bizarre shot rolled in for a four-point lead.
A&M's defense and free throw shooting ensured the lead would not change again.
Never miss the latest news from TexAgs!
Join our free email list