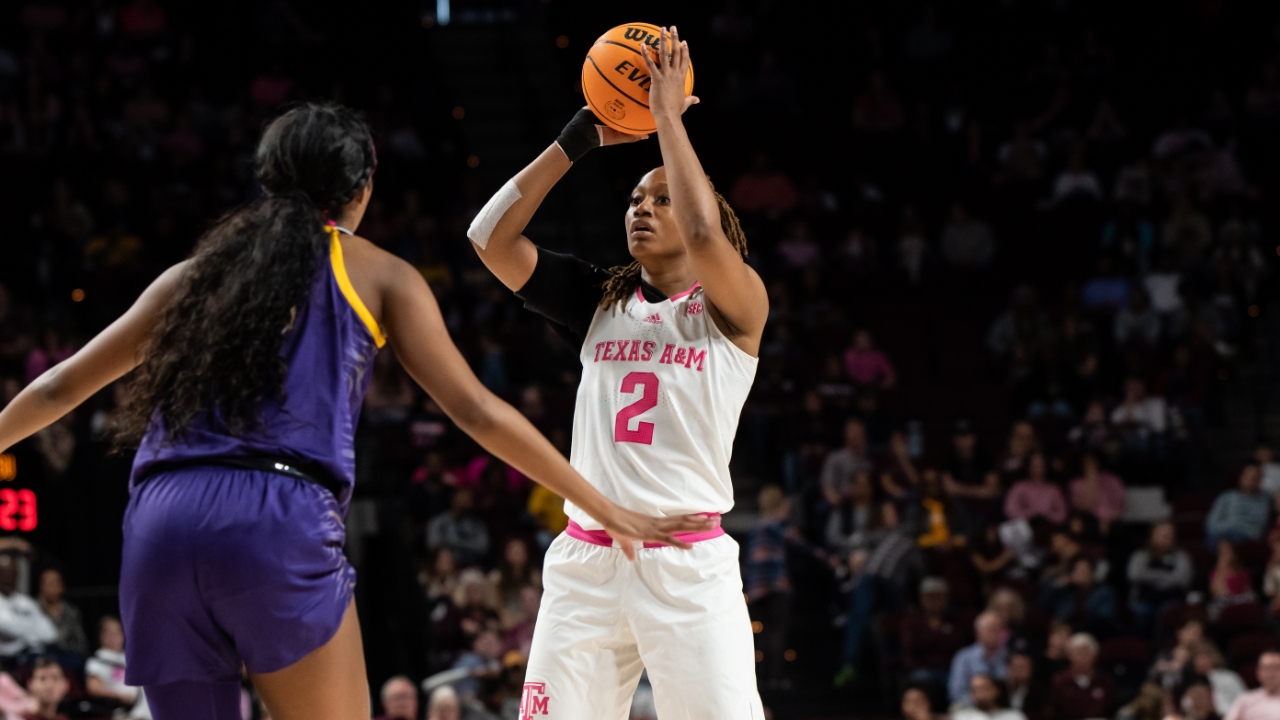 Joni Taylor
Green & Jones
Texas A&M Women's Basketball
Unflinching Ags nearly upset No. 3 LSU in Sunday's BTHO Breast Cancer game
---
The growing pains continue.
Powered by a scrappy defensive effort, Texas A&M took No. 3 LSU to the wire on Sunday afternoon at Reed Arena but ultimately came up short in the final minutes, 72-66.
Despite the final score signaling otherwise, there was still enough reason to validate A&M's hopes for future improvement.
The Aggies managed to pull within four points of the lead on four different occasions — three of those times in the final frame. They also came up with a season-high 11 steals that were parlayed into 20 points.
Compared to the 40-point loss they suffered in their first meeting with LSU (23-0, 11-0) in January, growth was still evident.
"We're a different team than when we played them at the beginning of January," A&M head coach Joni Taylor said. "I think we're more confident. We had a better understanding of what it is we wanted to do.
"Really proud of our fight. We got down 17 at one point. And that's what the growth of this team is, and that's one thing that I'm so proud of is how we continue to fight."
Junior guard Sahara Jones led the team with 14 points. Tineya Hylton notched a career-high 12 off the bench, and Aaliyah Patty and Kay Kay Green combined for 12 rebounds.
"It shows that the best is yet to come," graduate guard McKinzie Green said. "Being able to trust the process and know that everything is going to war out in the end. It shows that we could have crowds like this every home game and be one of those top-tier teams."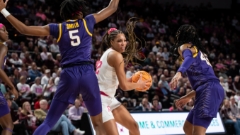 Jamie Maury, TexAgs
While the Tigers wasted no time establishing and sustaining a double-digit lead for the better part of the game, both teams still grappled for momentum.
Down 13 points at halftime, A&M opened the third quarter on an 8-1 run, fueled in large part by cornering LSU into committing back-to-back turnovers.
The Tigers responded by extending their lead back to 10, but a three-minute scoring drought allowed A&M to shave the deficit down to 44-40 after Patty converted a hook in the post.
Consecutive 3-pointers to start the fourth quarter kept the upset-minded Aggies well within reach of gaining their first lead. Yet, it still wasn't enough to garner any meaningful momentum.
LSU's Angel Reese began to overpower the Aggies down low and scored 11 of her game-high 26 points in the fourth. She also corralled 22 rebounds, half of those on the offensive front. Alexis Morris provided ample support with 22 points for the Tigers.
A&M mounted a 6-0 run with 1:45 to play in a last-ditch effort that came to a screeching halt after Reese grabbed an offensive rebound and knocked in two foul shots to seal the win.
With only five games left in the regular season, the Aggies remain dead last in the conference at 6-15, 1-10.
Still, Taylor remains optimistic by using her team's improvement on the floor as a measurement of success rather than wins and losses.
"I have said it, and I'll continue to say it, when we got seven (players), we fought," Taylor said. "We got 10 now, and we continue to fight. We still got some things to figure out. As long as we're continuing to take the next step and move forward, I'm so proud of how they fight, how they lock in, how they show up for each other."
Never miss the latest news from TexAgs!
Join our free email list