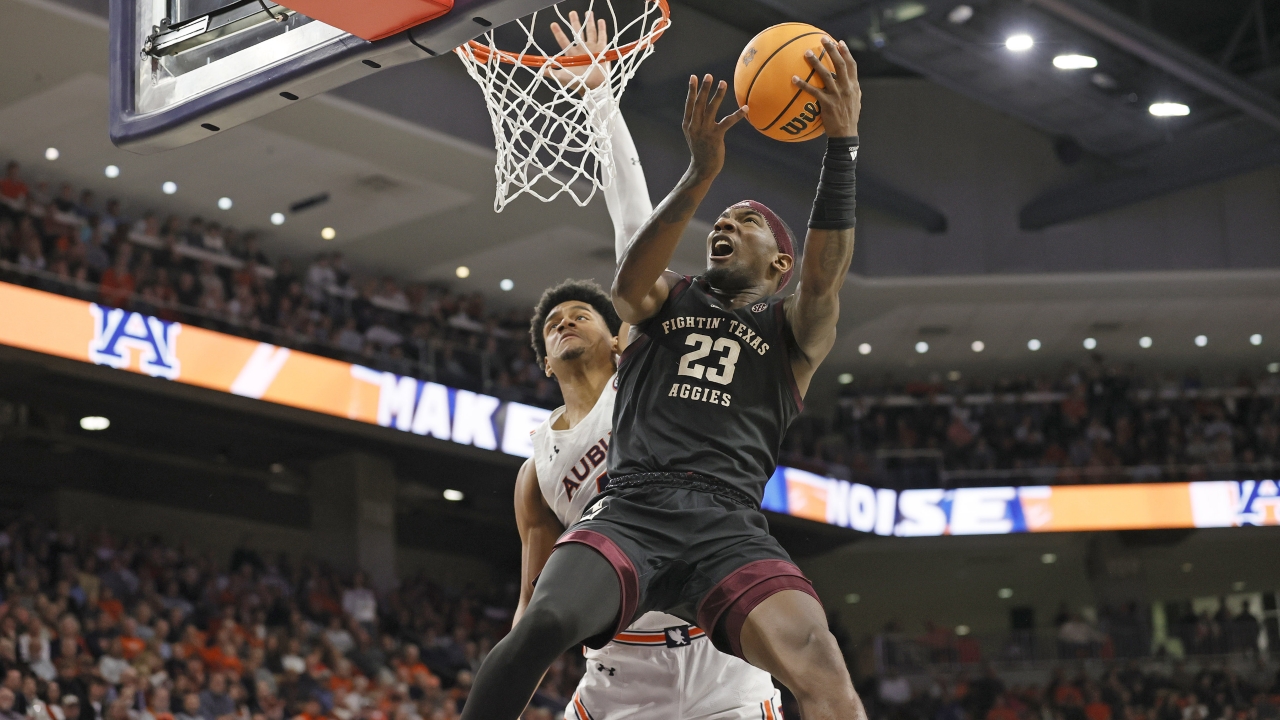 Photo by John Reed-USA TODAY Sports
Texas A&M Basketball
Nation's longest home winning streak gets Boot'd as A&M upsets Auburn
---
It's good to have dependable Boots when looking to March.
Behind a 30-point outburst from Tyrece "Boots" Radford, Texas A&M greatly enhanced its March Madness resume with a 79-63 Southeastern Conference basketball victory over No. 15 Auburn on Wednesday night.
Radford added nine rebounds to go with his game-leading scoring output. Guard Wade Taylor IV contributed 15 points, and forward Julius Marble had nine.
That helped the Aggies overcome a solid performance from Auburn guard Wendell Green and forward Johni Broome. Both scored 16 points. Broome also had seven rebounds and blocked seven shots.
"The poise and the intensity that we played with mentally, physically and emotionally tonight was, you could argue, as good as it's been all year."
A&M (14-6, 6-1) used an offensive surge to take a 15-point halftime lead.
The Aggies did not allow Auburn (16-4, 6-2) to draw any closer than eight in the second half as they put an emphatic end to Auburn's 28-game home win streak.
The Aggies hit 9-of-10 free throws in the last 3:09 to squash any hopes Auburn had of mounting a late-game charge.
"The poise and the intensity that we played with mentally, physically and emotionally tonight was, you could argue, as good as it's been all year," Texas A&M coach Buzz Williams said.
Actually, there is no argument. The Aggies demonstrated that poise in the early going.
Auburn went on a 10-0 run to take a 10-2 lead less than two-and-a-half minutes into the game.
The Aggies never blinked.
"Even in that timeout I thought we had poise," Buzz Williams said. "We weren't out of sorts. We weren't rattled."
Instead, the Aggies rattled off a 15-2 run to build a 32-25 lead with 7:26 left in the first half. Then, they closed the half on a 7-0 run to take a 45-30 lead at the break.
Auburn managed just two points in over the last seven minutes and did not score in final 3:20 of the half.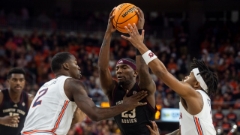 Jake Crandall/USA TODAY NETWORK
The Aggies protected the cushion by turning back every Auburn attempt to rally.
The Tigers came within 50-41 on a jumper by Jaylin Williams, but Radford responded with a 3-pointer from the left corner.
Auburn whittled the margin down to 66-58 with 3:38 to play. But Radford answered with two free throws with 3:09 showing that started A&M's successful streak at the foul line.
The Aggies converted 20-of-24 (83.3 percent) of their free throws. They also shot 47.3 percent from the field, including 7-of-19 (36.8 percent) from 3-point range.
Just as important, A&M limited Auburn to just 18.8 percent (3-of-16) from 3-point range.
However, Buzz Williams seemed even more impressed by the Aggies' work on the boards. A&M held a 33-28 advantage in rebounds. They only surrendered seven offensive rebounds. As a result, Auburn managed just six second-chance points.
The Aggies also committed just nine turnovers, which limited Auburn to a mere six points off turnovers. By comparison, A&M had 16 points off 13 Auburn turnovers.
It was an impressive reversal from a 76-67 loss at Kentucky on Saturday.
"We felt as a staff, even as a team, that the test tonight was going to be the same test that we got against Kentucky," Buzz Williams said. "Can we put pressure on the rim on both sides of the ball? The real score will be determined by offensive rebounds and defensive rebounds.
"I thought there was great symmetry and connectiveness in the ebb and flow of the game. I thought we took a step in a very positive way relative to our maturity."
Taking positive steps are easier with excellent Boots.
Never miss the latest news from TexAgs!
Join our free email list