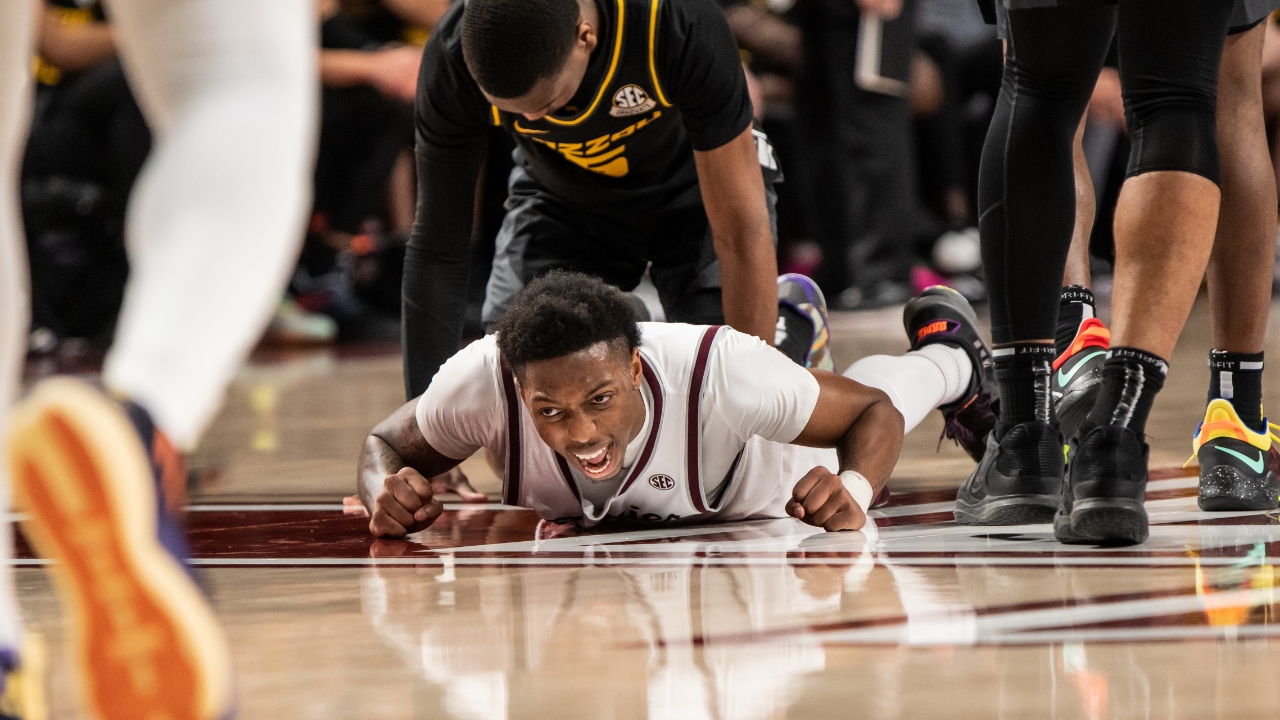 Buzz Williams
Taylor & Radford
Dennis Gates
Texas A&M Basketball
Taming Tigers: A&M upsets No. 20 Missouri to stay undefeated in SEC play
---
An 82-64 victory would seem to suggest Texas A&M won a breather on Wednesday night.
In reality, the Aggies (11-5, 3-0) went from breathtaking to holding their breath to finally breathing easy in a lopsided Southeastern Conference basketball victory over No. 20 Missouri (13-3, 2-2) at Reed Arena.
The breathtaking aspect was a stellar first half in which the Aggies controlled play on both ends of the court in building a 43-25 lead.
They held their breath when Missouri pulled within four points midway through the second half.
But a 12-0 run — accomplished primarily at the free throw line — enabled the Aggies to breathe easy as they notched their fifth consecutive win.
"I thought we just had to breathe and get back to doing what had us successful. Not worrying about the score, just continue to do what we practice every day."
"I think our guys are growing up," A&M coach Buzz Williams said." I don't think they're blaming. I don't think they're complaining. I don't think they're trying to defend their action. I think that they are together.
"Missouri is very unique to prepare for, but I don't want to discount the effort and the togetherness that our guys have played with since Christmas. That's categorically been the separator."
Strong defense had spurred A&M in previous SEC victories over Florida and LSU, but with the exception of one turnover-plagued eight-minute stretch, the Aggies were dominant on both ends of the court.
Senior guard Tyrece Radford led a half dozen players scoring in double figures. Wade Taylor IV netted 14, Dexter Dennis had 13, Hayden Hefner had 12, Julius Marble 11 and Henry Coleman 10.
Meanwhile, A&M limited Missouri's high-scoring guard duo of Kobe Brown and D'Moi Hodge to just 12 and 10 points, respectively.
"I thought we played pretty well," said senior guard Tyrece Radford, who led the Aggies with 16 points. "We've just got to come out in the second half a little better than what we did. We kind of was in the mud. We was stuck and allowed them to do what they wanted. Other than that it was a pretty good game."
Missouri entered the game leading the SEC in scoring and field goal percentage and ranking second in 3-point shooting percentage.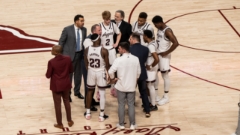 Jamie Maury, TexAgs
The Tigers could manage only 35.6 percent shooting from the field and 22.6 percent shooting from 3-point range while being held to their lowest-scoring output of the season.
"We never got into a rhythm," Missouri coach Dennis Gates said. "I think Buzz did a good job of disrupting a rhythm. I think in the second half we ended up getting a rhythm, but we cut it to four. Then, we gave up 10 straight free throws that led to us breaking ourselves out of a rhythm."
Missouri hit just 1-of-10 attempts from 3-point range in the first half. That was a big factor in the Tigers enduring a span of almost 11 minutes between field goals.
The Aggies capitalized on that drought with a 21-2 run en route to taking an 18-point halftime cushion.
Tayor opened the second half with a 3-pointer to give the Aggies a 21-point lead, their largest margin of the game.
But the Aggies committed eight turnovers and converted just three field goals in an eight-minute stretch that allowed Missouri to pull within 50-46 on a Hodge 3-pointer with 10:19 to play.
"We were immature in some regards," Williams said. "I thought we played to the scouting report and did a really good job in the first half. I thought we were just OK the first few minutes of the second half.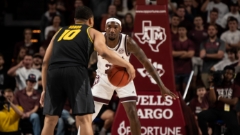 Jamie Maury, TexAgs
"We were too tentative. But credit to our guys. It did go from whatever to four, and now it's a game."
Taylor said the key to turning the game back into a breather was simply, well … breathing
"I thought we just had to breathe and get back to doing what had us successful," he said. "Not worrying about the score, just continue to do what we practice every day."
That would be free throws. The Aggies converted 13-of-16 free throws in the second half. That began with Marble converting a three-point play to slow Missouri's rally.
Taylor also hit a 3-pointer, a layup and three free throws while scoring eight straight points in the clinching 12-0 run. After that, Missouri never again was closer than 13 points.
The Aggies, who struggled early in the season, suddenly look like a team destined for March Madness. But Radford warned not to look that far ahead.
"We know it was a good win. It was a big win." Radford said. "But we have to wake up tomorrow and still practice just like it was a different result. We just can't get ahead of ourselves. Continue to stick to our roots."
Never miss the latest news from TexAgs!
Join our free email list