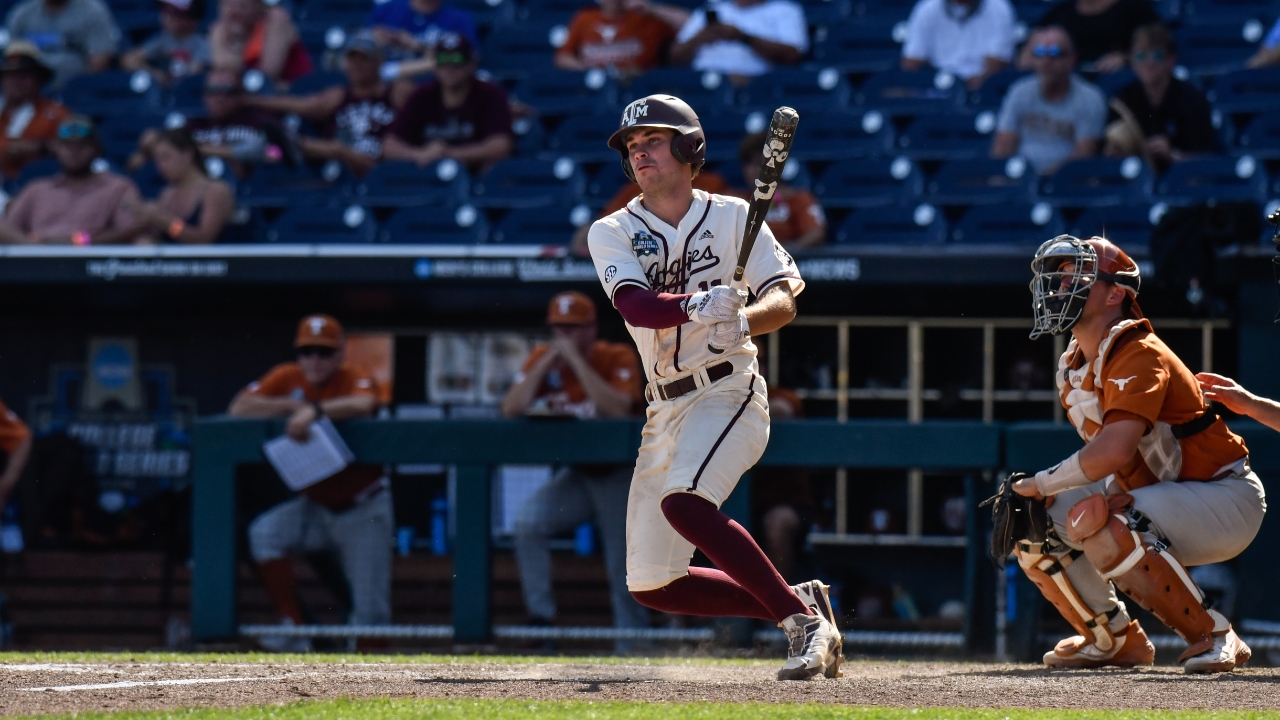 Photo by Jamie Maury, TexAgs
Texas A&M Baseball
Schlossnagle: Austin Bost embodies everything it means to be an Aggie
---
Texas A&M baseball's 2023 roster was released on Monday, and senior utility man Austin Bost will wear #12 this spring. During Tuesday's edition of TexAgs Radio, head coach Jim Schlossnagle joined to share what made Bost deserving of the honor and much more.
---

Key notes from Jim Schlossnagle interview
Austin Bost is pretty much everything. He has been around a while and had success. He comes from a long line of Aggies in his family. He represents the core values of the university at a high level. As a guy that has faced Texas A&M many times from the other dugout, he embodies everything that was my perception of the Aggies: Gritty, plays the game tough, all of those things. It was an easy selection, but we could've given #12 to a lot of guys on our team.

Bost was pretty emotional and excited when I told him he was getting #12. He's not a guy of a lot of words, but you saw it meant a lot about him. I talked to him this summer when he had a chance to play professional baseball about the legacy that he wanted to leave at Texas A&M. I mentioned possibly being #12 and representing that, but I also told him he had to earn it. I could tell Bost was fired up to get out of my office and call his parents after I let him know.

It has been a very productive and much different fall. It's one of those you wish you could continue to have. Any time you have a club where you have so many living, breathing examples of how you want things done, it's special. The players are together without the coach a lot. I've been a part of some teams that had some Eddie Haskells that are doing things at the field one way and doing things at home or at Northgate another way. There is constant leadership on this team, and not just from Austin Bost. There are five, six or seven guys that are constantly leading.

Staying healthy is key for Bost. We didn't even see a healthy Bost last year. He missed two and a half months last fall and didn't get to lift going into the spring. If he stays healthy, we could see one of the premier hitters in the SEC. He already is. Our season also changed on that Wednesday morning when he told me he could play second base if we needed him to. He has worked his rear end off. He is turning a better double play. One thing Chuck Box likes to say is that his competitiveness outweighs his skill set. His skill set is good, but he's such a grinder. If he continues playing the game the way he has, that will be his ticket to professional baseball.

This isn't just an occupation or a job for me. This is a lifestyle. I'm a big college baseball fan, and there are many things I would like to see be better for our game. I've been part of committees and boards throughout my career, and in this cycle, I was finally voted to be president of our coaches association. Hopefully, we can push some legislation to help our sport. I believe we're in the golden era of college baseball with a 20-round draft and fewer minor-league teams. There are more talented players in the game now than ever, guys like Jace Laviolette. It will be great to be the president of our coaches association for a year.

This team could look different. We have a lot of older guys. Brett Minnich ended the season at 190 pounds, but now he's 225. When you go to a big-league game, the Jose Altuves and Alex Bregmans of the world... There aren't many of those guys. It's a physical game, and especially from a pitching standpoint. I want big guys out there that are physical and can handle the entire season and that are good players too.

I'm super excited for TCU's football program. I'm also a big Gary Patterson fan, so let's not forget his impact on those players and setting the groundwork for the year they have had. Sonny Dykes was at TCU for a year as an analyst while I was there. My son graduates from TCU on Saturday, and all he wants for graduation are tickets to the College Football Playoff. He's getting that, and my daughter graduates in May. I'm excited for TCU and its fanbase. I'll be rooting for them, and let's not forget that this is a small private school. However, I do wish the Aggies were there, and I hope to see us there soon.
Never miss the latest news from TexAgs!
Join our free email list