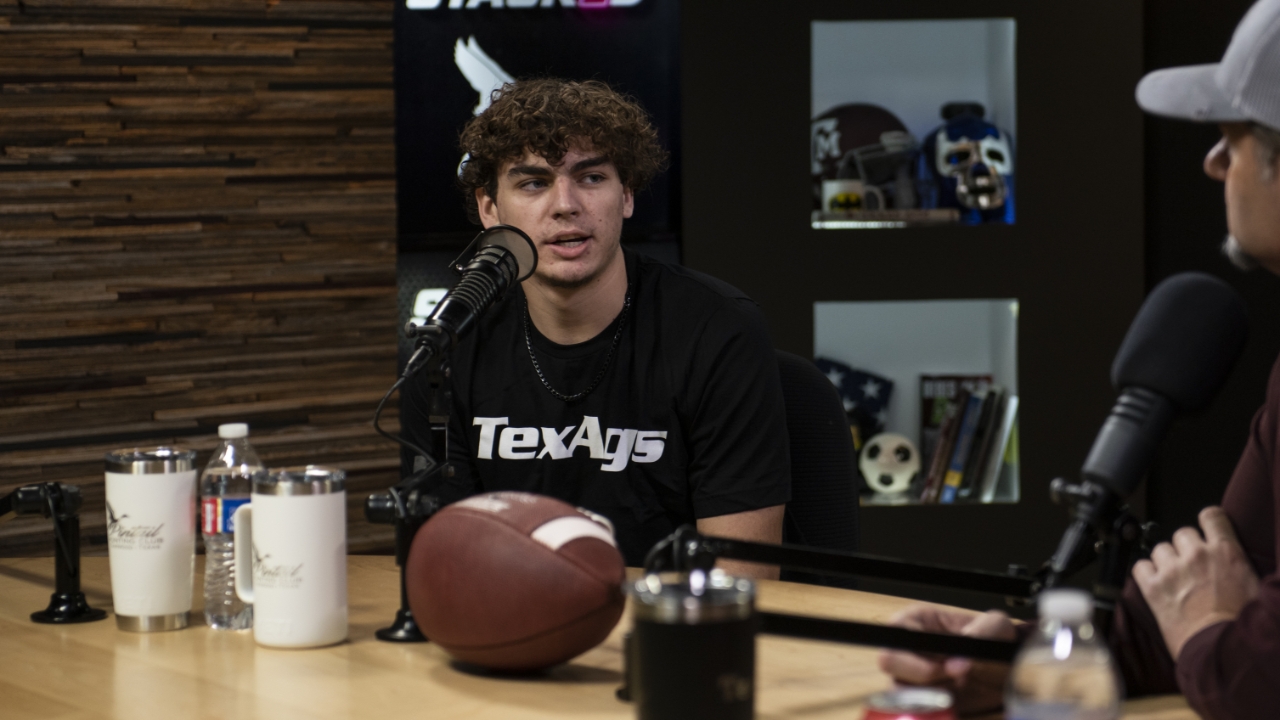 Photo by Jamie Maury, TexAgs
Texas A&M Football
Conner Weigman details a trio of throws from A&M's upset of LSU
---
Conner Weigman made a number of big-time plays in the Aggies' win vs. LSU on Saturday night, and courtesy of Pintail Hunting Club, the true freshman signal caller broke down the film on a few of his best throws during an exclusive interview with Billy Liucci.
---

Key notes from Conner Weigman interview
Before we get started, I want to say that I really love your hoodie, Billy. Lulu? That's my favorite.

My main focus was the seniors. I wasn't thinking about me on Saturday night. I was thinking about the seniors. Some of them aren't getting to play football again after that, and we wanted to send them out right and send them out strong. I felt like we did that.

We stayed even-keeled. We didn't look back on the plays that didn't work and didn't look too far ahead. It was always just one play at a time, all the way down the field. That really worked.

It helps tremendously when Devon Achane and the run game is working. It sets everything up. The run game isn't going to be working like that in every game, so we're going to have to find other ways to be successful. It was huge. Achane didn't have to play in that game. He was still banged up, but that tells you everything you need to know about that dude. He's an amazing guy and an amazing teammate. He puts in the work day in and day out. It was cool to see it clicking.

I look over every time to get the signals, hoping for a shot. At the same time, the coaches are saying to stay within the game plan and stay within yourself and not try to do too much. Just take it one play at a time.

In a game like that, we have to stay on 10 the entire time, but I feel like it needs to be like that all the time. It starts with practice, and we have to have that mentality in practice. We have to do all the little things correctly, and that's what it takes. It's the inches between a win or loss.

There is more excitement about looking forward because you cannot go back to the past and change anything. We know what it's going to take, and we know what we're going to have to put in during the offseason to get it done. I feel like we're going to do that.

I haven't been on social media too much. Some of my teammates have. I know what's going on, though. From what's being said on Twitter, our locker room is way different. Everybody knows what we can do. Everybody knows that the future is bright. Everybody knows that when we get back from Christmas break, we're going to put in work to get it done.

We knew the defense made a play for us on the scoop-and-score, so we had to go out and make a play for them. Coach preaches complementary football, and we have to play off each other. I feel like we did that perfectly.

There are a lot of things I need to work on. Being better with my eyes. Being better with my feet. Knowing where to go with the football at all times and finding my check-downs. We're about to go through our exit meetings with coach Fisher, and I'm going to ask him what he wants me to work on. It's going to get worked on in the offseason for sure, and we're going to get better for sure.

On the Moose Muhammad touchdown, I was looking at that safety as that safety came out. That is the backside, but the play was designed to come down here. I saw the safety to roll the slot fade. He got some hands on him a little bit, so that worried me a bit. I had to get the ball up. Moose makes these plays all the time in practice. Crazy catch. I saw the safety. I knew where I needed to put the ball, so he couldn't get there. I couldn't really see the catch. I heard the crowd go crazy and knew it was a touchdown.

On the other crazy catch by Moose, it was kind of the same route. I saw blitz and cover one. There was no safety over the top. I probably needed to put it out there a little bit more, but I had to move around some in the pocket. Again, Moose makes these plays in practice all the time. It's nothing we have never seen before.

My receivers make it easy on me. I put all my trust in them and just try to get the ball to the playmakers and let them go make the plays.

With the Donovan Green touchdown catch, I knew I had enough on it. I didn't know if he was going to be able to get there because I didn't know exactly where he was. I knew where he was supposed to be. I saw him moving out as I was looking for Evan Stewart, but Evan got run into. I saw Donovan slipping out and sort of put it out there.

Seeing my family after the game was amazing. I had a lot of family there; aunts, uncles, cousins and friends. It was pretty cool to know that I had made them proud, but my thought process is that this is the expectation. We need to do this day in and day out. That's what we plan on doing.

LSU is a pretty big rival. We have a lot of players from Louisiana, and they have a lot of players from Texas. I feel like everybody knows everybody, and that, in a sense, makes everything more competitive when you're playing against people you know.

Over break, I'm going to spend some time with family, eat some pretty good food and probably sit in a deer blind somewhere.
Never miss the latest news from TexAgs!
Join our free email list
PRESENTED BY