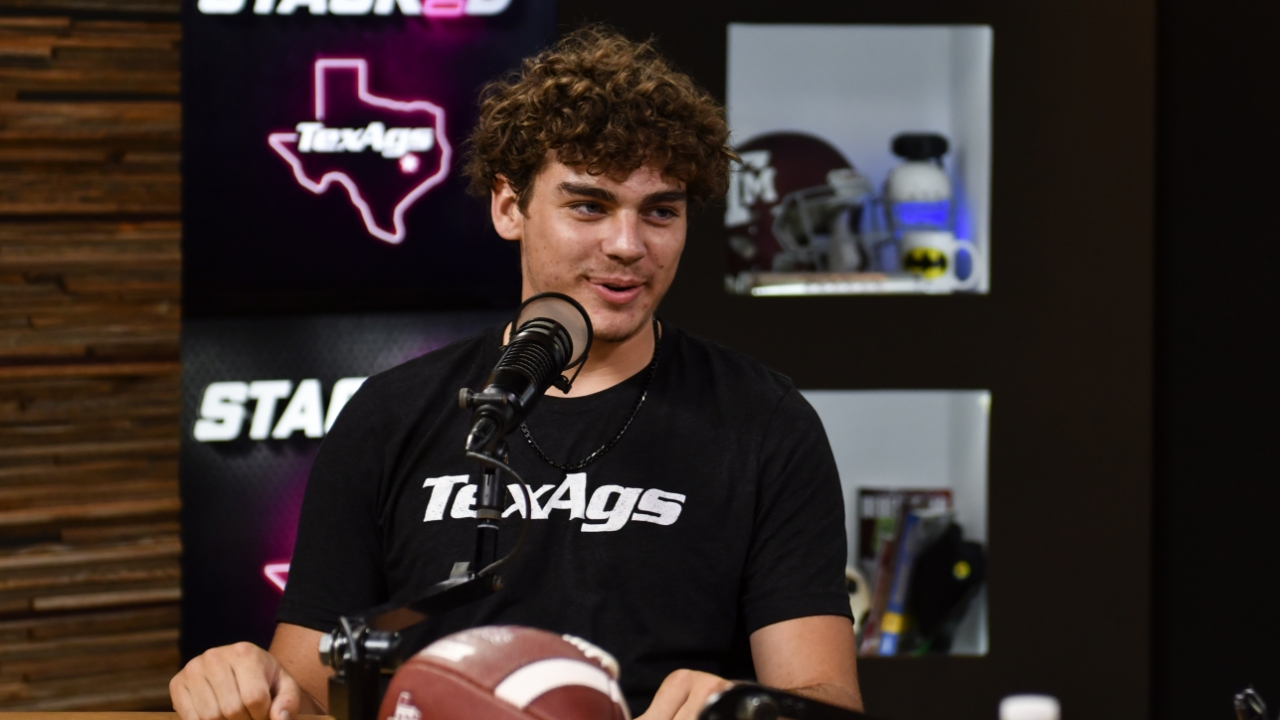 Photo by Jamie Maury, TexAgs
Texas A&M Football
QB1 Conner Weigman ready to give it his all vs. LSU on Saturday night
---
Texas A&M quarterback Conner Weigman and his Aggie teammates are looking to end the 2022 season on a high note as they face LSU on Saturday night. Ahead of the rivalry contest, Weigman joined Billy Liucci for an exclusive one-on-one courtesy of Pintail Hunting Club.
---

Key notes from Conner Weigman interview
It was good. The vibes were good. Everybody was happy to get that monkey off their back and get in the win column. Any way we could have won, we are just happy to have gotten it done.

At the end of the day, it's football. It's a kid's game. We get to live out our dream of playing a kid's game. Week in and week out, you have to give it your best and prepare to give it your all on Saturdays.

At first, we balls were slick, but as the game went on, it got better. It didn't affect us too much. You can't make excuses. You have to play in all kinds of weather, but we have to execute a little bit better. We got the balls fixed, got different balls in, and they were good.

With the first run, I was just trying to get out of the pocket. Being able to run opens a lot of space to get other people going. It was good to do that. It adds another element that the defense has to stop, and it opens other avenues for attack. It's good in all facets.

It has been cool to see my fellow younger guys practice hard day in and day out, and for it to show up on the field during games makes me really happy for our guys.

The defense has been huge. We haven't been clicking like we want to, but the defense has our back and has been playing lights-out football. We need to score more points so that it's easier on them.

We have to play smart football and limit the turnovers vs. LSU. We have to be good on first and third downs, getting in manageable situations. I think we're having a good week of practice and are ready for it to go down on Saturday.

We've been talking about spoiling LSU's playoff hopes for a little while. We're also talking about playing well for the seniors. It's some of their last games, so we want to send them out on a high note.

I was at the last Texas A&M-Texas game ever at Kyle Field in 2011. I was probably seven or eight years old. I was a pretty neutral fan back then.

I remember watching that seven-overtime game, and it was wild. That game took like five hours, and I watched every minute of it.

We want to play good for everybody, this school, Jimbo Fisher, the names on the backs of our jerseys. We just have to find those little inches to get over the hump and get the job done.

To get a win would be a good morale boost. We have to have a good offseason and come in locked in. Winning would be a good boost to where we want to go.

I've talked to a lot of guys on the team about this offseason and hitting it hard to get this on the right path. It's going to be a lot of hard work, but we're going to get it done.
Never miss the latest news from TexAgs!
Join our free email list
PRESENTED BY