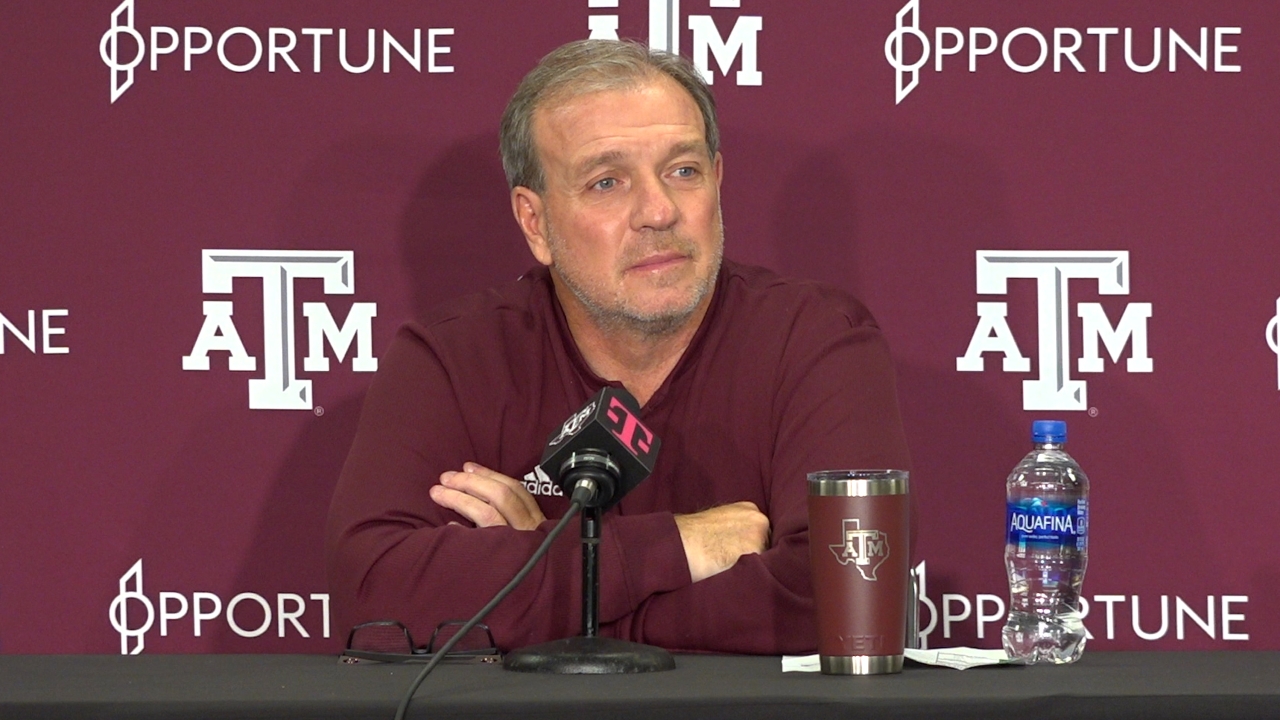 Jimbo Fisher
Jalen Preston
Demani Richardson
Texas A&M Football
Press Conference: Fisher, Ags host UMass in non-conference matchup
---
Texas A&M is back at Kyle Field this weekend as the Aggies look to overcome their losing streak when UMass rolls into town. On Monday, Jimbo Fisher, Jalen Preston and Demani Richardson spoke to the media as the Maroon & White prepare for the non-conference clash.
---
The following are live, paraphrased notes from Jimbo Fisher's Monday afternoon media availability:
Disappointed. Didn't get the outcome we wanted. Had some opportunities. We had to coach them better. We could not get the run established. Defensively, created a couple of turnovers. A one score game is a big game. Could not get it done.

They are one-word calls when pushing the tempo. When you aren't getting first downs, it doesn't work.

Moose Muhammad was an internal issue that we have handled. We're moving on.

Keep the standard the standard. We always going to address it. It will get back to where it needs to be.

We are not in disarray. We have very good players here. We have good recruiting and good players.

All the injuries are day-to-day.

This was not going to be a huge recruiting class.

Facing UMass, I want to see a lot of hearts, guts and play well. They are in good spirits. They had a good demeanor. This team keeps doing the things they are supposed to.

They are playing for each other. They have Texas A&M written across their chest.

Any game is a good time to reset. You say reset, but it's a game. They can cause plenty of problems.

Moose will be available this week. The suspended freshman will not be.

The rules of the transfer portal are what they are. It can be good and bad. The guys in the portal stay there, but they know where they are going. How is that? Tampering. I don't know how you combat that. That's for the NCAA.

I expect Devon Achane to play the rest of the season.

They want to play well. You have to find a medium and not overthink things. Playing and calling plays. Go back to the basics. Basics lead to fundamentals.

Anytime you don't have a lot of seniors, it hurts. Older players that have been in the battles. The older I get, the smarter my parents get. The older players get, the smarter coaches get.

Fisher says he does have a policy about arm sleeves and put the matter to bed.

The grass is not greener. We don't give players enough credit. They want to stay here and prove right and be a part of it. There's no missed attendance. It's all there. To jump into greener pastures, how does that look on you as a player when you can't face adversity?
Never miss the latest news from TexAgs!
Join our free email list