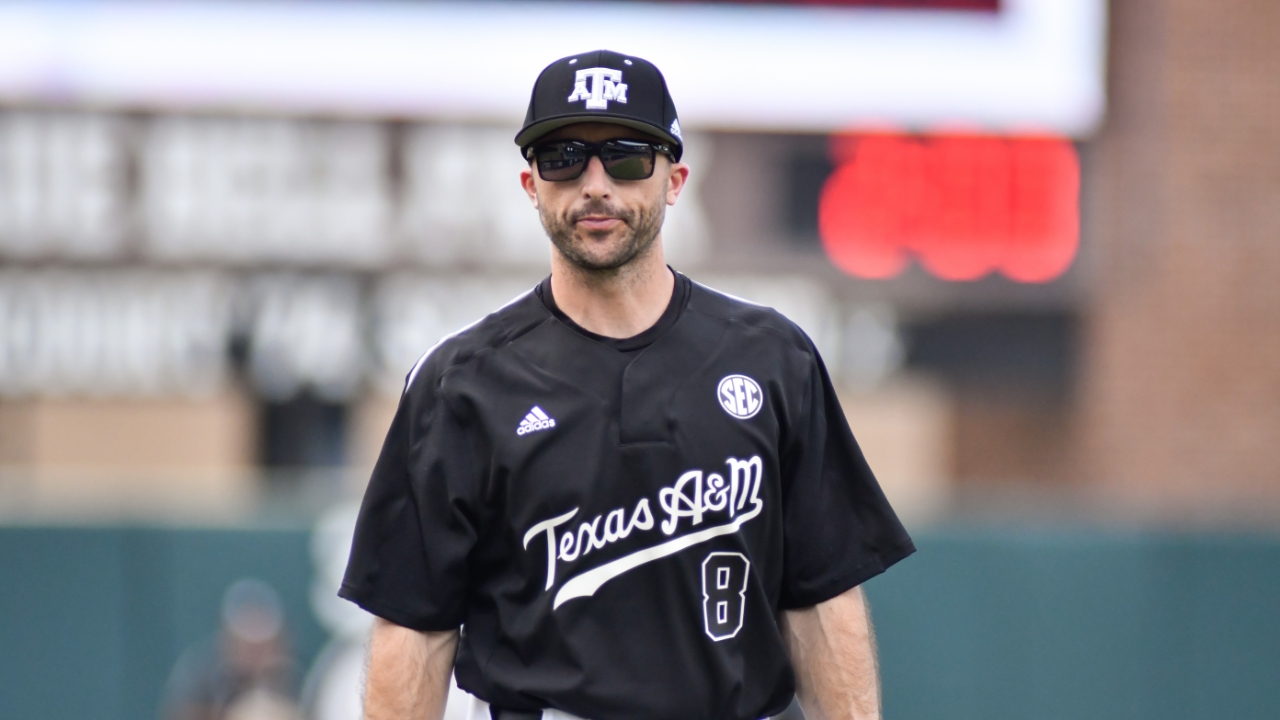 Photo by Brooke Homfeld, TexAgs
Texas A&M Baseball
Aggie baseball assistant Michael Earley previews fall game with Lamar
---
During Friday morning's edition of TexAgs Radio, A&M hitting coach Michael Earley joined to discuss the Maroon & White's lineup heading into their fall ball game at Olsen Field at Blue Bell Park tomorrow afternoon.
---

Key notes from Michael Earley interview
It's very exciting to get back on the field. We've been playing with each other. Good to have someone in a different uniform. The last time we played on this field was the super regionals. That all starts on Saturday.

The veterans have become coaches. Schlossnagle always says coach-fed and player-led. There are moments when you have to step in, but they are pulling guys to the side and helping. This year feels like it's flying by because we have those veterans.

Being a good hitter is doing the things that work. Knowing what works and stick with the plan. For Jack Moss, we focused on strength and conditioning and getting bigger and stronger. Nothing with the swing. Trevor Werner started so well, and then he got hurt, and it was about getting him to play. This is really the first time I've gotten to work with Trevor. The older guys holding everyone accountable makes our job easier.

Austin Bost, bat to ball, I have a few number ones, and he is one of them. He looks really good. I would not do anything different with him. We were hitting in practice, hitting at 90-92 mph. The gun was messed up, and Bost was barrel after barrel. The whole time it was 96-100 mph. He is very impressive when it comes to bat-to-ball skills.

Hunter Haas is exactly what you want in a baseball player. It wasn't just his skill set why I wanted him here. I knew he'd be a perfect fit at A&M. He's a sound athlete. He is a doubles hitter. Wherever he hits in the lineup, he'll be a fit for us. Really good player that plays hard.

Last year was Brett Minnich's first full year of playing. He doesn't look like he's missed a beat. The main thing for him is to get in better swing shape. He may be one of the best I've ever had in right field. Good guy to have back.

Jordan Thompson has taken a leadership role. He's the same but different because of his confidence. He had a heck of a post-season. Not the biggest guy, and he's done a good job this fall. He does not get talked about enough, in my opinion.

Having Jack Moss as an example for anyone from the left side is great. Jace LaViolette's power is undeniable. Need to make sure he controls the strike zone. I think you'll hear Kaeden Kent's name. He's a tough kid and plays the game hard. I would never be uncomfortable with him getting an at-bat. Blake Hansen has a ton of power and made some jumps. They are all impressive from the left side.

Stanley Tucker has a skill set of playing infield and outfield. I have only seen Travis Chestnut's speed a couple of times on the baseball field. There's more depth and options this year offensively.
Never miss the latest news from TexAgs!
Join our free email list