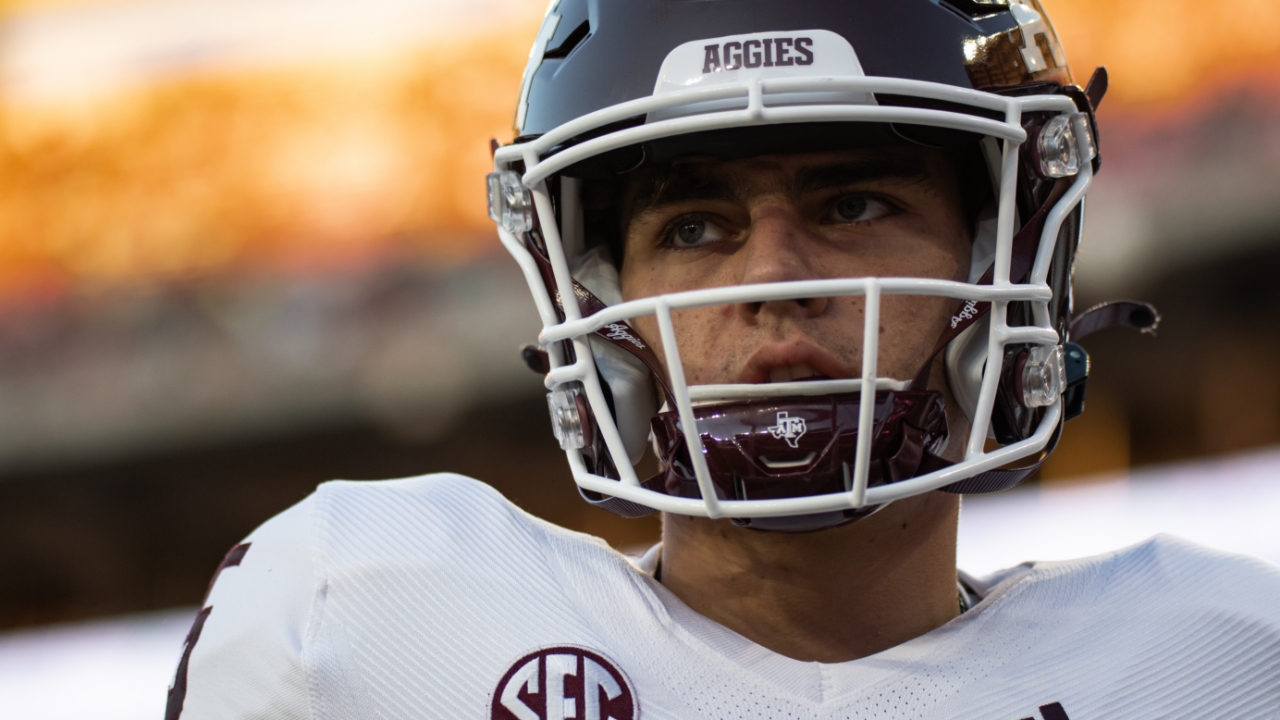 Photo by Jamie Maury, TexAgs
Texas A&M Football
Give him a chance? Time might be right for Weigman to see action
---
Twenty true freshmen have played for Texas A&M this football season.
None of them are quarterback Conner Weigman. That needs to change next week when the Aggies face South Carolina.
Play Weigman, Jimbo.
Do it because he was a five-star prospect. Do it because Aggie fans want to see him. Do it because if there are further injuries at quarterback, you don't want to bring in a replacement with absolutely no collegiate playing experience.
Coach Jimbo Fisher's offense is said to be extremely complicated. Perhaps, it's too complicated for a true freshman to absorb.
Of course, according to unsubstantiated reports, King could miss the game against South Carolina with an injury. That may indeed be the case, but don't count on it until you hear it from Fisher or Liucci.
Even if King is ready to go, Fisher could/should put in some plays designed exclusively for Weigman. Weigman has a big arm and outstanding running ability. Let him show it.
Those who disagree might argue a 10-win season — with a bowl game victory — is still within reach. Therefore, do not compromise that goal by playing a quarterback who might have limited knowledge of Fisher's system.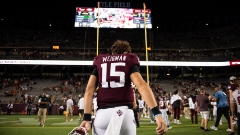 Jamie Maury, TexAgs
The counterpoint is by giving Weigman a few meaningful snaps, Fisher would be enhancing A&M's chances of winning out.
Perhaps more than any other college football program, Texas A&M understands how precarious the quarterback position is.
An injury to Kyle Allen forced freshman Kyler Murray into action in 2015.
An injury to Trevor Knight derailed A&M's College Football Playoff hopes in 2016.
True freshman Kellen Mond was thrust into the starting lineup because of an injury to Nick Starkel in 2017.
King was lost for the year less than two games into the 2021 season.
Max Johnson was sidelined during a loss to Mississippi State on Oct. 1. It is unclear when or if Johnson will return to action.
As previously alluded to, King was battered and bruised last week against Alabama.
He demonstrated his toughness by almost leading the Aggies to an upset of the then-No. 1 Crimson Tide. But given his injury history and A&M's pass protection problems, Fisher cannot take for granted that King will go unscathed through the remainder of the season.
Therefore, it just seems wise for Weigman to get vital experience. Just in case.
This isn't to suggest Weigman should start if King can go. Rather, maybe designate a series or two for Weigman.
Of course, should the Aggies' offense be on a roll and on the brink of taking complete control, Fisher would have the option to delay Weigman's entrance.
Even if King is ready to go, Fisher could/should put in some plays designed exclusively for Weigman. Weigman has a big arm and outstanding running ability. Let him show it.
But eventually, he should put Weigman in the game.
Besides, A&M has had success with true freshmen quarterbacks in the past.
In 1987, freshman Bucky Richardson came off the bench to spark a 27-14 victory over Southern Miss. He had an 82-yard touchdown run in the win. He went on to start eight consecutive victories, including a 35-10 Cotton Bowl win over Notre Dame.
Freshman Corey Pullig came on when starter Jeff Granger sustained a concussion midway through the 1992 season. He promptly started four consecutive victories.
Ten years later, freshman Reggie McNeal came off the bench to throw four touchdown passes and lead the Aggies to a 30-26 upset of No. 1 Oklahoma.
Mond started in five victories after taking over Starkel in 2017. That included wins over Arkansas, South Carolina and Florida.
Maybe Weigman could add to that list of Texas A&M freshman quarterbacks who have made a significant contribution and have had success.
He needs a chance.
Give him that chance, Jimbo.
Never miss the latest news from TexAgs!
Join our free email list
PRESENTED BY