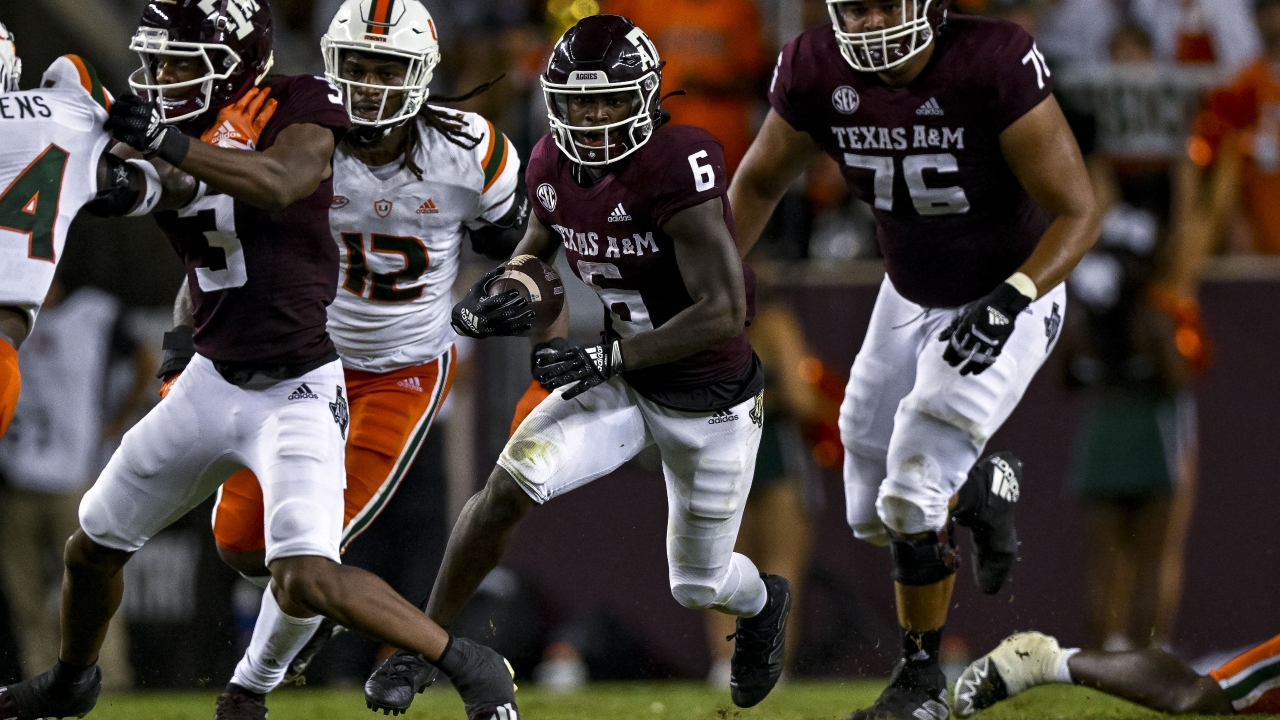 Photo by Jerome Miron-USA TODAY Sports
Texas A&M Football
Post Game Review: No. 24 Texas A&M 17, No. 13 Miami 9
---
The Farmers kept the storm at bay.
With the success of this season hanging in the balance, No. 24 Texas A&M righted the ship in a gritty 17-9 victory over No. 13 Miami on Saturday night at Kyle Field. In place of Haynes King, LSU transfer Max Johnson made a promising starting Aggie debut, passing for 140 yards, one touchdown and leading a steady offensive attack.
Dominance in all three phases headlined the first quarter for the Aggies. After Devon Achane set up shop on a 36-yard kickoff return, Max Johnson wasted no time putting the offense in motion. He connected on an 18-yard pass to freshman tight end Donovan Green for a quick first down. Two consecutive carries up the middle by Achane were then enough to move into Miami territory.
The Aggies advanced all the way to the 12-yard line but were forced to settle for a 26-yard field goal by sophomore Randy Bond.
In their first possession, Miami responded with a 12-play march that resulted in a 28-yard field goal of their own to knot the game early.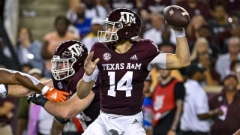 Jerome Miron-USA TODAY Sports
On the first play of A&M's second drive, Max Johnson was swarmed by a herd of white and sacked for a 5-yard loss. Despite going three-and-out, Miami muffed the punt and gave the ball right back to the Aggies on the Hurricane 28-yard line.
Achane made the most of the visitors' mistake and broke loose for a 22-yard gain up the gut to burst into the red zone. A face mask penalty positioned the Aggies at the 1-yard line, and redshirt freshman LJ Johnson Jr. put the finishing touches on the short drive with a diving flop into the end zone.
Down 10-3 and searching for a response, a pair of first down conversions set the Hurricanes up in A&M territory for the second consecutive drive. Three incomplete passes by Miami quarterback Tyler Van Dyke forced a 49-yard field goal attempt that missed wide left.
Taking over on the 31-yard line, the Aggies again went three-and-out. Seemingly forcing a subsequent three-and-out of their own, defensive back Demani Richardson was ejected for targeting, and the Hurricanes picked up a first down on the 15-yard penalty that bled into the beginning of the second quarter.
Miami relied heavily on its run game to advance past midfield and moved into the red zone on a 29-yard reception by Elijah Arroyo. Miami eventually came up empty on its second-straight field goal attempt after defensive lineman Albert Regis blocked a 36-yard attempt at the line of scrimmage. The block marked the first by an Aggie since Justin Madubuike did so against Ole Miss in 2019.
A&M's offense continued to operate smoothly with Achane leading the charge up the middle. Though, it stuttered with a string of incomplete passes and stalled at the 42-yard line.
D.J. Durkin's defense held Miami back with a forced punt and gave Max Johnson a final opportunity to extend the lead before halftime. Yet, the nine-play, 24-yard drive ultimately resulted in a sack for a loss of five yards.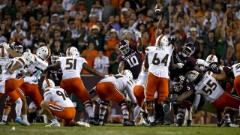 Jerome Miron-USA TODAY Sports
Opening the third quarter, Miami was once again forced to punt. Max Johnson quickly reignited the offense with an 11-yard rush downfield with Ainias Smith's 25-yard carry to break through into Hurricane territory. Max Johnson darted a 25-yard pass to Achane who broke through multiple tackles to scamper into the end zone for his fourth touchdown of the year.
Narrowly avoiding a third straight punt, Van Dyke found Will Mallory for a 17-yard reception to A&M's 36. The Hurricanes advanced as far as the 6-yard line and tacked on a 22-yard field goal to cap off a nearly seven-minute drive after Bryce Anderson prevented a rush up the middle on third-and-6.
Anderson, in for the ejected Richardson, totaled eight tackles in total, behind team-leader Jaylon Jones' nine.
Achane's third-quarter excellence resumed with a 21-yard catch to notch a first down on Miami's 48. The Aggies eventually failed to capitalize as Miami came up with a much-needed stop.
Desperate for offensive production, the Hurricanes made ample progress on a 17-yard carry from Henry Parish Jr. on second-and-3. A sequence of short passes by Van Dyke pushed Miami into the red zone for the fourth time of the night as they squeezed a 34-yard field goal through the uprights to make it a one-possession game.
An A&M three-and-out returned possession to Miami as they frantically worked against the dwindling clock. Yet, they were unable to penetrate past midfield and surrendered a punt to A&M. On the kick, Smith bobbled the punt but was able to prevail in a wrestling match for control of the ball. The following drive ended in another Aggie three-and-out.
Texas A&M's defense survived one final charge by Miami with Jones breaking up a pass on third-and-10 to solidify the bounce-back win in front of Kyle Field's third largest crowd ever (107,245).
Next up for the Maroon & White is a neutral site contest against Arkansas at AT&T Stadium in Arlington as SEC play begins next Saturday.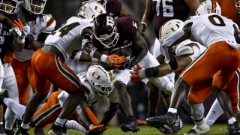 Jerome Miron-USA TODAY Sports
RUMBLED: Perhaps for the first time this season, Devon Achane's world-class speed was on full display. The speedster totaled 88 rushing yards, 42 receiving yards and a 25-yard touchdown behind a somewhat improved offensive line. In the first two games this year, Achane only mustered a combined 108 rushing yards.
STUMBLED: Tyler Van Dyke. The projected NFL first-round draft pick was never quite effective and held to only 217 yards and only 21-of-41 completed passes. Coming into today, he had thrown for 448 yards and three touchdowns.
UNSUNG HERO: A&M's stout defense was often spearheaded by Aggie punter Nik Constantinou constantly giving the visitors long fields to work with. The Melbourne native totaled five 266 yards on six punts, with three of those inside the 10-yard line. His fourth boot pinned the Hurricanes on their own 1.
TURNING POINT: With Miami threatening for the second time, defensive lineman Albert Regis swatted away a 36-yard field goal attempt to preserve A&M's seven-point lead heading into the half.
KEY STAT: Previously committing two fumbles and two interceptions to start the season, Texas A&M yielded no turnovers against a tough Miami defense. Also, touchdowns. The Aggies scored two. Miami scored none.
Scoring Summary
First-quarter
A&M: 11:32 - Randy Bond 26-yard field goal. Drive: 8 plays, 55 yards. TOP: 03:19. Texas A&M 3, Miami 0
MIA: 06:34 - Andres Borregales 28-yard field goal. Drive: 12 plays, 65 yards. TOP: 04:58. Texas A&M 3, Miami 3
A&M: 03:30 - LJ Johnson Jr. 1-yard rushing touchdown. Drive: 3 plays, 28 yards. TOP: 01:14. Texas A&M 10, Miami 3
Third-quarter
A&M: 10:29 - Devon Achane 25-yard reception thrown by Max Johnson. Drive: 4 plays, 76 yards. TOP: 01:58. Texas A&M 17, Miami 3
MIA: 06:25 - Andres Borregales 22-yard field goal. Drive: 12 plays, 71 yards. TOP: 06:25. Texas A&M 17, Miami 6
Fourth-quarter
MIA: 08:32 - Andres Borregales 34-yard field goal. Drive 16 plays, 83 yards. TOP: 06:19. Texas A&M 17, Miami 9
Never miss the latest news from TexAgs!
Join our free email list