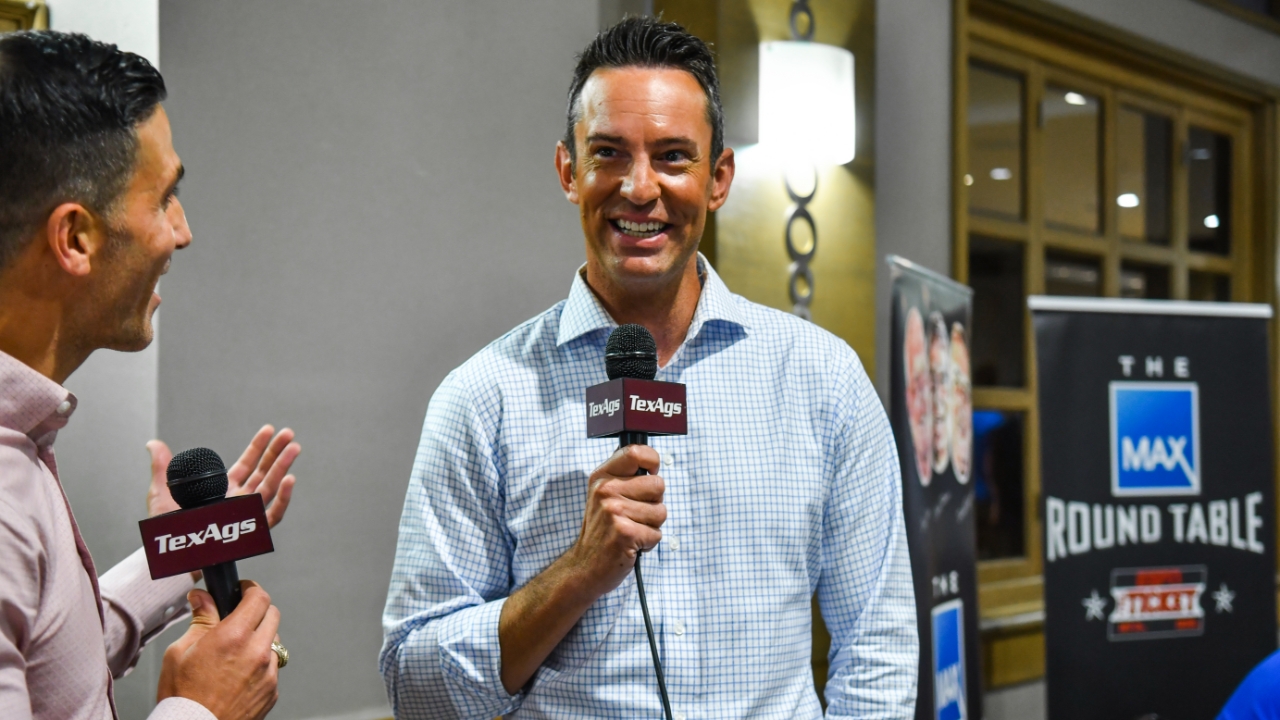 Photo by Jamie Maury, TexAgs
Texas A&M Baseball
Television's Peter Burns analyzes the SEC West's postseason dominance
---
Half of the field in Omaha are teams from the SEC West as the division once again flexed its muscle on the college baseball world. SEC Network personality Peter Burns joined Tuesday's edition of TexAgs Radio to look back on super-regional weekend and ahead to the CWS.
---

Key notes from Peter Burns interview
I lived in Texas for 20 years, so it's in my blood. We would watch games at Kyle Field and float the river. I'll always have a soft spot for Texas A&M. It seems like the SEC Tournament is the College World Series this year.

At the beginning of the season, it looked like a team like that was trying to find their lineup. Come early April, they were figuring things out because they brought eight transfers in. I thought it was interesting across the country at how many guys wanted to come to A&M. They are building a monster, and it's not just baseball. It looks like everything is trending for the Aggies.

My family went to the Arkansas super regional game against North Carolina. It started as a disaster because my daughter needed ice cream, and she dropped it twice. That was the worst thing that happened.

Jack Moss and Troy Claunch said they were trying to play their style of baseball. They are going to see some teams they are familiar with in Omaha.

The environments are a result of the product. For a year and a half, people couldn't travel and there was a lot of pent-up excitement to go do things. The "Ball 5" chants in the stadiums, people hear that, and they want to be a part of it. It's a difference-maker.

Sonny DiChiara looks like a little league all-star. Auburn had three hits last night, and he had two of them. They still pitch to him. This guy could have played offensive line at Auburn if he wanted to. When he was younger, he had a headache one day, went to the hospital and found fluid leaking into his spine. Doctors caught it early enough to avoid being paralyzed, but they said he wouldn't play sports again. He begged his parents to play something and started playing baseball.

I'm going to say that Texas wins the College World Series to put a curse on them.

When Jim Schlossnagle gets mic'd up, he seems like the dude I would want to go get drinks at the Dixie Chicken with.

Texas and Oklahoma will be in this conference. It's a murderer's row. Six of the eight will eventually be SEC squads. SEC baseball is in a better spot than football right now, and that's saying something.
Never miss the latest news from TexAgs!
Join our free email list