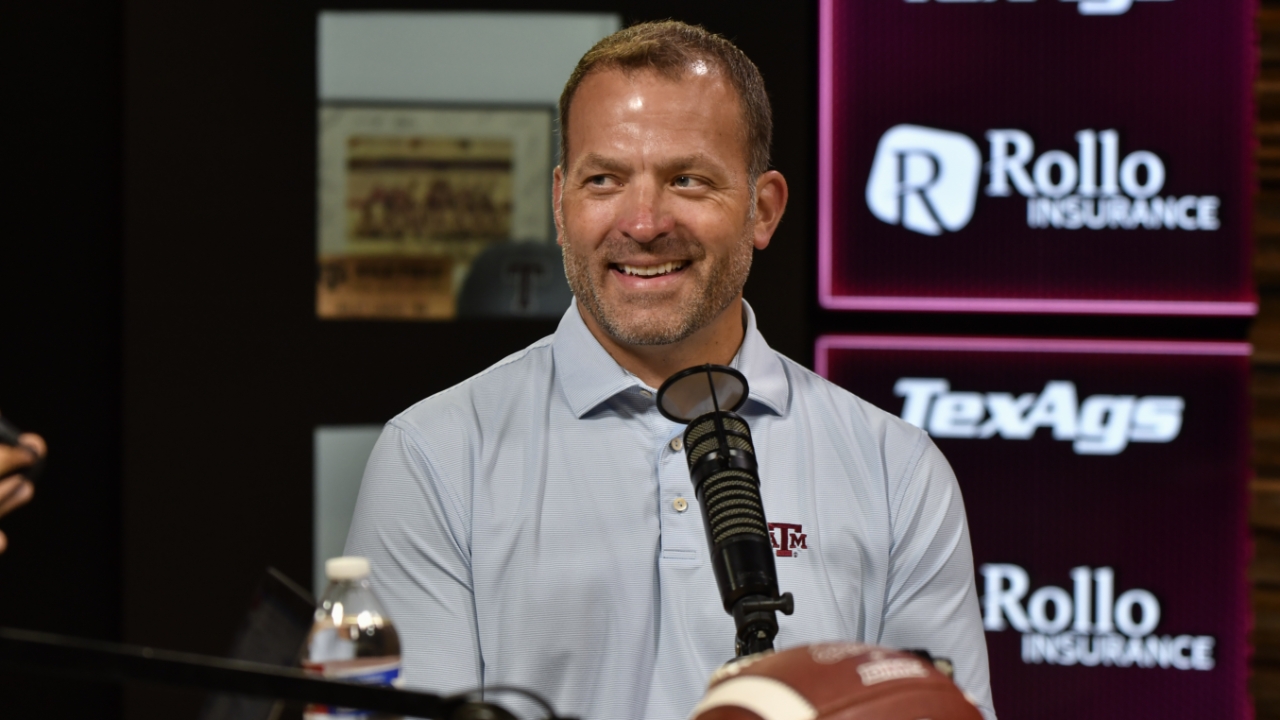 Photo by Jamie Maury, TexAgs
Texas A&M Football
Texas A&M AD Ross Bjork provides update on all things Aggie athletics
---
It's an exciting time in Aggie Athletics as the spring calendar winds to a finish with baseball and track competing in the postseason. On Thursday, Texas A&M Director of Athletics Ross Bjork joined TexAgs Radio to give a "state of the union" update on the athletic department.
---

Key notes from Ross Bjork interview
I think it has been a really good spring. Look at where women's golf came from. They were surging in the fall and had some good tournaments early, and they finished in the top four. Women's tennis won the SEC and went to the elite eight. Track & field will always be good, and some guys advanced last night. In softball, we made the NCAA Tournament even though we're going into a transition. Playing baseball in the middle of June is special, and it creates a lot of momentum. It has been a really, really fun spring, and it's just building momentum for us as we go into the fall and the summer.

Men's golf had an excellent run to the NCAA Championships, and Brian Kortan was an internal hire. We've had five hires since I've been here with softball this week. I've always been studying the landscape of coaches and who is thriving.

With women's basketball, we talked to Kelly Bond-White, but everybody else we talked to was a sitting Power 5 head coach. Obviously, we hired Joni Taylor, who has been awesome. Everybody we spoke to for softball was a sitting Power 5 head coach. When you're at a place like Texas A&M, people want to be here, and they see the attractiveness.

We do use a search firm, TurnkeyZRG. Deploying them in these processes gives you a lot of research and intel, but ultimately, it is our call. The tricky part is who makes the call to a potential candidate. We need to know before there is any engagement if there is any interest on their end. The search firm and the consulting helps us there.

When we sat down with Trisha Ford for an interview, you could see her energy coming through Zoom. Within five minutes, you could tell that her personality fit Texas A&M. We could not wait to meet her in person, and when we did, it was the same. You could see the passion and the energy to go along with the high-level results. She built a program from scratch at Arizona State. The pitching side of Ford is something we needed and something that was very attractive to us. She also brings grit and determination. She comes from a background of hard work. She's a perfect fit for Texas A&M. It was a fun hiring process.

You never take anything for granted because you never know what might happen in college athletics, but as far as alignment at a leadership level, university level and coaching, people tell me that we have the best alignment this place has ever had. That starts at the top with President Banks and Chancellor Sharp, and it trickles down to our coaches. I feel really good about where we are with our coaches, but we also know that we need to perform. If you look at the Director's Cup, we haven't been where I want to be. I feel good about the stability, but how do we keep pushing and keep growing? We feel good, but there is more work to be done.

Jim Schlossnagle is very fascinating. People talk about the process, but he never panicked. Think about the Penn series or the trip to Frisco. He could have easily scrapped everything for this season, but he didn't. That's a sign of great leadership, and he challenged his team. He used his Pringle analogy to challenge his team. To see this happen in year one, nobody expected it. I just told him I wanted to see progress. We knew the recruiting was already there. To have it flip like this and host and win the SEC West has been an unbelievable turnaround in year one.

If you had asked about the expectation for baseball this year, I would have said making the NCAA Tournament, but to have it surge like this is incredible. The biggest problem is that we don't have enough seats at Blue Bell Park. Certainly, you don't want to turn people away, but the momentum can allow you to make those projects happen sooner rather than later.

It's a fascinating time in college football right now. If you look back at the original college athletics event in 1852, a rowing event between Harvard and Yale, people said it was overcommercialized and the participants cheated. We still haven't figured that out. We're talking about the future of the NCAA and the futures of our student-athletes. You have inconsistencies in NIL, and we're sort of waiting on Congress, which can come with other issues. College athletics have major lawsuits facing us that can wreak havoc.

I do believe we can solve these issues, and I do think that Texas A&M is on the right side of the equation. I think we need consistent NIL policies, and I do believe we can stay under the NCAA. I do think the College Football Playoff needs to expand, but that won't be until at least 2026. I do think we can solve all these issues, but we need to be more careful than fast.

The SEC will expand in 2025. The Longhorn Network will go away. The SEC Network is the most powerful collegiate network. Texas would have to get plugged into the SEC Network, just like we did, and the Longhorn Network will go away.

We think that playing nine conference games is the best. It gives us the best value for our fans and TV partners. It also allows us to have as many of those historic rivalries as possible.

There is a long of angst over last summer, and what I said last week is true: The first Texas A&M vs. Texas game will be at Kyle Field. I don't know when that will be or what scheduling model we will use. The people that need to know that understand, and that's the agreement. That's not whining or crying. That's the right thing to do in this realignment. When that schedule comes out, that's how it will be formatted.

This weekend is going to be very electric at Olsen. Those crowds helped our team surge late in the games. There will be a lot of nervous energy, but I think it will be electric. I know the 12th Man will be there to support our teams.
Never miss the latest news from TexAgs!
Join our free email list