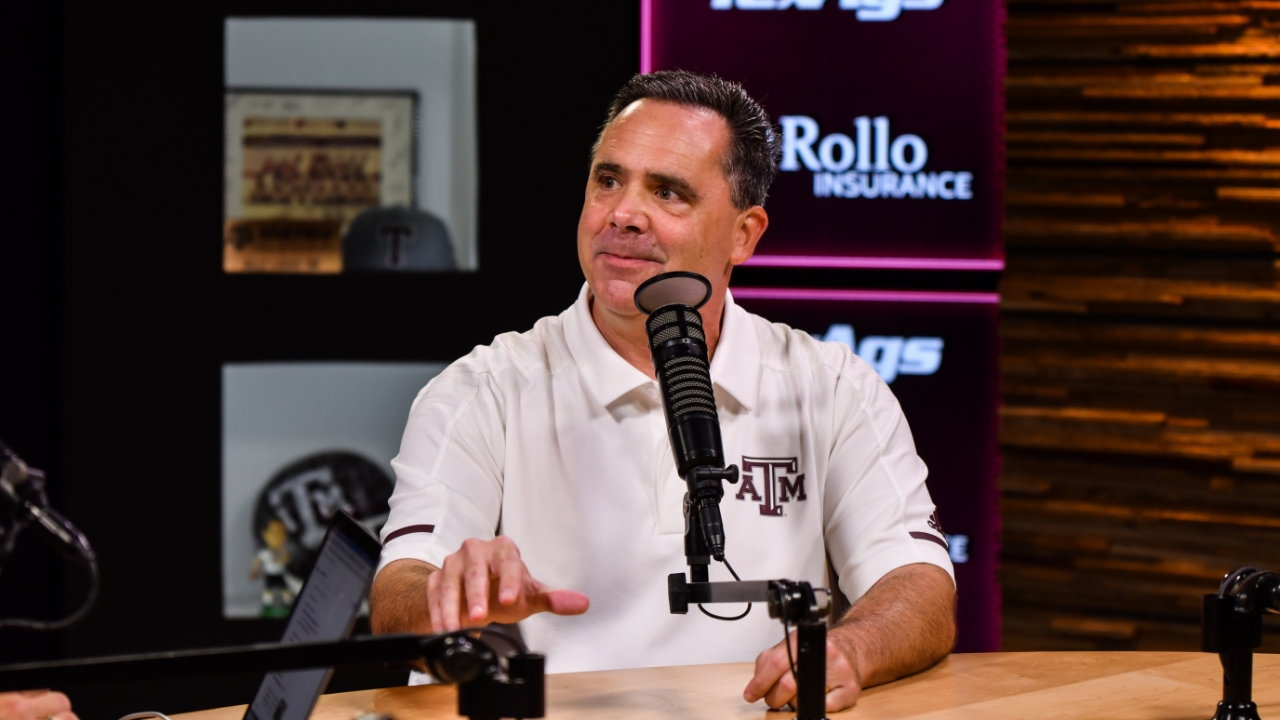 Texas A&M Football
Catchin' up with the Voice of the Aggies ahead of regional weekend
---
Play-by-play voice Andrew Monaco joined us on Tuesday to look back on a 10-day road trip with Aggie baseball as Jim Schlossnagle & Co. are set to host a regional. Monaco also talked some football as the nation's No. 1 recruiting class has officially moved to Aggieland.
---

Key notes from Andrew Monaco interview
The road trip was a lot of fun. Ole Miss was a blast to end the regular season. To go out and win on that Saturday to win the west outright was fun. Then, in Hoover, we had to wait, but it was worth the wait. To run-rule Florida and to come back against Alabama gave people a glimpse into what A&M was. That was fun. It was the longest trip I've been on since the days I was working with the pros. It was special to be on that run.

Robert Williams has a chance to keep that A&M streak going. We could have another Aggie lifting the Larry O'Brien trophy, and he has been extremely impactful. So many Aggies have taken the next step after A&M. It's that "where you're from and where are you now" message, but it also tells you that if you come here, look at what's next.

You knew the NCAA was going to be clever with who was coming to the College Station Regional, and part of it is the region that we're in. A lot of teams come from Texas and around Louisiana. It just adds to the storylines that TCU is coming here. There are a lot of wins in this regional, but if you expected it to be a cakewalk, that's not what the NCAA tournament should be. We have Jim Schlossnagle now, so it's our turn to be that team.

This is going to sound simple, but this is part of the mantra. Yes, you had Trevor Werner, Kalae Harrison and Khristian Curtis go down. That opened the door for people like Austin Bost and Ryan Targac to step up and fill some holes. This entire pitching staff was trying to find their roles, but now you know where you can pitch certain guys in certain spots. Look at Will Johnston on the backend. You have Joseph Menefee, Wyatt Tucker, Robert Hogan and Brad Rudis that have come together to save your pitching staff and allow you to win series. Then you can also out-slug your opponents. Guys have stepped up all season long.

In that Alabama game, Grayson Hitt's 100th pitch was the last one he threw that Dylan Rock hit for a three-run home run. That started the 10-unanswered runs. These Aggies just hand it off to the next guy. That's what this team has become.

The Nate Yeskie effect and the Michael Earley effect have helped guys buy-in. They see success, and the confidence has set in. Early on, they were getting runners on but not getting them in. Now, they're doing both. They put up crooked numbers. It's the combination of knowing what a strike is and not swinging when it's not there. They've learned to get another pitch. You see the repeatable swings. Guys don't change their swings. Jack Moss is the perfect example of that. Werner at the top of the lineup and Kole Kaler at the bottom allows you to turn around the lineup to give your leadoff guy RBI spots. It really works, and they look really comfortable. There is not a hole in that lineup, and that's tough for a pitcher.

Talking to Bost before the SEC Tournament began, he said the key was to not get sped up. The early part of the season was supposed to be the easy part of the schedule, but in the SEC, they won seven consecutive series. That's because they didn't get sped up by SEC play. The moment has never been too big for them.

Rock has been in the two-spot. Taking pitching helps Moss in the three-hole. He spits on some really good pitches because he knows he's going to get another. You have to know where Rock is in the lineup at all times. You have to pitch to Werner because you can't pitch around both Werner and Rock.

I think you have to take time to learn your team, and Jim Schlossnagle has done that in the fall and the spring. He's putting guys in the best spots for them to succeed. When the players have that trust from the head coach, the pitching coach and the hitting coach, that trust begins to go both ways. They don't want to let Schlossnagle down either.

Micah Dallas has been through tournaments, regionals and super regionals. The other pitches hadn't before the SEC Tournament. Nathan Dettmer's foot is healthy again. On Friday, he didn't have that curveball, and the defense didn't help him. Can he get it right in the regional? You can't have just one pitcher in a regional. To have Dallas and Dettmer, I think they become key. Will Micah be right? He was right against Florida. Think about the confidence for a pitcher, and on the very first pitch, Jordan Thompson makes that catch at the wall. That changes the whole thing.

Moss has saved games with his footwork at first base. I watch him work with Schlossnagle at the end of practice, and they work on different ways to pick that ball. His defense has helped the team as much as his offense. He's tied for the lead in the SEC in hits, and he's in the top-five in average in the SEC. He's a special player.

How many schools would like to have just this summer session of recruits as their signing class? They're joining the early enrollees, and those kids already own the "compete" gene. Don't be surprised if some freshmen are starting this fall. There is a special makeup with the group, and it's not just talent.

Can you play college football? Absolutely. But can you play for Jimbo Fisher? It takes a different makeup. You have to be willing to be part of something that is larger than yourself.

Are these freshmen going to be smart enough to pick the brain of veterans like Demani Richardson? You better believe it.

This time on your own after spring ball is when you have to get better before we get to August and the competition starts. What are you doing in the middle of fall camp, during week three or four, when there isn't a game on the horizon? This group is going to relish it, and they love everything that goes along with football.

Why not now? There is no reason why not. Jimbo Fisher isn't coaching for next year. He's coaching for now. You have to win the SEC West, win the SEC Championship and then get into the College Football Playoff. They won't just be invited to the playoff, and they have to go take that chair. The scars of disappointment will motivate the guys that have come back.

There will always be questions surrounding a team, but it's the teams that answer those questions the best that get into the CFP.

You have to set the narrative. What Nick Saban said, Jimbo Fisher didn't like. Don't question a man's integrity, character or his program at Texas A&M. For Jimbo not to sit on it, that's not surprising. That's him. He had to address the LSU rumor twice. He has now had to address NIL twice. We've seen the emotion, and I think Aggies everywhere are thinking, "That's my coach."

Why did the SEC wait for Jimbo's reaction to Saban after Lane Kiffin started it and Mike Leach said something about A&M? Why did Greg Sankey not say anything until after Jimbo responded to Saban? We have to play nice because Jimbo said something to Saban? No, that's not how this works.

A&M is going to be the program it wants to be. The opponents don't have a choice. In ten years, I hope we're saying "it's always A&M" that is in that conversation for the CFP and the national championship. We were in the conversation after the Orange Bowl, but too many teams have been in the conversation and didn't like how it ended. A&M is trying to end the conversation.

Jimbo Fisher has the ring to prove that he knows how to build it, and now he has to talent to prove it.
Never miss the latest news from TexAgs!
Join our free email list