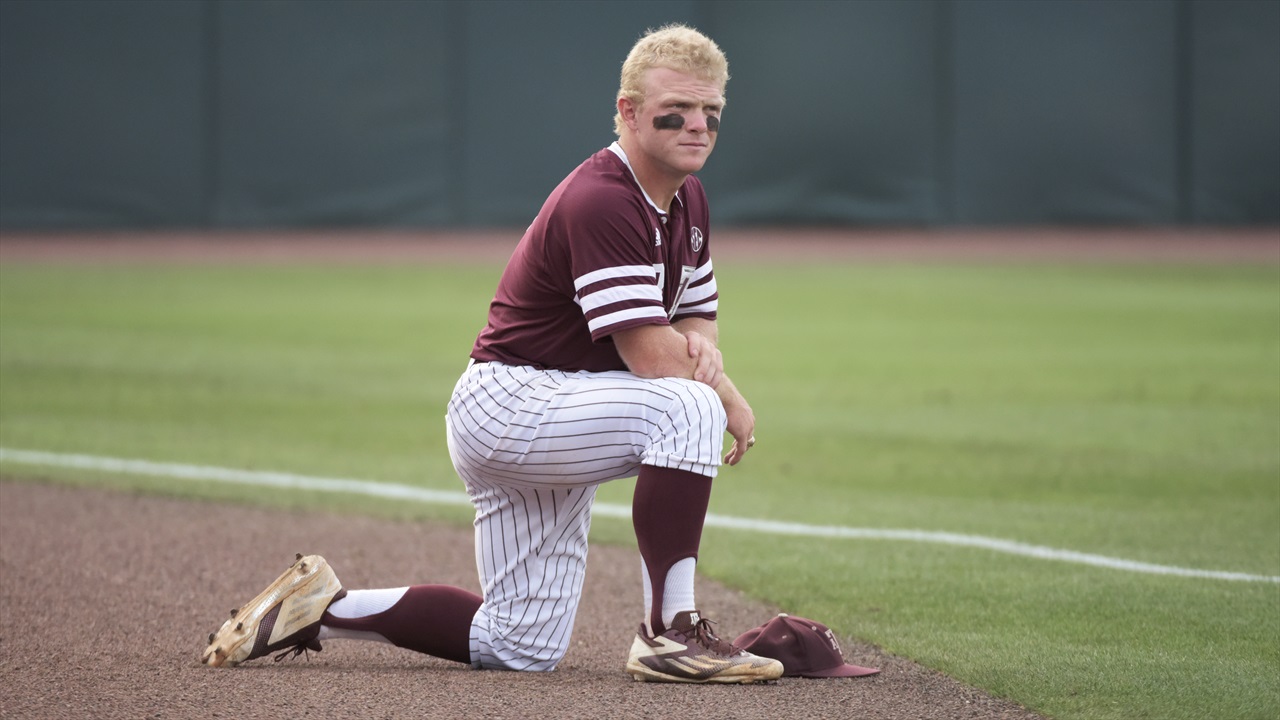 Boomer White Q&A
Baseball Roundtable
Texas A&M Baseball
Baseball Bunch recaps game one in Oxford, plus Boomer White joins TA Radio
---
During Friday morning's edition of TexAgs Radio, the Baseball Bunch joined to recap game one of Aggies-Rebels from Oxford. Later in the show, former Southeastern Conference Player of the Year Boomer White joined the program.
---

Key notes from Boomer White interview
I enjoy doing color commentary. I've quite a bit of it in a three-man booth, but this is my first time this season being the main color guy in a two-man booth. It gets me up to College Station to visit family and friends, and I value that as much as the gig.

This team has developed an offensive identity. We've seen this team bounce around to an arm or two that has gotten them through each weekend, but what you can take to the bank is that they're going to grind at the plate. You have guys that compete, and they channeled that at the beginning of conference play. They're relentless no matter where you're at. In the conference this year, it's going to come down to who will grind for nine innings and get into the other team's bullpen.

I liked to see a little fire in the Aggie dugout last night. I thought that was a positive. For the situation itself, it was interesting, to say the least. You can see from your couch that our hitters have a pre-pitch routine. That can be frustrating to their pitchers. As a hitter and a pitcher, you want to dictate the pace. It seemed like A&M was doing that. Dylan Rock was probably frustrated he got quick pitched, and he probably mouthed off. I've never seen a fielder try and charge a batter rounding the bases. That was pretty immature.

For the most part, Jim Schlossnagle is the same guy through and through. Everything from antics on the fielder to how he approaches pitchers and hitters is the same stuff I've seen back to 2011. However, I've seen him change and adapt to a new university and new coaches around him. He went to the transfer portal, and I know he doesn't want to do that much. It speaks to his ability to adapt. To see him in the Maroon & White is sort of an out-of-body experience, and I see a combination of what he did during my time at TCU and my one year at A&M. Schlossnagle is close to my dad. They talk a lot. We talk on the field when I'm in town. We've run into each other plenty.

We had a veteran presence in 2016. I can think of all the guys that had a big impact offensively, and I don't think any of them were not juniors or seniors. We had older guys offensively, and we put up big numbers. I didn't know that this 2022 team could do that, but it's now 100 percent the expectation for them to put up a big offensive performance at least once in a three-game series. What I don't see from the 2022 team that is a big difference are the starting pitching and the bullpen, but maybe their identity is that they don't have one.

It has been a blast to watch these guys. It is such a treat when Jack Moss goes to the plate, especially when he's in an 0-2 count, because that's when the true hitter comes out. Moss and Rock have been better than advertised. You see a veteran approach in a young guy with Moss. I had heard tremendous things about Rock, but he had a pretty rough early spring and a rough couple of series early in the season. He mentally checked back in so he could get it back physically. He has unreal power combined with patience to take his walks. You're going to need both of those guys throughout this postseason run.

Nathan Dettmer's blister is concerning, and I don't know if I played with anyone who had a prolonged blister issue. We need Dettmer to make a run, but I don't know what the solution is. If you remove him from the rotation, you're going to have to score even more runs as an offense.

You can find a role for a guy like Micah Dallas. He just needs an inning or two to get his confidence back. I don't think it necessarily has to be a starting role. You could use him as a long-relief guy. It's a mindset more than anything. He will have to see success and feel success to check back in. They need him. He will be a vital member if they make a run, but I just don't know what his role will be.

I genuinely think that this team is in a position to be a national seed would have been unthinkable. I did not give them a chance. They have constantly evolved, and mentally, they've gotten better. Everything that goes into it has evolved tremendously. They've put themselves into a tremendous position, and it's huge for recruiting. It would be great for them to go on a run and get to Omaha, but I cannot overstate how impressed I am with their ability to grind out games and win games. It's not always sexy, but hats off to this team.
Never miss the latest news from TexAgs!
Join our free email list