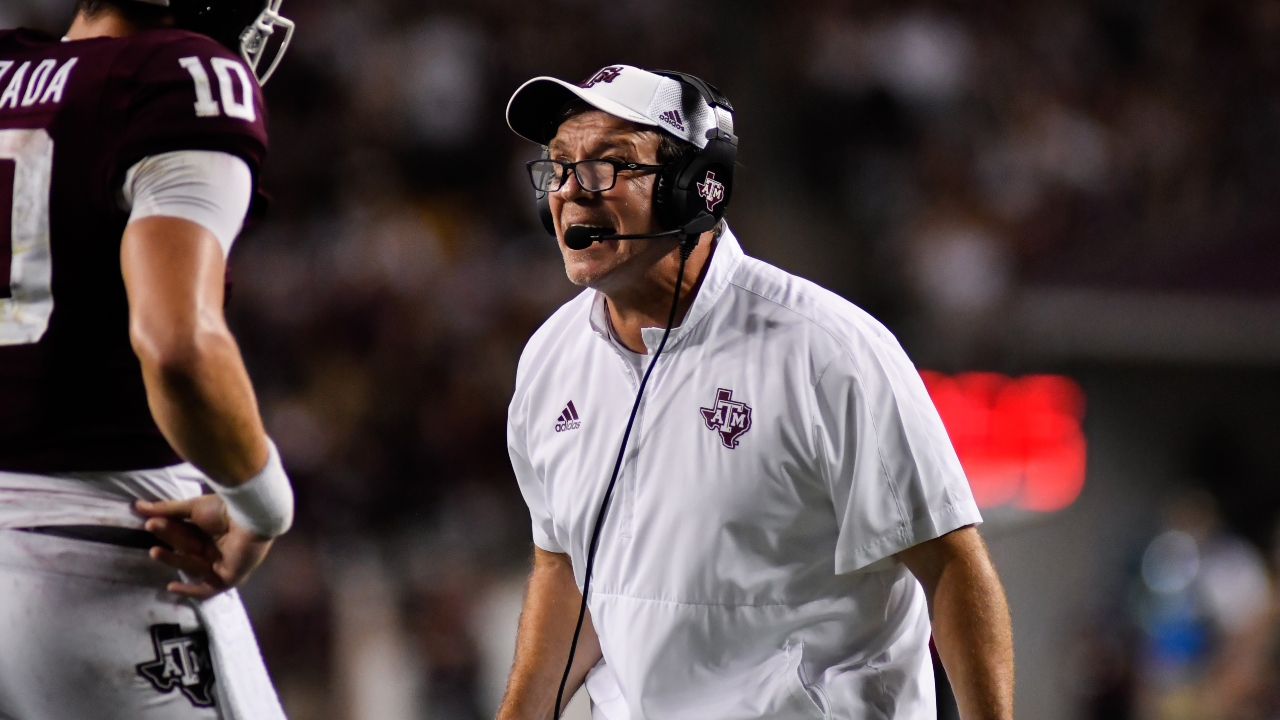 Photo by Jamie Maury, TexAgs
Texas A&M Football
Reveling in the Reviling: A handful of programs that Aggies most detest
---
Old-time rocker George Thorogood once bragged he wore a cobra snake necktie while asking "Who Do You Love?"
If Thorogood was playing The Tap this weekend, he'd be better served to ask "Who do you hate?"
Who are the snakes of college athletics that Aggies most detest?
Obviously, Texas always has and always will top at the list of A&M's most reviled. Of course, the Red Raiders, Baylor Bears, Houston Cougars and TCU Horned Frogs have been on it, too.
But reactions to A&M's success in recruiting and on-field competition have expanded the list and maybe even re-arranged some rankings of the reviled.
A&M has long had a disdain for LSU. The disgust multiplied back in the 1990s when LSU canceled the annual series because A&M beat the Tigers six times in a seven-year span.
There was also that fiasco with Harvey Williams, aka "The Louisiana Purchase."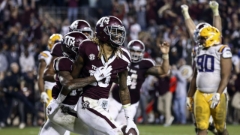 Troy Taormina-USA TODAY Sports
Also, LSU fans are probably still whining about A&M's seven-overtime victory in 2018.
Of course, LSU isn't the only SEC rival with which A&M has a problem.
Though Arkansas and A&M share a mutual loathing of Texas, they disprove the ancient proverb: "The enemy of my enemy is my friend."
Aggies and Razorbacks aren't friends.
Aggies don't want to be, especially with all the recent whining coming out of Fayetteville regarding A&M and Incarnate Word (not World) mutually deciding to cancel a meaningless midweek baseball game this week.
Oklahoma is another example. The Sooners also detest Texas, but that's where the common ground with A&M ends.
Remember back in 2013 when former coach Bob Stoops questioned the strength of Southeastern Conference football? Since then, the SEC has produced five national champions.
And now Oklahoma wants to join the SEC. Of course.
But what really irks Aggies is Sooners' reaction to A&M's success in football recruiting.
Smug Oklahoma fans assumed A&M center Bryce Foster and defensive lineman Gabriel Brownlow-Dindy were guaranteed to join the Sooners. When both chose A&M, there were internet attacks on them. There were also accusations that A&M cheated to get them.
Let that sink in.
Sooners, whose past is as checkered as Tennessee end zones, were baselessly accusing another program of cheating.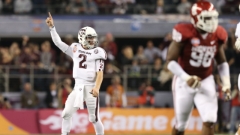 Tim Heitman-USA TODAY Sports
Don't throw stones in glass houses.
Almost everyone hates Notre Dame, but A&M certainly has its reasons.
It was ridiculous enough that Notre Dame was chosen for the College Football Playoff over A&M in 2020, but adding to the Dame disdain was Notre Dame Vice President Lou Nanni's irresponsible and untrue tweet about the myth that A&M paid $30 million to land its 2022 recruiting class.
No doubt, Aggies in general — and Jimbo Fisher, in particular — are looking forward to games against Notre Dame in 2024 and 2025.
Of course, the additional abhorred adversaries don't necessarily have to be relegated to rival programs. Aggies seemingly have learned to detest individuals as well.
Aggies have learned to dislike Ole Miss. An honest question, though: Do Aggies have more disdain for Ole Miss or for Rebels' coach Lane Kiffin?
Kiffin drew A&M's ire by suggesting the Aggies pay a luxury tax for its recruiting class. Another irresponsible statement from the coach of a program that actually has been proven to pay players (hello, Laremy Tunsil) before NIL came into effect.
Aggies also have issues with media types like Darren Rovell, Dennis Dodd, Danny Kanell, Joel Klatt and Kirk Herbstreit, the Big 12 Conference overall and Southeastern Conference officiating.

Remember Georgia receiver George Pickens grabbing the face mask of A&M cornerback Debione Renfro to create separation for a 16-yard touchdown pass? Remember how no yellow flags were thrown?
Alabama also seems to frequently get favorable officiating against A&M.
A&M doesn't like Alabama, but the opponent's success isn't really a reason for hatred. Winning is the goal, after all.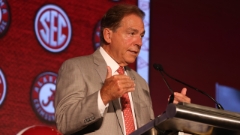 TexAgs
However, when coach Nick Saban accuses A&M of buying its entire 2022 recruiting class without citing evidence is a reason for hatred.
Especially, when a year ago Saban was bragging quarterback Bryce Young had a $1 million deal before taking a meaningful snap. The hypocrisy makes the stomach turn.
So I ask Aggies…who or what really makes your stomach turn? Who or what should be the top five on A&M's most reviled list?
I'm guessing it's:
1. Texas
2. Saban
3. LSU
4. Arkansas
5. Lane Kiffin
Is that accurate? I'm wondering what would be the consensus top-five. So, let me adjust my cobra snake necktie and ask you, Aggies:
Who do you hate?
Never miss the latest news from TexAgs!
Join our free email list
SPONSORED BY