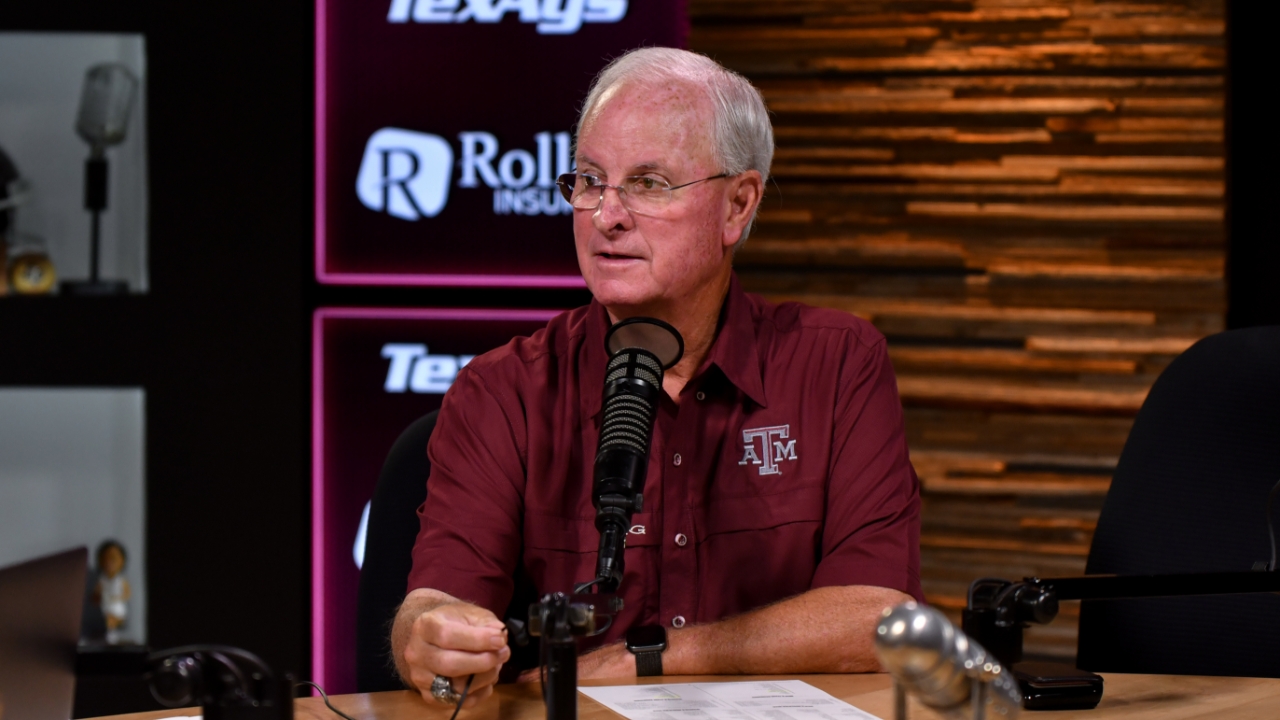 Photo by Jamie Maury, TexAgs
Texas A&M Track & Field
Track & Field Report: Legendary A&M coach Pat Henry recaps SEC Championships
---
During Tuesday morning's edition of TexAgs Radio, legendary Texas A&M track & field coach Pat Henry recapped the team's performance at the SEC Championship meet last weekend at the Ole Miss Track & Field Complex in Oxford, Mississippi.
---

Key notes from Pat Henry interview
I'm doing well. It's great to listen to your conversation on the way in. It's great to see baseball doing so well.

We had a little bit of everything. We had about a six-hour rain delay. We had a great meet. It got hot. We had a little bit of everything over that three-day period. It was great competition as always. The SEC Championships is the best track meet in the country. We did some great things. We're moving forward now into the regional competition in two weeks. This is the time of year where your elites and the people that you have who can score at a national meet start stepping up.

There are inequalities in scholarship opportunities from one school to the next. I really don't like to talk about it, but it's evident. It's part of the whole situation right now, and I don't know if we can ever get it corrected, but it definitely affects your team at this level.

We've had better depth than we have right now. We don't have that depth to be really competitive in the conference. Now, we're competitive and we're a good team, but being in the top part of the SEC is bascially our challenge because moving forward that is what counts.

If you win a national championship in our sport, everybody focuses on that from that point forward. It's good to be competitive in the conference, but everyone focuses on trying to win a national championship. I've never really focused on winning a national championship. My sport is different. My sport is about indiviaduals becoming great, and that's the same on a team, but in this sport, to be one of the top in the United States, you're the best in the world. We're so defiant of a stopwatch or a tape measure.

Lamara Distin is proven. She's been very good all season long. She continues to get a little bit better. You don't really see it, but when the surface gets a little wet, there's a lot of things that can affect that. How you put your foot down to jump high, if your foot barely slips at all, it starts affecting you because you can hurt yourself pretty good. For her to get it done on this day was a big day.

Moitalel Mpoke is a tough little guy. He's not very big, but he brings it. When it's time to go, he's ready to go. He's fun to watch, but James Smith was second in that race. Smith is probably as consistent as Mpoke but just doesn't quite have that little bit of gas that Mpoke has.

Big time meet for Laila Owens. We ran 3:22.01 in the 4x400, and Kentucky beat us by an eyelash. We've never run that fast, ever. Even with the pretty good group we had last year, we never ran that fast. Laila ran under 50 seconds on the 4x4, and she's one that makes a huge difference. She made the difference.

It's about doing it on that day. Charokee Young is the best in the world right now, but she didn't see the young lady coming up on the inside of her until she got down to about the last 15-20 meters. You can't regather at that point, so she got outleaned. You got to be at the top of your game. Charokee is running very well right now. In the 4x4, she crushed it. She'll be more prepared next time she gets on the track than this time.

Everybody introduces Young as the best athlete in the world. When she stepped on the track, the introduction, that's what they said. Leading the world, but that young lady that beat her is standing there in lane four. She's not worried about that. She's worried about doing her best. That's what this is all about.

Eric Casarez got better. He's gotten better almost everytime he's stepped on the track in the last five weeks. Eric's young. He'll be back. He's got what it takes. To run 13:54 and not advance, that's incredible.

Teddy Radtke is one of those guys that kind of came out of the woodwork at the last meet we had here at home. You could see from the last competition that this guy was ready to run. That's why we took him. He wasn't on the charts, but we made him fit into our top-30 guys because you could see it coming. You could see that this guy is at the top of his game. His last straightaway was really fast. He's still underestimating what he's able to do. Another 10 meters and he would have been third. Teddy is doing a great job.

Another freshman Sam Whitmarsh runs 1:46 twice. He's never run 1:46 in his life. We've got a lot of freshman in this group that have done very well.

Bryce Foster scored one point at this meet, but for him to score one is a big accomplishment as a freshman. That's nothing to sneeze at. Well people think he was this great as a high school shot putter. Yeah, but that was 12 lbs. This is 16, so it's competely different way of putting the shot. He's learned a lot this year and he's done very, very well.

I think Culter Zamzow, another freshman, did a trememdous job at the meet too.

Deshae Wise moved herself into contention on a national level. She never ran in the intermediates until this year.

Get on the track and get out of your head and let go. You got to deal with some hurts, you got to deal with things that are uncomfortable.

I think that we can help with football. I think we can help them attract some those really skilled people. In high school, the football team, if you weren't skilled at playing baseball, you were on the track team. Devon Achane is one of those guys.

You qualify for west regionals by descending order. They start with the best time in the country and go down until the 200th time. Only the top 48 go to the west region. Twelve advance to the national championship.

We had a pretty relaxed day yesterday. We'll have a pretty relaxed day today. We'll be in the weight room, and tomorrow, we'll get a little bit of track work in and hit it a little bit harder on Thursday. We'll go through Saturday's training session. Then Sunday we leave, and the meet is in Arkansas. It starts Wednesday.

We've got some great personalities in the group, and they are going to be great Aggies.
Never miss the latest news from TexAgs!
Join our free email list