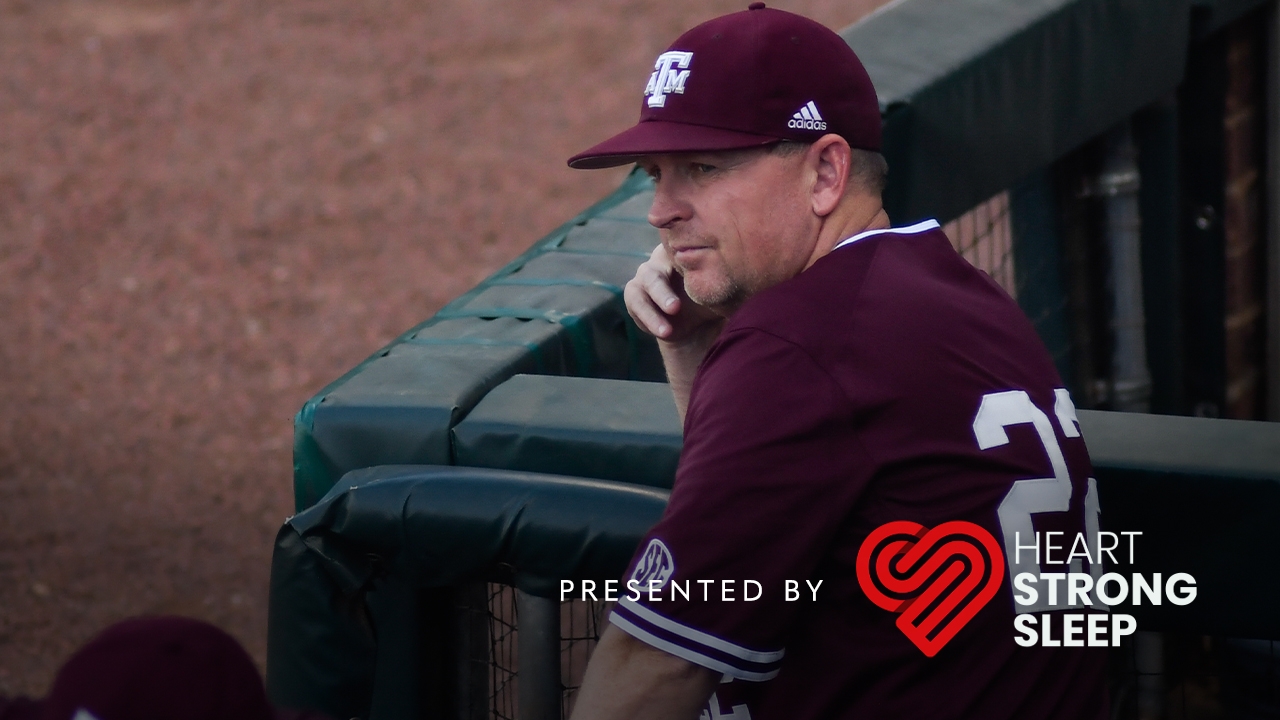 Texas A&M Baseball
Schlossnagle details final home series as Mississippi State comes to town
---
No. 10 Texas A&M hosts the defending national champions at Blue Bell Park this weekend as Mississippi State comes to Aggieland. Ahead of another big-time SEC series, Jim Schlossnagle joined TexAgs Radio to preview the Aggies' showdown with the Bulldogs.
---

Key notes from Jim Schlossnagle interview
Mississippi State is a team that knows how to win and probably has one more great run left in them. Given how we have won ballgames, it's not the most ideal model. Every game is a straight-up dogfight. I'm confident in our players, and I know we'll be ready to go. It's going to be a dogfight. We have to be more desperate to win than they do, and that's going to be the challenge.

If we ever really do get it going on the mound outside of Nathan Dettmer and a few others, this would be a scary bunch. We don't like to play from behind, but we can. That's a brutal way to play, but when you're in those situations, you learn not to panic when the other team goes up. The competitive spirit of this bunch is as strong as any I've ever coached. This is a team we will look back on very fondly, regardless of how this season ends.

Our depth position player-wise and the ability of Austin Bost and Ryan Targac to play multiple positions has been huge. If you had told me that we'd play most of the year without your starting shortstop and maybe your most physically gifted player and without Khristian Curtis or Ty Sexton... I would have thought, "Holy cow, what does that season look like?" Joseph Menefee, Jacob Palisch, Brad Rudis and Wyatt Tucker have come up. I still think Micah Dallas' best innings are ahead of him, and sometimes winning players show up when they're needed the most. Dallas is a winning player.

We will start Nathan Dettmer on Friday and leave the other two as TBA. I want to watch Mississippi State for a day. We'll have Micah, Ryan Prager and Tucker ready to go. We'll win them one at a time. If Micah is needed Friday night, we'll use him Friday night. Micah is going to have to be one of our better players.

Trevor Werner is probably back to 80 percent, and his 100 percent is so insane. That grip strength in that injured hand isn't all the way back, but once we see that, the baseball is really going to take off. His overall swings have been more aggressive, and he has done a nice job in the leadoff spot. He's a really exciting player, and I really hope we can get him back to 100 percent.

Will Johnston has definitely improved. The other day, he made only one bad pitch. The pick-off play was inexcusable, and he knows that. He has done a nice job of pitching in that bullpen, and it's nice to have that third lefty. He gets right-handed and left-handed hitters out. He's a lefty that goes up to 93 with two breaking balls. He just has to command the baseball. What I see with him is what I see with a lot of players: The COVID season really affected their development, and in some cases, they're a year to a year-and-a-half behind. I have a high standard for Johnston, and he could be a starting pitcher at some point. He just has to get enough experience to where he is as confident in himself as we are in him.

Coaching is just like raising children. As your kids get older, you tell them to learn from my mistakes. The kids have to experience it for themselves, and that's just part of learning and growing. It's painful at times because it can cost you a ballgame, but in the end, you can end up with good players. You're trying to win a game, but to win long term, they have to gain experience. You can't send them down to the minor league.
Never miss the latest news from TexAgs!
Join our free email list
PRESENTED BY