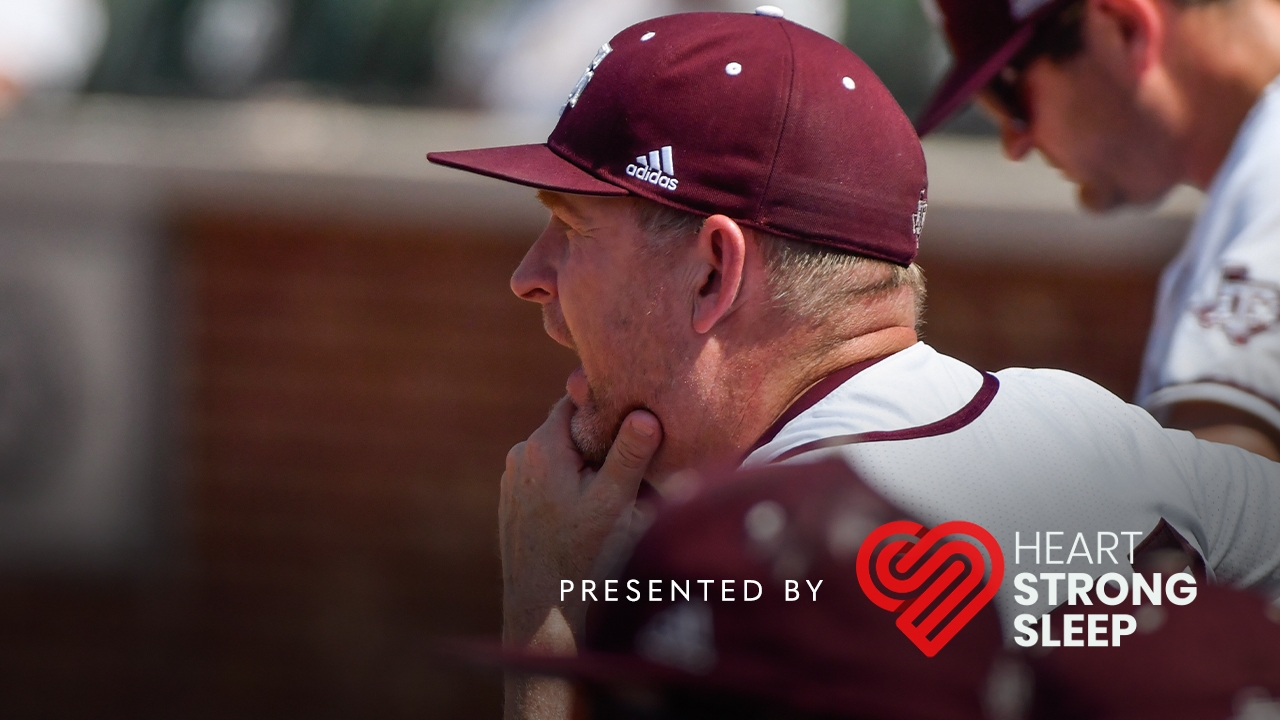 Texas A&M Baseball
Schlossnagle recaps the Texas Aggies' fifth-consecutive SEC series victory
---
Another series win for the boys in Maroon & White. Aggie baseball skipper Jim Schlossnagle joined TexAgs Radio Monday morning to reflect on his team's two wins over the South Carolina Gamecocks at Olsen Field.
---

Key notes from Jim Schlossnagle interview
Obviously, that second game was pretty emotional and a pretty epic comeback. To blow the lead and then be down to your last strike to hit the ball out of the ballpark to win the game. Every single weekend and every single pitch has so much weighing on it. By the end of the weekend, emotionally, I'm spent. I'm not sure who was a longer shot down 9-0, the Aggies or Rich Strike in the Kentucky Derby. It was a good day for the underdog on Saturday.

It's rare, but I don't know if it's sustainable. It's not ideal, that's for sure. I can't remember a team that really swung their way to Omaha. You'll have at least one, if not two guys, really step forward on the mound. There are different ways to get there. From my own experience at TCU, I thought the 2015 and 2016 Texas A&M teams were super talented, but the 2017 team wasn't as good. Still, they got to the College World Series.

I'm speechless in how we're doing it, but we're doing it. Maybe our pitching staff can start to write their own story once we get to the month of June.

Wyatt Tucker is throwing more strikes and getting more opportunities. He throws two different breaking balls. He's taking advantage of his opportunities. He did an awesome job on Saturday.

We don't have a midweek game, and our guys are beaten up like everybody is at this time of the year. With exams, guys are staying up late at night and getting to the ballpark. We need to get rested.

Once Ryan Targac hit that grand slam, I thought we had a chance. We were within shooting distance. I knew they had good pitchers down there, but they are also a little banged up. As soon as that ball went out of the ballpark, the energy in our dugout was solid, and I knew we'd get the tying run up to the plate at least once.

If you're a hitter and you hit a ton of pull-side ground balls, you cannot be a good hitter. As soon as you see a guy stay on the baseball, you know their barrel is in the zone for a long time. Targac has really worked hard at staying on the baseball, especially from the left side. If he's concentrating on hitting the fastball to left-center, then he will stay on the other stuff. That's the same with Brett Minnich, Jack Moss, Dylan Rock and Austin Bost.

Trevor Werner has been out, but as soon as he got back, I knew batting him leadoff was something we wanted to do it. Righties were hitting like .340 vs. Noah Hall, and I wanted to get our best right-handed hitters as many at-bats as possible against him. With Trevor up there and Kole Kaler at the bottom, we have a chance to get Werner at-bats with men on base. The plan is the leave Werner right where he is.

This weekend was Kalae Harrison's first weekend of taking batting practice on the field. We'll have simulated games this week, and we'll get Harrison some live at-bats in practice. Barring a setback, I'm assuming he'll be available full-time next weekend. He makes us better defensively, so we'll have to make those decisions on how we balance getting better defensively with the offense.

I haven't had a meeting in the dugout in 10 or 12 years. I think they're overrated, and the more a team meets, the more games they lose. I walked by Dylan Rock, and he told me he was frustrated. We try to play to a standard, not a scoreboard. I told them to forget about the scoreboard and just play. Let's just see what happens. Guys started putting together good at-bats. We got some balls out of the ballpark, and then it was on.

It's a totally different story and totally different game if we handle PFPs better. Micah Dallas gave up two or three flares and a couple of groundball singles. I thought his stuff was better, but you're right. If you field the ball better, it's different.
Never miss the latest news from TexAgs!
Join our free email list
PRESENTED BY