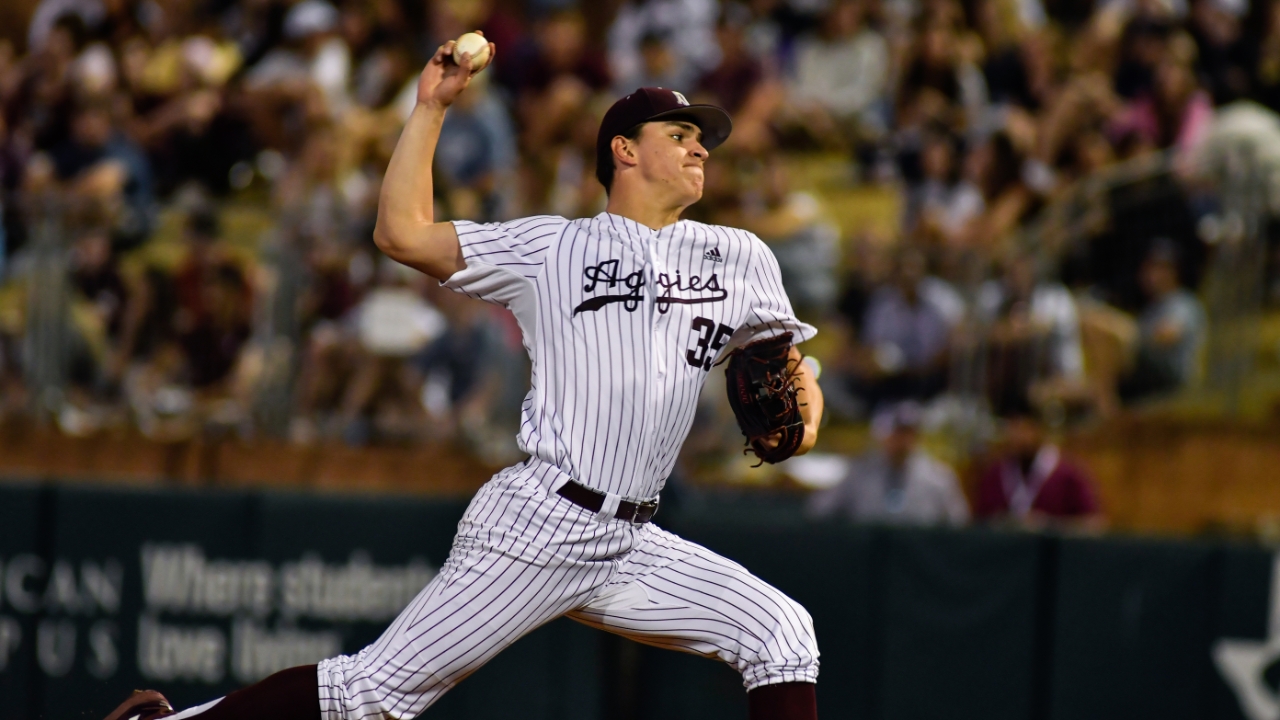 Photo by Meredith Tabor, TexAgs
Texas A&M Baseball
Series Preview: No. 13 Texas A&M vs. South Carolina
---
Also included above is Diamond Talk with David Nuño, Ryan Brauninger, Richard Zane and Scott Clendenin from Friday's edition of TexAgs Radio.
Who: South Carolina Gamecocks (23-20, 9-12 SEC)
Where: Olsen Field at Blue Bell Park – Bryan-College Station, Texas
When:
Friday: 6:30 p.m. CT (SEC Network+)
Saturday: 2:00 p.m. CT (SEC Network+)
Sunday: 1:00 p.m. CT (SEC Network+)
Pitching matchups
Friday: Nathan Dettmer (RHP, 5-2, 3.13) vs. Brett Thomas (RHP, 0-0, 6.39)
Saturday: Micah Dallas (RHP, 4-3, 5.49) vs. Noah Hall (RHP, 2-4, 4.57)
Sunday: TBA vs. Will Sanders (RHP, 6-2, 3.82)
Scouting South Carolina
Numbers don't lie. The Gamecocks have struggled throughout SEC play. Well, until last weekend when South Carolina pulled off the unlikely home sweep of Alabama. They've now won four games in a row and come to College Station with newfound confidence. But even with last weekend's sweep, the Gamecocks are still 9-12 and fighting to get into the SEC Tournament.
Looking at the team's statistics, again, the numbers don't lie. They are dead last in team offense with a tepid .232 batting average, 50 points below Texas A&M's SEC batting average. The Aggies have a significant advantage in almost every offensive category, but then again, it's hard not to when South Carolina has a slugging percentage under .400 and an on-base percentage of just .319.
That doesn't mean Friday's opponent lacks some dangerous hitters in the middle of the lineup.
Brandt Belk leads the team with a .351 batting average and a very respectable OPS of .952. Josiah Sightler is a dangerous power hitter with six SEC home runs and a slugging percentage of .677. Andrew Eyster and Braylen Wimmer have hit five home runs each in SEC play.
So, the Gamecocks do have firepower in the lineup. The problem is the back-end of the batting order where you have four hitters batting under .200. That's a killer for any lineup and puts so much pressure on the top 4-5 spots in the order. It's also why South Carolina ranks near the bottom of most offensive categories.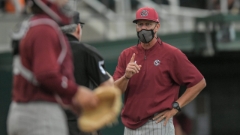 Ken Ruinard / staff via Imagn Content Services
South Carolina's pitching matches up a little better but still ranks below Texas A&M in most statistical categories except strikeouts. Their team's 5.90 ERA in SEC play is average by conference standards and is a full point above Texas A&M's 4.90 ERA.
Given the difficult match-ups on paper, head coach Mark Kingston has flipped his pitching rotation, throwing Brett Thomas and his 7.45 conference ERA against All-SEC candidate Nathan Dettmer. Thomas has started only three games all season.
The Gamecocks will throw their hottest arm, Noah Hall, at the Aggies on Saturday who owns a very nice 3.09 ERA in seven SEC starts. He'll be a challenge on Saturday, especially with a struggling Micah Dallas trying to right the ship on the other side. Will Sanders is a capable Sunday starter with a solid 4.57 ERA. The Gamecocks have a pretty good closer as well with Cade Austin owning two saves in SEC play and a 2.11 ERA. Other than that, there is not much else in the bullpen.
| | | | | | |
| --- | --- | --- | --- | --- | --- |
| Hitting (SEC) | Avg. | Runs | Slugging % | On-Base % | Strikeouts |
| Texas A&M | .282 | 147 | .446 | .384 | 213 |
| South Carolina | .232 | 101 | .390 | .319 | 185 |
| | | | | | | |
| --- | --- | --- | --- | --- | --- | --- |
| Pitching (SEC) | ERA | WHIP | Walks | Opp. Avg. | Strikeouts | Fielding % |
| Texas A&M | 4.90 | 1.44 | 76 | .260 | 203 | .971 |
| South Carolina | 5.90 | 1.55 | 83 | .278 | 189 | .984 |


Texas A&M storylines to watch
Every college coach says Friday is the most important game of a weekend series because it sets the tone. Multiply that exponentially for the Aggies this weekend with South Carolina choosing to throw a young struggling pitcher into the fire against one of the hottest starting pitchers in Nathan Dettmer.
The Aggies will be heavy favorites tonight, and it's a game the team must take care of business because the pitching matchups even out Saturday and Sunday. Stumble tonight, and all of a sudden Texas A&M is faced with sending a struggling Micah Dallas against South Carolina's best pitcher in SEC play, Noah Hall.
Speaking of Dallas, the second biggest storyline of the weekend for Texas A&M is to get their veteran Saturday starter back on track. Not only do the Aggies need a solid start from the Texas Tech transfer to win yet another critical SEC series in May, but his effectiveness in the postseason is crucial if Texas A&M expects to make it out of an NCAA Regional.
Given the lack of depth in the bullpen, A&M can't afford to fall into the loser's bracket, and that means the game two starter in a four-team regional must be good. That needs to be Micah Dallas.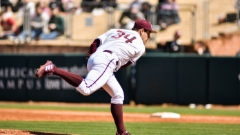 Brooke Homfeld, TexAgs
Coach Schlossnagle has to feel better about the bullpen with the recent emergence of Jacob Palisch and Joseph Menefee. Those two must keep it rolling this weekend and prove they can be rock steady from this point forward as the postseason approaches. It would be a luxury if Chris Cortez can shake his funk and become a much-needed reliable righty option in the bullpen.
At the plate, as I said last week, there's not much to discuss here. The hitting has been phenomenal over the last couple of months. About the only issue of concern is the number of strikeouts, and South Carolina's two top pitchers are strikeout guys.
The key for the offense is the same as last weekend. Go deep in the counts, foul off difficult two-strike pitches, and catch a barrel on mistake pitches. If A&M hitters can force Gamecock starters into high pitch counts early in the game, they can feast on a very average bullpen.
The bottom line is Texas A&M has to play relatively clean in the field and get a good pitching outing from Micah Dallas. If that happens, the Aggies should walk away with a fifth consecutive series win, and if the ball bounces right, a sweep isn't out of the question.
But that only happens if Dettmer and Dallas take care of business on the mound and save the bullpen for committee day on Sunday.
What's at stake this weekend
With only three weekend series remaining, postseason possibilities are becoming clearer for the Aggies. On the momentum of winning four SEC series in a row, the once underdog Aggies are underdogs no more.
They are now the hunted after D1 Baseball projected Texas A&M to be a national No. 7 seed.
That's quite a remarkable turnaround for a team that was trying to find a path into the NCAA Regionals. Now, the schedule on paper turns manageable and the Aggies host two lower-tier SEC opponents which start tonight with South Carolina.
Do the Aggies relax and take a deep breath, or do they exhibit that killer instinct and put the pedal to the metal? If the home team can sweep the Gamecocks, Texas A&M will be in a strong position to not only host a regional but also garner a coveted top-eight national seed which is the ultimate goal.
Go 2-1 to win the series, and this squad is still on pace to likely host a regional with an outside shot at a national seed. Lose the series 1-2 and the Aggies will need a strong finish against MSU and Ole Miss to host a regional.
Bottom line, finishing conference play going 6-3 (18-12) should easily result in a regional hosting spot with an outside shot at a national seed. That should be the realistic goal. Make it five in a row. Win the series.
Never miss the latest news from TexAgs!
Join our free email list
PRESENTED BY