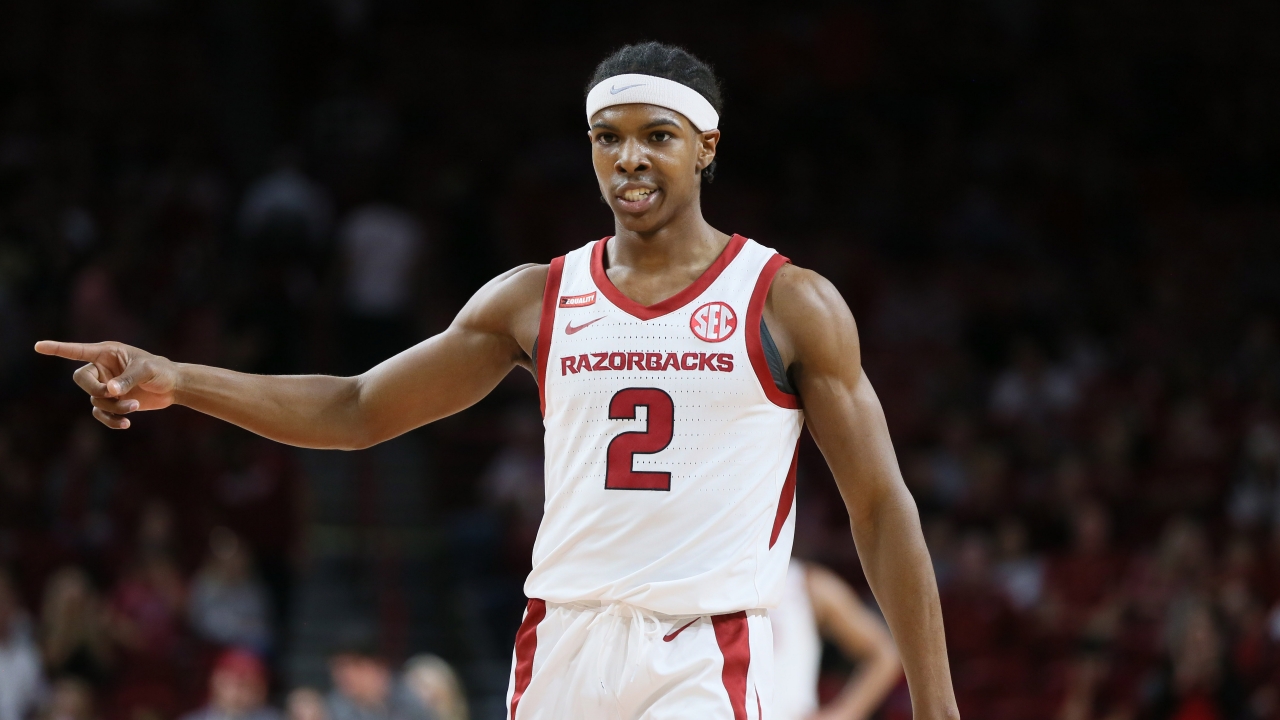 Photo by Nelson Chenault-USA TODAY Sports
Texas A&M Basketball
Arkansas transfer Khalen "KK" Robinson commits to Texas A&M hoops
---
For the second straight year, the Texas A&M basketball program has added an Arkansas Razorback transfer.
Last year, Buzz Williams snagged Ethan Henderson out of the portal from Eric Mussleman's team.
This offseason, Buzz and company have gone back to the well and added Khalen "KK" Robinson, a perimeter player with three years of eligibility remaining who decided to leave the Razorback program just one month ago.
The guard becomes the third transfer to join Buzz Williams' program in the last two weeks.
Robinson is coming to Aggieland after an injury-riddled two years with the Hogs.
His freshman year started strong with a 15-point game in his first outing as a Razorback, but as he tried to fight through a number of small injuries, foot surgery ultimately cut his first year short and sidelined the up-and-coming guard for most of the year.
After rehabbing and battling back, the Razorbacks had high hopes for Robinson's sophomore campaign. However, another injury before the season began limited his participation throughout the entire year.
Now, the Little Rock native and former four-star recruit has found a new home with the Aggies and looks to build on the hype and talent surrounding his high school career. Robinson chose Arkansas over the likes of Florida, Illinois, Kansas, and Texas Tech, but he has yet to showcase his skills at the collegiate level.
After watching some of his games from Arkansas, Robinson seems to be a player that can not only find an open teammate but can also knock down an open shot. He is always ready to catch and shoot from behind the 3-point line and has a very quick release to get his shot off. He likes to push the ball in transition, but he doesn't force the action and makes the simple pass to open teammates.
I really like his decision-making, and after watching video, I can see how Robinson could possibly become a floor general on the court.
I'm not sure how much of a leader he is when it comes to crunch time and valuable possessions, but in the open court, Robinson definitely makes the right decision more often than not.
The addition of KK Robinson and his skill set is yet another area of much-needed improvement for the Aggies.
Buzz Williams has been searching for a guard to be able to rely on and lead the Maroon & White on the court. Someone who is capable of getting people in the right position and executing a play.
From his high school video and what he has done at Arkansas, it looks as if the Aggies have found the type of player they were looking for in KK Robinson.
Never miss the latest news from TexAgs!
Join our free email list