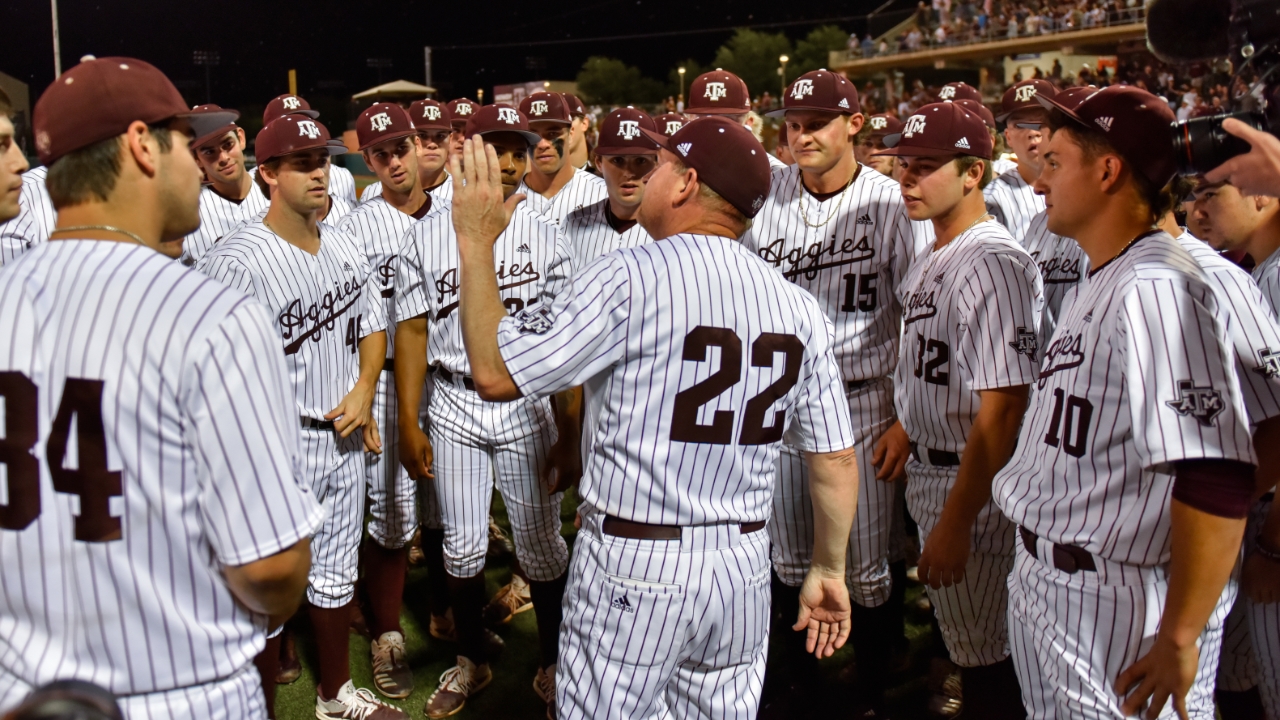 Photo by Jamie Maury, TexAgs
Texas A&M Baseball
Series Preview: No. 21 Texas A&M at Vanderbilt
---
Who: Vanderbilt Commodores (28-11, 9-9 SEC)
Where: Hawkins Field – Nashville, Tennessee
When:
Thursday: 7 p.m. CT (ESPNU)
Friday: 6 p.m. CT (SEC Network+)
Saturday: 2 p.m. CT (SEC Network+)
Pitching matchups
Thursday: Nathan Dettmer (RHP, 4-2, 3.38) vs. Chris McElvain (RHP, 5-2, 3.52)
Friday: Micah Dallas (RHP, 4-2, 4.76) vs. TBA
Saturday: TBA vs. TBA
Scouting Vanderbilt
It's been a tale of two seasons for the powerhouse Commodores, who were ranked No. 3 in D1Baseball's preseason poll. They lived up to their billing, winning 18 games in a row at one point, including an SEC weekend opening sweep over Missouri. However, after a disappointing 1-2 weekend against South Carolina, Tim Corbin's crew ran into a buzz saw against the nation's No. 1 team Tennessee and absorbed a rare sweep. Vanderbilt's struggles continued the following week against Auburn, losing their third SEC series in a row, going 1-2. Suddenly, the high-flying Commodores found themselves at 5-7 in the SEC and out of the weekly rankings.
Vanderbilt has rebounded, climbing back to 9-9 after series wins over a struggling Florida and Kentucky. Given the Jekyll and Hyde look to the 2022 season, we're not sure what to expect from the talented Commodores this weekend as the Aggies head to Nashville.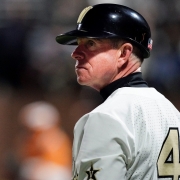 George Walker IV/USA TODAY NETWORK
Looking at the season statistics will confuse you even more.
For the season, Vanderbilt is ranked No. 2 in total offense with an imposing .297 team batting average. However, in SEC play, they are hitting just .272 and are tied for seventh in the league in runs scored. On the pitching side, Vanderbilt is second in team ERA at 2.92 and have surrendered 100 hits less than innings pitched, which is phenomenal. In SEC play, their team ERA has increased to 3.93, and Tim Corbin's starting rotation is in flux with only one announced starter this weekend.
There are a lot of unknowns coming into this critical SEC series. When playing well, Vanderbilt is one of the best teams in the country. However, they haven't played well over the past six weeks, so which team shows up?
Going off of overall season statistics, the Commodores and Aggies have very similar offensive numbers. As we discussed, Vanderbilt has struggled to score runs in SEC play, while Texas A&M's offense has heated up in conference play.
On offense, Vanderbilt is led by Dominic Keegan with a .409 batting average, seven home runs and a team-leading 40 RBIs. A&M pitching can't let Keegan beat them. Spencer Jones is a tough out, hitting .365 on the season with six homers and 34 RBIs. Troy Claunch must keep an eye on Enrique Bradfield Jr. at the top of the lineup, who is a perfect 26-for-26 in stolen bases and has scored a team-high 39 runs. Keeping him off the bases is crucial.
We know Vanderbilt will start Chris McElvain on Thursday, who is coming off a combined no-hitter last week against Kentucky. His overall season stats are solid, with an ERA of 3.52 and a 5-2 record. However, along the theme of this season, he's struggled in SEC play with a 4.12 ERA, giving up six home runs in his six SEC starts. Texas A&M's power bats like to see that. Carter Holton has been the other constant in the previous six SEC series, but he's been rocked with an ERA of 6.26 and has surrendered a whopping eight home runs. That's a major reason why Corbin has not announced his Friday or Saturday starters.
Since the Commodores did not play a mid-week game, Bryce Cunningham — their young Tuesday-night starter — could get the call. He's been impressive recently with a 2.18 ERA in three starts. Vanderbilt has several talented young arms that Corbin might turn to this weekend, but they are relatively young and inexperienced. That's one of the reasons why there are so many question marks this weekend. The Commodores have top-five talent that is either young or has underperformed. At some point, they will put it all together. Aggie fans are hoping this isn't the weekend.
| | | | | | |
| --- | --- | --- | --- | --- | --- |
| Hitting | Avg. | Runs | Slugging % | On-Base % | Strikeouts |
| Texas A&M | .286 | 273 | .454 | .393 | 356 |
| Vanderbilt | .297 | 280 | .476 | .398 | 313 |
| | | | | | | |
| --- | --- | --- | --- | --- | --- | --- |
| Pitching | ERA | WHIP | Walks | Opp. Avg. | Strikeouts | Fielding % |
| Texas A&M | 4.34 | 1.34 | 120 | .252 | 359 | .974 |
| Vanderbilt | 2.92 | 1.09 | 127 | .199 | 426 | .980 |

Texas A&M storylines to watch
At this point in the season, Aggie baseball fans know the storylines for this team.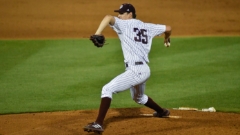 Jamie Maury, TexAgs
Pitching depth has always been an issue throughout the 2022 campaign, and it still is. Nathan Dettmer has transformed into a trusted game-one starter. The sophomore is 3-0 with a stingy 2.57 ERA in SEC play, and he can match with any Friday night ace. The question marks surround No. 2 starter Micah Dallas, who has been very erratic in 2022, and he's coming off a poor outing last weekend against Arkansas. Texas A&M can't afford for the transfer to have another short three-inning outing. On the road, Dallas must put together a quality start and give this team a strong six innings. With limited arms in the bullpen, the key here is preservation. A&M can't fire the few bullets they have on nights when Dettmer and Dallas are pitching.
Speaking of the bullpen, Jacob Palisch has emerged as the key arm. His role during the weekend will depend on how the games transpire. As with last weekend, if the opportunity arises with A&M holding a lead in game one, Palisch will be in there. If Vanderbilt jumps out to a lead, Jim Schlossnagle may hold onto Palisch for either an extended role on Friday or even possibly start on Saturday. A lot of those chess moves will be affected by the effectiveness of guys like Joseph Menefee and Chris Cortez. Menefee had a terrific outing last weekend, while Cortez struggled mightily with his breaking pitch. The Aggies survived a poor outing from Cortez last week only because of the Palisch heroics. It's critical this weekend that Cortez come out sharp with his off-speed pitches and keep hitters from sitting back on his 97 mph heater.
At the plate, there's not more I can add. Just keep doing what they are doing. Vanderbilt pitching has been susceptible to the long ball, and that's just fine with a lineup that goes 2-8 in power bats. Vanderbilt strikes out a lot of opposing hitters, so A&M needs to extend at-bats and wait to pounce on the mistake pitches. This offense has been raking, so more of the same for the squad leading the SEC in league hitting at .289.
What's at stake this weekend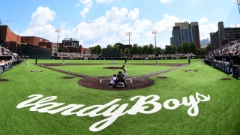 Christopher Hanewinckel-USA TODA
I know this sounds old, but this is a crucial weekend for the Aggies.
Although Texas A&M is a game ahead of Vanderbilt in the SEC standings, the Commodores are still 28-11, and they are the darlings of college baseball. The pundits would love to move them up into a hosting position if given the opportunity. With three hosting spots all but locked up for Tennessee, Arkansas and Georgia, that most likely leaves one host spot for the rest of the league, with includes Auburn, LSU and Texas A&M. If Vanderbilt wins this series, add them to the list, and that would leave A&M hanging on by a thread.
If the Aggies can win this series, they are squarely in the hunt for that host spot, and they put some distance between themselves and Vanderbilt, shrinking the race down to three in all likelihood. Also, a series win all but clinches an NCAA Regional spot, barring a complete collapse down the stretch.
I really mean it this time: A lot is on the line this weekend against the Commodores.
Never miss the latest news from TexAgs!
Join our free email list
PRESENTED BY