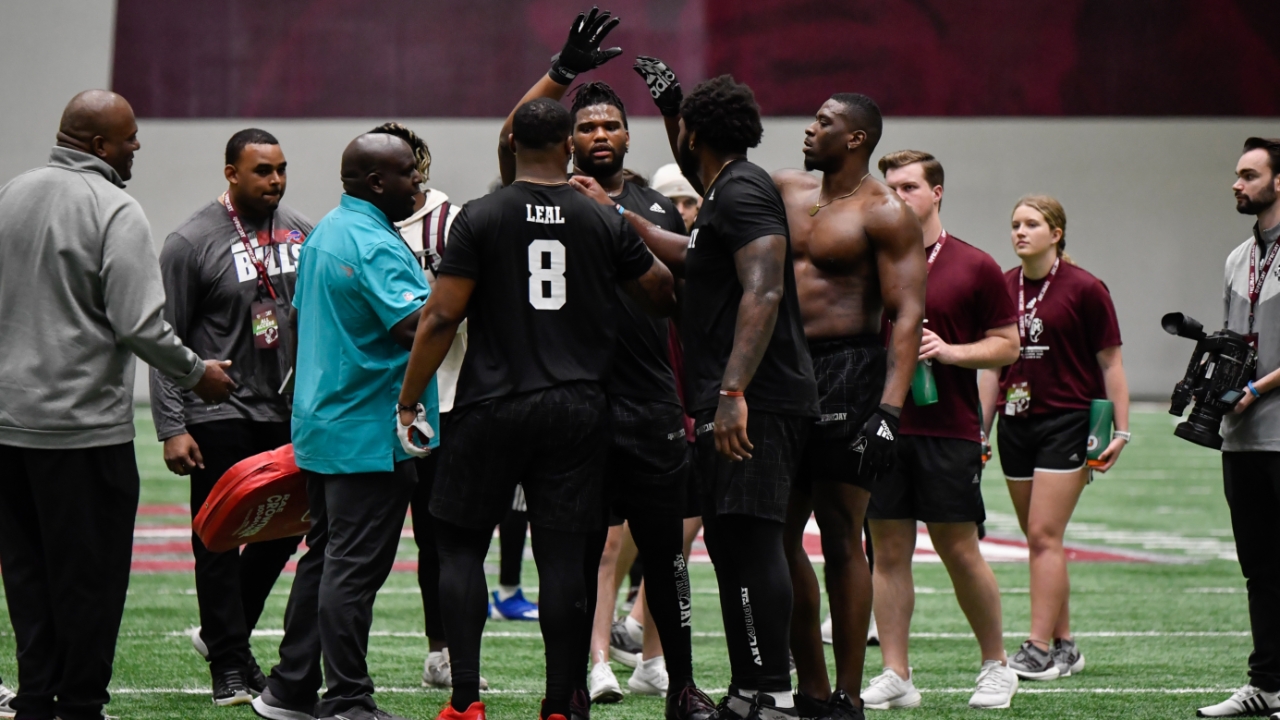 Photo by Jamie Maury, TexAgs
Texas A&M Football
Large number of Pro Day participants indicative of Fisher's culture at A&M
---
Long-time Texas A&M Sports Information Director Alan Cannon drew a blank.
There were 11 Aggies football players participating in Texas A&M Pro Day on Tuesday.
When asked if A&M might ever had more players involved since former coach R.C. Slocum implemented Pro Day in 1991, Cannon was stumped.
The unofficial answer? Maybe in 1992, when eventual first-round picks Quentin Coryatt and Kevin Smith headed a list of eight players selected back when the NFL Draft extended beyond seven rounds.
Looking forward, the Aggies could have as many as a half dozen selected when the draft is held April 28-30 in Las Vegas.
Looking even farther ahead, on future pro days, A&M might have a 12th Man, a 13th man and maybe even a 14th man participating.
Texas A&M head coach Jimbo Fisher has accumulated so much talent that A&M Pro Days may likely include a dozen or more Aggies auditioning for NFL teams.
"You're getting such a large number of guys and volume of guys. They're the kind of guys you want," Fisher said. "There are guys that are going to go very early in the draft, we think."
"You're getting such a large number of guys and volume of guys. They're the kind of guys you want. There are guys that are going to go very early in the draft, we think."
Aggies defensive linemen Micheal Clemons, DeMarvin Leal and Jayden Peevy, offensive linemen Kenyon Green and Jahmir Johnson, running back Isaiah Spiller, tight end Jalen Wydermeyer, linebacker Aaron Hansford, safety Leon O'Neal executed various drills, including vertical jump, bench press, 40-yard dash, 5-10-5 shuttle and three-cone shuttle.
It was a final chance to impress scouts after the Senior Bowl and NFL Combine.
Jahmir Johnson repped 225 pounds 18 times. O'Neal had a 35.5-inch vertical jump. Clemons reached 35 inches, and Hansford hit 34.5.
Spiller and Hansford ran 4.6 in the 40. O'Neal posted a time of 4.22 seconds in the 5-10-5 shuttle and 6.83 in the three-cone shuttle.
Clemons and Leal both recorded 7.2 in the three-cone shuttle.
Kicker Seth Small kicked field goals and kicked off. Defensive end Tyree Johnson did not test but met with representatives of several teams.
All 32 NFL teams were represented as well as the Edmonton Eskimos of the Canadian Football League.
Houston Texans coach Lovie Smith attended. So did general managers Nick Caserio of the Texans, Chris Grier of the Miami Dolphins and Jon Robinson of the Tennessee Titans.
Fisher was glad to play host to all of them.
"That's what you want your program to be," Fisher said. "That's one of the calling cards.
"(Prospects) coming here, not only are getting a degree here, getting the Aggie ring and all that, but being able to get developed to play in the league. That's one of their biggest dreams."
Family members, friends, teammates and former A&M players Kellen Mond, Braden Mann, Josh Reynolds and Jacob Green were on hand to lend support.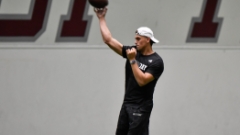 Jamie Maury, TexAgs
"That's what it's all about," Fisher said. "You build the culture of an organization.
"Hopefully, each year, you can roll that over. There are guys they can reference now. What does it take to be there? Is what I'm getting trained here put me in a position to be successful? It only builds your culture of what you can do."
Most of the players were satisfied with their performances, though O'Neal admitted he was not pleased with a 4.7 time in the 40-yard dash.
"Let's be quite frank; I ran a 4.7 today. I'm not happy about that at all," O'Neal said. "I think I worked really hard, and it only comes down to me putting my foot in the ground and doing it properly and getting it done. You develop speed. Not everybody gets born with it. You've got to develop speed.
"There are metrics, plyometrics to it. I've got to make sure I do that a little better.
"But as far as my game… You go to any tape you want to go to. Go to the NFL Combine with all the best safeties in the country. Tell me who had better DB drills. Who had the better personality and effect on people? The Senior Bowl when I won safety of the week."
Peevy, who said he'd trimmed down from 330 pounds to 307, said he was especially encouraged.
"Very pleased with what I did today," Peevy said. "(I'm) Hoping whatever team that drafts me knows that they're getting a dog."
Leal echoed those sentiments.
"I feel like I displayed myself in an extremely good way today and at the (NFL) Combine as well," he said. "I'm just looking forward to what comes next."
That would be getting drafted and making a lot of money.
Never miss the latest news from TexAgs!
Join our free email list
PRESENTED BY