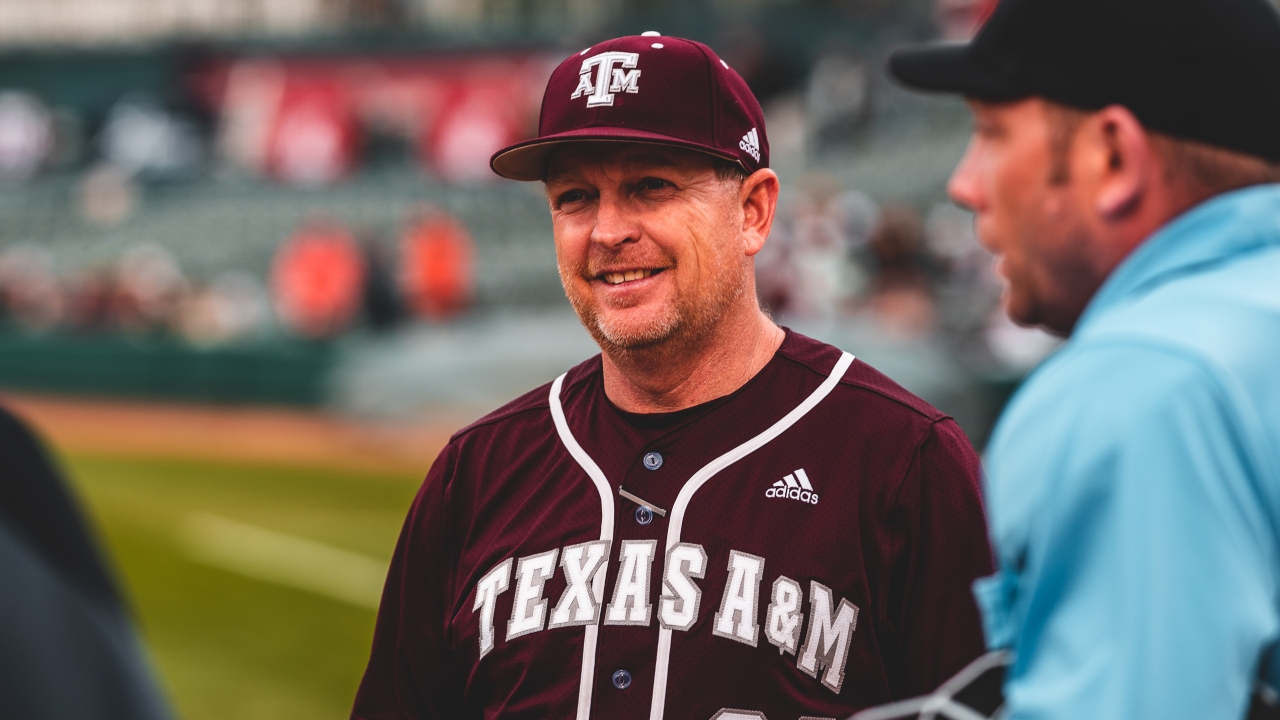 Photo by Frisco Classic
Texas A&M Baseball
Jim Schlossnagle discusses win over Tarleton, provides update on Trevor Werner
---
Texas A&M baseball head coach Jim Schlossnagle joined Thursday's edition of TexAgs Radio to look back on the Maroon & White's midweek win over Tarleton and what he wants to see from the Ags over the weekend against Santa Clara at Olsen Field.
---

Key notes from Jim Schlossnagle interview
I thought Khristian Curtis was better in some areas last night. The breaking ball was as good as I've seen it. He still gave up a few too many hits, but we'll take it. The big thing last night was having the bullpen getting right after last weekend. Chris Cortez, Joseph Menefee and Robert Hogan... It was good to see all of those guys have success.

I don't know if Curtis throws enough strikes to be in the bullpen on the weekend. We don't really have someone that can take his place as the midweek starter right now, either. I think the 75 pitches had more to do with that Tarleton had just seen enough of him, and I wanted to get a few more arms in the game.

I wish I knew more about what it was that makes certain guys perform better orworse when the brightest of lights turn on. If I knew that formula, we'd win a lot more games. I think it comes down more to personal competitiveness and the drive within themselves. I think that side of it always has more to do with mental than physical traits.

I'm watching film on Cortez right now. I just looked at coach Nate Yeskie and told him that he could be a starter for us at some point. He has a fantastic arm, a good mix of pitches and is learning to field his position better. Ideally, you want to keep him in the bullpen this season with our situation, but I can certainly see him making his way into the starting rotation in the coming years. The guys who pitch the best pitch the most.

There are about five or six different guys I want to see get it going at the plate. It was good to see Logan Britt run one out. I think he's a guy who carries so much burden of being a baseball player at Texas A&M. We don't want prospects around here. We want baseball players. He's immensely talented and can be both. If he ever puts it all together, watch out.

Kole Kaler starting to put together better at-bats. He's a confident guy every single day. That's one of his strengths. I think he's better on the right side of the plate, especially at working the ball to all fields. You're starting to see him be better at staying on top of the baseball and driving it. He will always work walks for us.

Trevor Werner had surgery yesterday on a broken hamate bone in his hand. It's not a season-ending injury, but probably closer to three to five weeks depending on pain tolerance and healing. Frustrating injury after the original X-ray came back negative.
Never miss the latest news from TexAgs!
Join our free email list