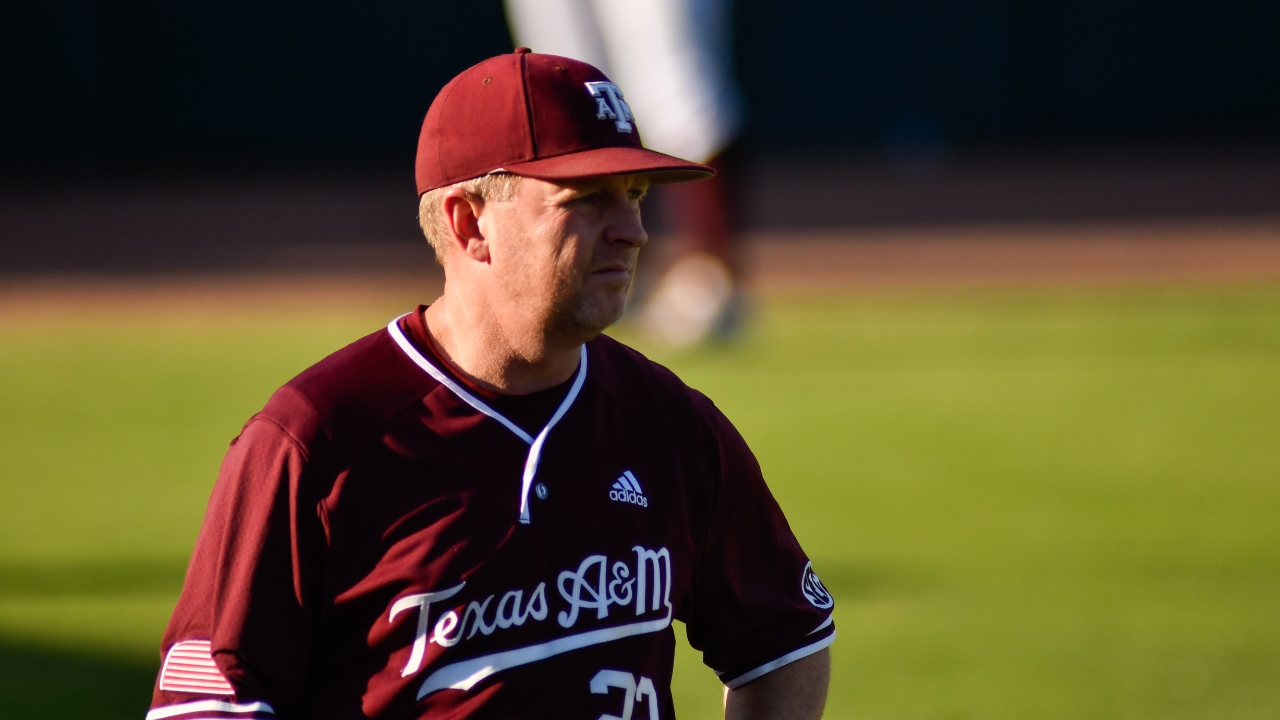 Photo by Jamie Maury, TexAgs
Texas A&M Baseball
Jim Schlossnagle anticipating start of the 2022 baseball season in Aggieland
---
Key notes from Jim Schlossnagle interview
The women's clinic is a way to allow us to interact with the community and drive interest in the upcoming season. I've done it at previous stops, and it's a great night to interact with the ladies, teach them a little bit about baseball and let them meet the team and coaches. There are so many changes going into this year. We even have seven or eight different sets of jerseys, so we'll even have a fashion show to model those. That will be the first time the community gets to see our new uniforms. I think they're timeless and will be appreciated. I'm very much a uniform guy and a traditionalist. We have about 180 ladies signed up for the women's clinic already.

Baseball banquets are something I've been doing for 20 years at both UNLV and TCU. With college baseball, when your season ends, within 24 hours, everyone is gone because it ends in the summer. You don't ever get to celebrate a season, which will give us a chance to do so. We'll celebrate the guys from last year, like Will Frizzell, who had an All-American, All-SEC season. It also gives us a chance to kick off the new year. We'll celebrate A.J. Minter and Brooks Raley as well after they both made it to the World Series. It should be a fun event, and it will be an annual event that lets everybody know that baseball season is just two weeks away.

We want to win a national title, but my primary goal is to build a program that is super relevant in the community. I know this program is already very relevant, but I'd like to grow that. Texas A&M shouldn't be averaging just 6,000 or 7,000 fans. You need to build a ballpark that seats 12-15,000 people. You have to build a park that's big enough, but you have to have a team that's good enough. Then you have to be tied into your community. I remember watching Skip Bertman at LSU build his program into THE thing to do in Baton Rouge on weekends in the spring.

I'm all in at Texas A&M. I was the same way at TCU. I don't play golf, and I only fish every now and then. It has been a long time since I've sat in the deer stand. My children are grown now. I love college football and college basketball. I want to be there to support their teams, so they come and support our team. I'm getting out there and learning and getting to know everybody. I don't sit around well. If there is a team to watch or a sport to watch, that's what I'm going to do. Bonfire was awesome, and I really enjoyed that. I'm excited to continue to learn A&M traditions and this community.

I don't know how we would have fielded a team without the transfer portal, given the way things finished last year in the program. Most of the higher-performing players last year either graduated or signed pro contracts. We have some good returning players that are improving day-by-day, and the new guys, the transfers, have all been successful. None of them have played in the SEC or the SEC West. They're comparable players to what we inherited, and we're going to build around what we have. Our goal is to recruit the best high school players and supplement with the transfer portal. However, I will say that these guys have an incredible work ethic, and they've been fun to be around.

I have a ton of teaching to do with implementing how we do things, whether it be stretching, base running, the standard or signals. You're starting from ground zero. Our official first day of team practice is next Friday. We've been doing some small group stuff, but the learning curve has been so much shorter. The guys have picked right back up since the fall. We're getting more repetition. We want to be better than we were in the fall, and so far, we have been.

I've gotten to learn a lot about my players. Guys are around the ballpark a lot. They lift in the morning. They eat breakfast at the stadium, and some even do online classes at the ballpark. They eat lunch at the ballpark, and then they practice all afternoon. They're spending a lot of time working on their bodies and game. They're a really good group of kids.
Never miss the latest news from TexAgs!
Join our free email list