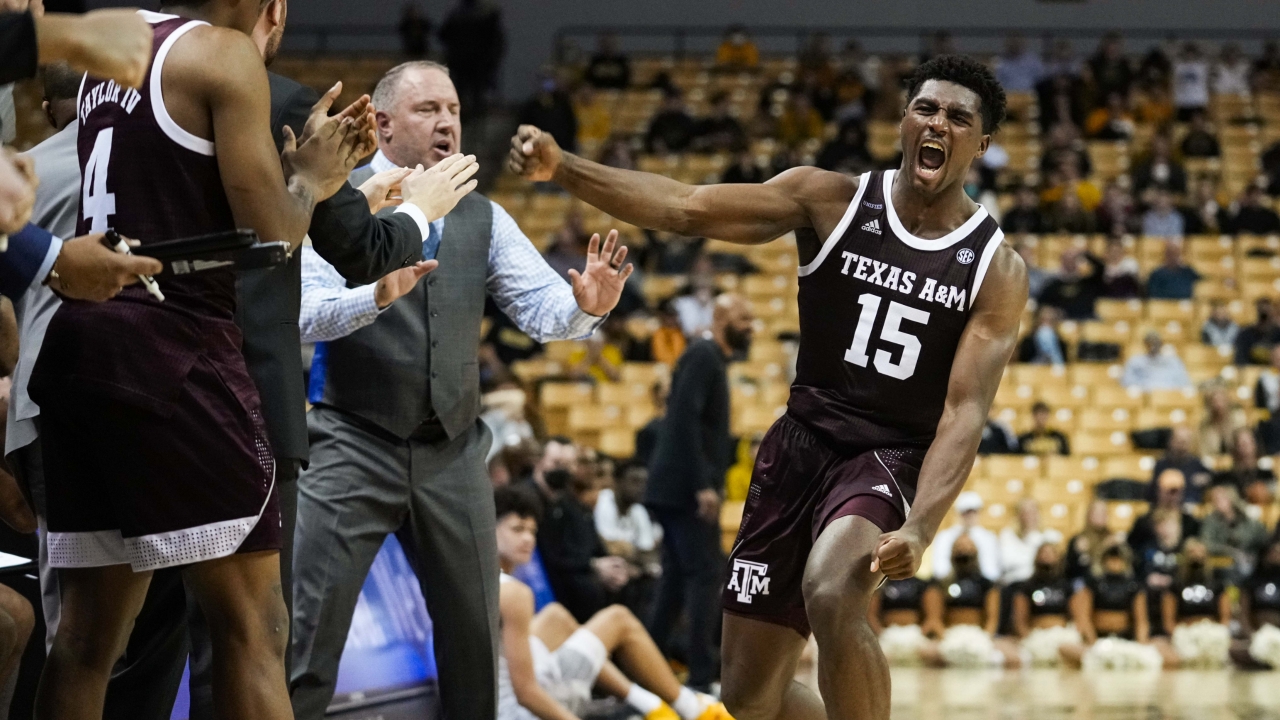 Buzz Williams
Coleman & Diarra
Texas A&M Basketball
Resilient Aggies overcome double-digit deficit to win eighth straight
---
Press conference video courtesy of Texas A&M Athletics.
---
Cardiac comeback Aggies.
Texas A&M (15-2, 4-0) overcame a disastrous start and a double-digit halftime deficit on Saturday afternoon as the Aggies recovered to defeat Missouri (7-9, 1-3) in Columbia, 67-64. The Aggies didn't lead until the 4:47 mark of the second half and led for just 2:55 en route to another thrilling win, their eighth consecutive victory.
"I thought the resolve and the resiliency that we played with in the second half was completely different," Texas A&M head coach Buzz Williams said. "It was a grind from start to finish."
"I thought the resolve and the resiliency that we played with in the second half was completely different. It was a grind from start to finish."
Henry Coleman III led all scorers with 18 points as Tyrece Radford and Marcus Williams joined him in double figures with 13 and 10, respectively. Missouri's Jarron Coleman scored 14 in the losing effort.
"This was a test that we needed," Henry Coleman III said.
Texas A&M was fortunate to only be down 10 at the break, but the visitors fought back in the second half. The Aggies cut into Missouri's lead multiple times, but in each instance, the Tigers responded and led by 10 midway through the final stanza.
"You can look at all of the players, and you can look at the staff in regards to tactically the things they did to continue to close the margin," Buzz Williams said. "I thought our staff and our players were in sync throughout all of that."
A 7-0 run — punctuated by a Hassan Diarra 3-pointer — trimmed the deficit to one possession with 8:47 left. However, Amari Davis answered immediately with a traditional 3-point play.
Marcus Williams' floater finally gave the Aggies their first lead of the contest, 57-56, with under five minutes remaining, but it was short-lived as Javon Pickett answered with a layup. The lead changed hands five times in the final five minutes as a back-and-forth affair erupted.
Radford's spinning layup put A&M up 63-61 with 62 seconds to play. Thirty-one ticks later, Andre Gordon drilled a pair of foul shots to stake A&M to a four-point advantage. On the day, the Aggies were 15 of 22 from the line.
"It's something that we're continually working on," Henry Coleman III said of the Aggies' free-throw shooting.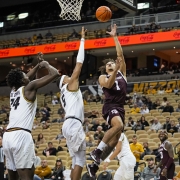 Jay Biggerstaff-USA TODAY Sports
Missouri refused to go away as Jarron Coleman hit a 3-point basket in the final five seconds, but Diarra drained two clutch free throws with 3.8 left to give A&M the 67-64 edge, which proved to be just enough.
"I just work on free throws every day and my game every day," Diarra said. "When the big moment comes, the work always comes out."
The first nine minutes of the game were horrific as A&M remained scoreless until a Marcus Williams layup mercifully ended the drought after 8:53 of play, snapping a 0-of-13 stretch to begin the game. The Aggies shot 26.5 percent in the first half but rebounded to a 51.7 clip in the second to avoid a loss that would've been detrimental to A&M's NCAA Tournament dreams.
"I know that the score says that we started bad, but I actually don't think we were terrible," Buzz Williams said. "We were not perfect by any stretch."
Saturday's Houdini-like victory is reminiscent of the Aggies' come-from-behind efforts in a November win over Notre Dame and a narrow loss to TCU in December.
"With this team, we're going to come out and fight our hardest each and every day," Henry Coleman III said. "When we don't do that, we're going to get down like we did in the first couple minutes of the game. When we play with energy, and we play with fight and with a will to win, we're a hard team to beat."
With a perfect conference record still intact, Texas A&M returns to Aggieland for an SEC showdown with No. 18 Kentucky at 7:30 p.m. on Wednesday night at Reed Arena.
Never miss the latest news from TexAgs!
Join our free email list