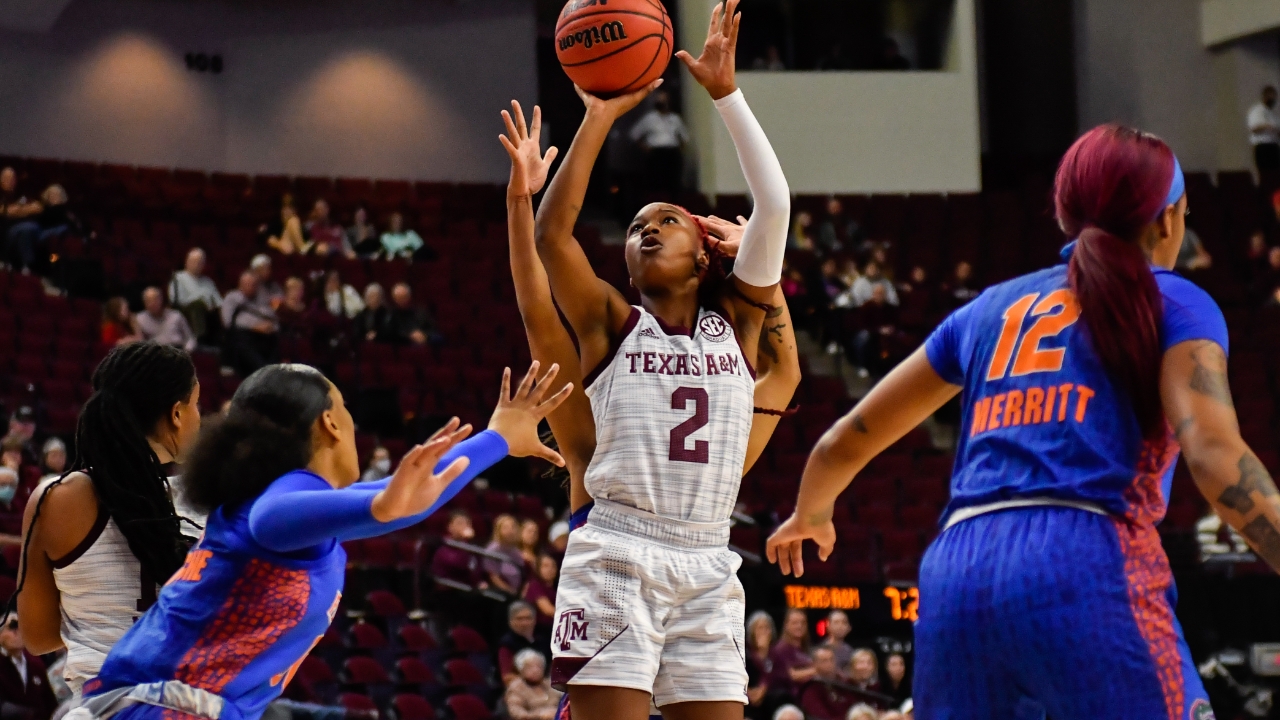 Gary Blair
Nixon, Wells, Hoppie
Texas A&M Women's Basketball
Aggies squander 19-point lead, fall to Florida in double overtime, 97-89
---
Press conference video courtesy of Texas A&M Athletics.
---
A once 19-point lead in favor of No. 25 Texas A&M soon turned to dust following a transition 3-pointer by Florida's Kristina Moore to cap a 31-7 Gator run with 5:07 remaining in regulation.
And before they knew it, the Aggies were staring at a reflection of themselves from their last two games.
What they couldn't see then was that the outcome of the game would be dragged through two additional five-minute overtime periods, with Florida ultimately prevailing, 97-89, in continuation of a disappointing 0-3 start to conference play for the Aggies.
"As a coaching staff and as a basketball team, we lost our composure during the ballgame. I've got a great bunch of kids. We played too one-dimensional out there on the court."
"As a coaching staff and as a basketball team, we lost our composure during the ballgame. I've got a great bunch of kids," Texas A&M head coach Gary Blair said. "We played too one-dimensional out there on the court.
"I think when you blow a 19-point lead in the second half at home, that's totally on us, and I give them a lot of credit."
But in hindsight, A&M's future was already foreshadowed in the opening quarter after failing to find their first field goal until the 4:06 minute-mark and giving up seven turnovers off sloppy ball movement.
In the second quarter, A&M guard Qadashah Hoppie provided the squad with much-needed offensive momentum, scoring 12 of her team-high 25 points in the frame after catching fire on a personal 7-0 run with 1:50 left until the break. Hoppie's run subsequently turned into a 14-3 team run to close out the half, with Kayla Wells following suit on a 3-pointer of her own.
Hoppie opened the third quarter with three consecutive jumpers, and Wells registered 14 of her 23 points on the strength of 6-of-7 shooting from the charity stripe in the quarter. Not to mention, Texas A&M continued to hold the rebounding advantage, eventually finishing with a 49-40 mark behind Aaliyah Patty's 10-point, 16-rebound double-double.
Nonetheless, the Gators weren't ready to surrender.
Texas A&M's seemingly healthy lead was diminished to single-digits, with Florida's Moore hitting her first 3-pointer of the contest with just a little over one minute left in the third.
The Aggies were still in control with a 61-52 lead to begin the final stanza, but an all-too-familiar sight was on the horizon for the team: Fourth-quarter woes.
The Aggies' fight lost their last outing due to a 3-point fourth-quarter scoring performance. Sunday was eerily similar, as the Ags went cold for half the quarter and were outscored 19-10 with only two players chipping into the effort as Maliyah Johnson and Hoppie's scored five each.
After holding the lead for most of the game, A&M soon had to fight to revive their lead.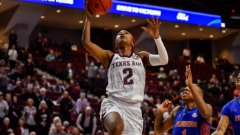 Jamie Maury, TexAgs
"We definitely have to take these last three games and apply them to our future games because it kept happening, just slippage," Hoppie said. "When we're getting up, doing good and relaxed, we need to keep that foot on the pedal and hone into those details, no matter if we're up by 20 or two."
Sixteen seconds remained on the clock with the game tied at 71.
Florida's final inbound was intercepted by Hoppie as she flew to the other end in transition, only for the ball to roll off the front of the rim. Aaliyah Patty recovered the offensive board, but her attempt proved no good.
Two blown layups later, the game was headed to overtime.
The Aggies came out swinging with Jordan Nixon drilling a 3-ball from the top of the key.
Florida guard Kiara Smith countered A&M's heavy inside attack with one of her own, scoring 10 points in both overtime periods alone.
With the game again coming down to the closing sequence, Hoppie hit two clutch free throws to force a second overtime.
Eventually, Florida's seven free-throw conversions in the final minute of second overtime would carry their escape.
Fifty minutes later, the Aggies were taken down, but not all hope remains lost. Texas A&M expects to move on and rely on their perseverance to support their efforts going forward.
"I think there is so much to be said about the resilience that we've shown. To circle back to the Tennessee and LSU topic, every experience is a learning experience," Nixon said. "I think we just need to go back and just keep moving forward.
"Go back. Look at it. See what it is. Break it down, and take it into the rest of the season."
Texas A&M looks to bounce back into the win column as they head to Columbia to take on No. 1 South Carolina on Thursday. Tipoff is slated for 6 p.m.
Never miss the latest news from TexAgs!
Join our free email list