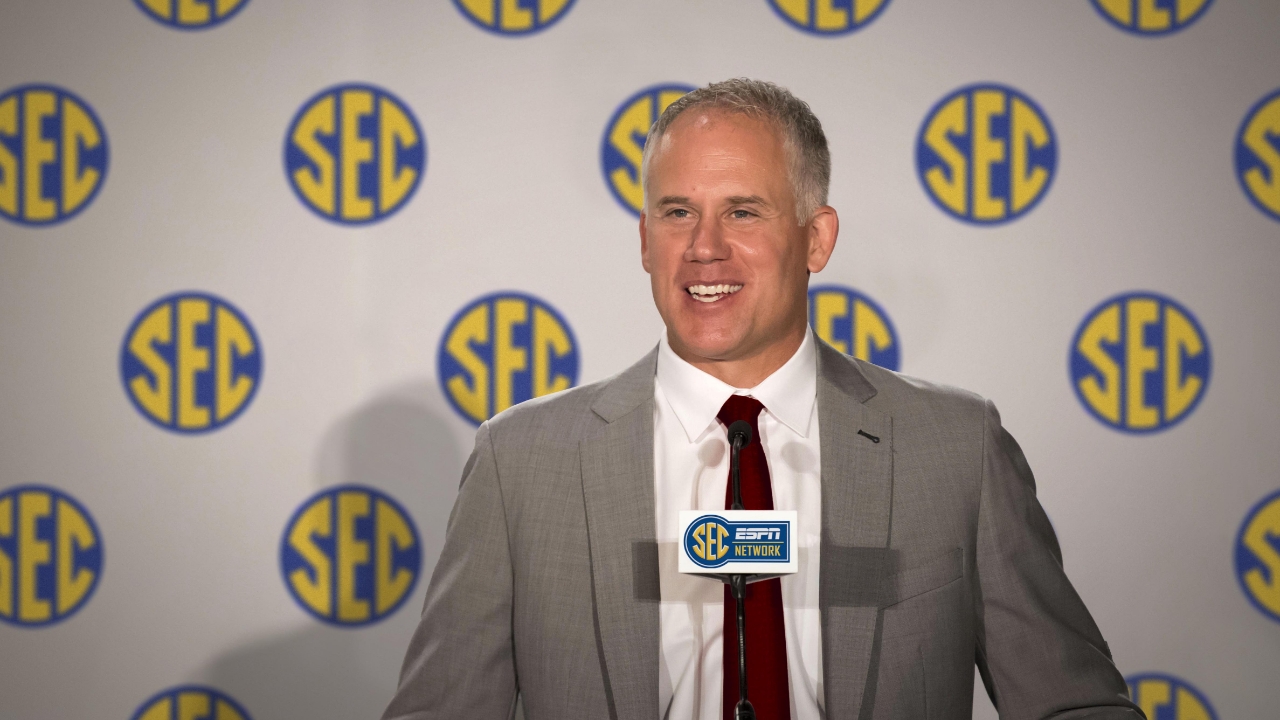 Photo by Patrick Gorski-USA TODAY Sports
Texas A&M Football
Texas A&M hires Ole Miss' D.J. Durkin as defensive coordinator
---
Jimbo Fisher has his guy.
Texas A&M hires Ole Miss' D.J. Durkin to become the defensive coordinator of the Aggies, replacing Mike Elko, who left the A&M program to become the head coach at Duke last month. Durkin, 43, spent the last two seasons under Lane Kiffin in Oxford, helping the Rebels to a Sugar Bowl appearance this year.
TexAgs' executive editor Billy Liucci was first to report the news that Durkin's deal with the Aggies is complete.
Durkin's hybrid scheme, which was based out of a four-man front prior to his time at Ole Miss, should allow the Aggie defense to capitalize on a stockpile of defensive line talent from recent recruiting classes. He also brings the reputation of an extremely strong recruiter to a program that has been described as many as a "recruiting monster" under Fisher.
Arriving at Ole Miss in 2020, Durkin's defensive statistics were skewed largely by the potency of Kiffin's offense. While the Rebels finished 4-5 against an all-SEC schedule and defeated No. 11 Indiana in the Outback Bowl, they allowed 38.3 points per game and were 118th in the country. That season, opponents raked up 519.0 yards per game, and only North Texas allowed more (522.7).
The Rebels improved slightly in 2021, allowing 429.1 yards per game through the regular season. Durkin's unit held five opponents under 20 points as they ultimately won 10 games and earned Ole Miss' first Sugar Bowl berth since 2015. In the New Year's Day bout with Baylor, the Rebels held the Big 12 champions to 21 points and 40 yards through the air in a 21-7 loss.
Durkin's coaching journey began in 2001 at his alma mater Bowling Green under Urban Meyer. After two years as a graduate assistant at Bowling Green, Durkin spent two seasons as a GA at Notre Dame under head coach Tyrone Willingham and defensive coordinator Kent Baer from 2003-04.
In 2005, Durkin returned to Bowling Green as part of Gregg Brandon's staff. He spent two seasons working with defensive ends, linebackers and special teams before joining Jim Harbaugh's staff at Stanford. He spent three seasons in Palo Alto (2007-09) coaching defensive ends and special teams before reuniting with Meyer at Florida in 2010, working with linebackers and special teams.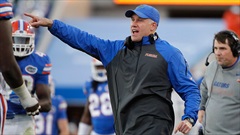 Kim Klement/USA Today Sports
When Meyer retired for the first time following the 2010 season, Will Muschamp retained Durkin and was ultimately made defensive coordinator of the Gators in 2013. That season, Durkin's defense ranked eighth nationally in yards per game (314.3) and 15th in points per game (21.1) despite losing eight games. In 2014, the Gators ranked 15th in yards per game (329.8) and 20th in scoring defense (21.1). Muschamp was fired prior to Florida's Birmingham Bowl matchup with East Carolina, and with Durkin serving as the interim head coach, the Gators prevailed, 28-20.
Reuniting with Harbaugh at Michigan in 2015, Durkin's lone season as defensive coordinator in Ann Arbor saw the Wolverines go 10-3 and ranked fourth in the nation in yards per game (280.7). Michigan capped off the season with a 41-7 drubbing of Florida in the Citrus Bowl. That single campaign was good enough to land Durkin the head coaching position at the University of Maryland.
In his first season leading the Terrapins, Durkin's team finished 6-7 in 2016 with an appearance in the Quick Lane Bowl. That year, Maryland's defense ranked 76th in yards per game (427.1) and 74th in points per game (29.5). The Terps ultimately regressed to 4-8 in 2017 despite beating Texas in Austin. Durkin was suspended in August of 2018 following the death of offensive lineman Jordan McNair and subsequently fired that October after multiple investigations into the matter.
Prior to coaching, Durkin starred as a wide receiver and an outside linebacker at Bowling Green from 1997-2000. He started 33 games in his career, making 131 tackles and 28 tackles for loss. Durkin served as a team captain during his final two seasons with the Falcons.
Fisher & Co. hopes Durkin can pick up where Elko left off as the Aggie defense has returned to prominence, ranking 14th with 316.6 yards per game in 2020 and 16th with 327.5 this season.
Never miss the latest news from TexAgs!
Join our free email list