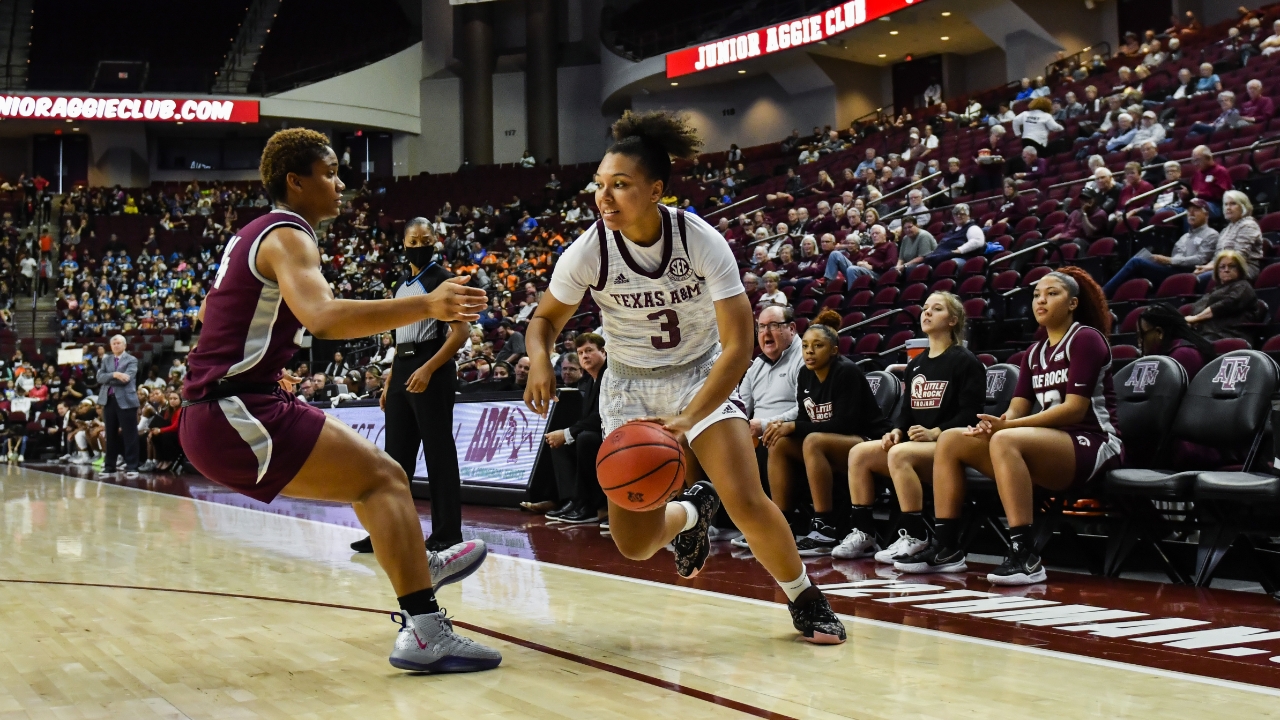 Gary Blair
Kayla Wells
Aaliyah Patty
Texas A&M Women's Basketball
No. 17 Texas A&M cruises to 65-50 win over Little Rock to improve to 8-0
---
Press conference video courtesy of Texas A&M Athletics.
---
Just seconds into the contest, it was evident that the Aggies were up for another test.
The young team has faced its fair share of rocky games so far, but the veterans on the squad have consistently managed to rally the team and today's match was no different — except for the thousands of elementary students in attendance.
An 11-point, 10-rebound double-double from senior Aaliyah Patty is exactly what the 17th-ranked Aggies needed en route to a 65-50 victory over Little Rock to help extend their perfect start. Kayla Wells and Destiny Pitts contributed 15 points each on the strength of the team's efficient 46 percent shooting clip.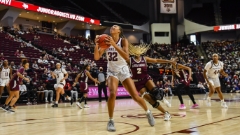 Jamie Maury, TexAgs
After shutting down the Trojans on the inside, A&M's 40-19 halftime lead was diminished to a nine-point advantage after the third, with Little Rock subduing the Aggies' inside stance and taking advantage of 12 offensive boards.
"Going into the second half, we kind of wanted to stretch the lead a little bit, so we talked about that," Wells said. "We talked about stop, score, stop, and I thought we did that in the second quarter. Third-quarter, I thought we came out a little bit flat, which is something we're not really used to.
"Our second halves are usually our best, but it wasn't our best today."
As the nation's top 3-point shooting team, the Ags punched in another game with eight triples. Pitts shot an impressive 5-for-6 from downtown.
Stretching the floor wasn't the answer to Wednesday's game.
Adapting to Little Rock's up-tempo pace and outplaying the second unit was key. A&M eventually found its rhythm and took advantage of their depth, outscoring the Trojan's bench, 25-3.
"There was no way I wanted to, in this ballgame, to sit there and play Jordan (Nixon) 34 minutes and Kayla (Wells) 35 minutes," A&M head coach Gary Blair said. "We saved Pitts. I guess that was a great coaching move bringing her off the bench, but I wanted to see if we could play a larger lineup.
"She could be the 14th player off the bench or the leading scorer every game. She accepts her role like a true athlete. That's the 12th man/woman on our team. Whatever role we give Pitts, she'll accept that and play well."
The Aggies tightened their defense and controlled the boards, with freshman Jada Malone bringing down six rebounds off the bench.
"We have a young team, and we need to get better at bouncing back from close games, close practices. If we're tired, that's too bad."
With the lead trimmed and minutes drifting away, the Aggies relied on slowing the pace and converting easy opportunities, especially at the foul line, shooting an impressive 90 percent from the stripe.
A&M eventually pulled away with Blair tying the legendary Shelby Metcalf's record with his 438th victory at Texas A&M.
Even though the wins keep coming and the double-digit margins are abundant, Wells said there is still much to improve as SEC play inches closer.
"We have a young team, and we need to get better at bouncing back from close games, close practices. If we're tired, that's too bad," Wells said. "We have to come out and compete in practice and in the game, and that's somewhere we need to get better at."
The Aggies return to Reed Arena on Sunday afternoon for a top-25 clash against archrival No. 15 Texas. Tip-off is set for 3:00 p.m. CT.
Never miss the latest news from TexAgs!
Join our free email list