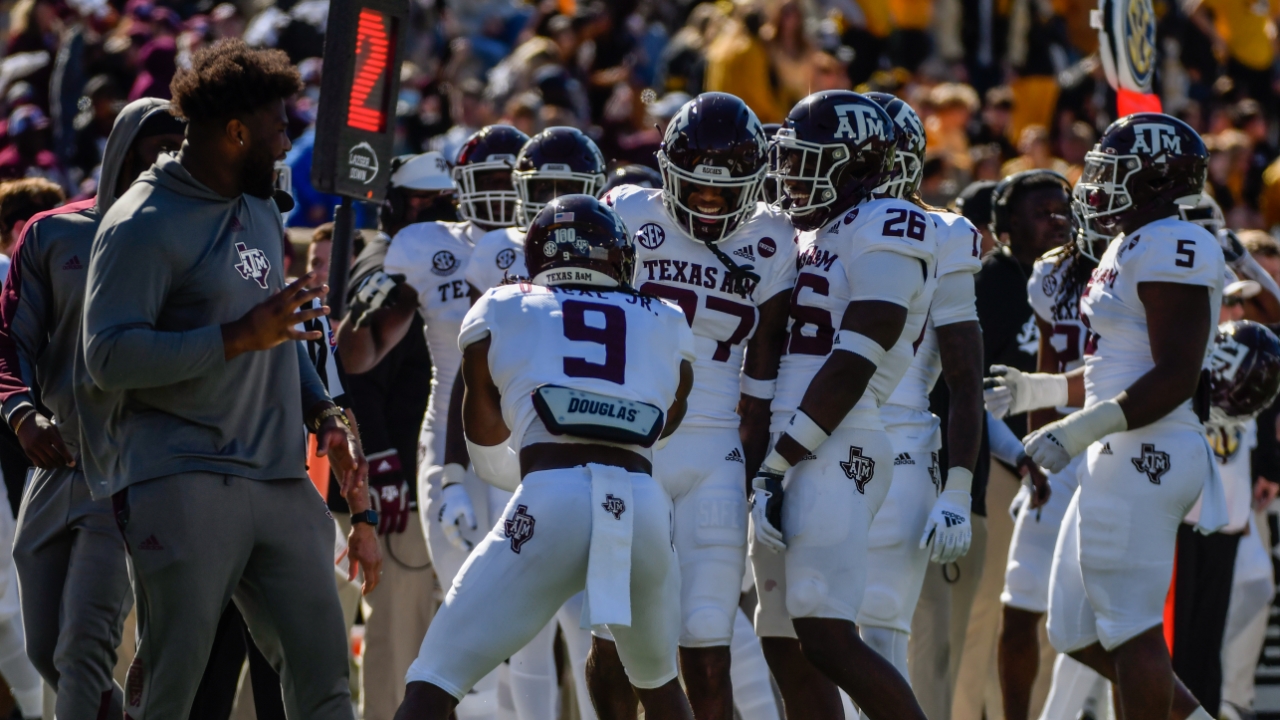 Photo by Jamie Maury, TexAgs
Texas A&M Football
No. 15 Texas A&M travels to Baton Rouge looking to end road struggles
---
"The Road" is a disturbing 2011 film about hardships, loss and the struggle for survival.
That kind of also describes Texas A&M's 2021 road games.
The road has been treacherous for the Aggies, who are nearly unbeatable at home. They're 6-1 at Kyle Field.
But playing away from Kyle Field, the Aggies eked out a 10-7 victory over Colorado. They looked largely inept in a 20-10 loss to Arkansas in Arlington. They had a solid win at Missouri but were toppled at Ole Miss, 29-19.
"What makes any stadium hard to play in it? The players on the other team. Why is the crowd all loud? Because the players are playing real good."
That's fewer than 20 points in three of four games away from Kyle Field.
Could there be a more a disturbing trend for the No. 15 Aggies (8-3, 4-3) as they hit the road Saturday to face LSU (5-6, 2-5) in a stadium ominously known as Death Valley?
It matters not that it's been more like Dearth Valley. The Aggies have to figure out why they've been a poor road team.
"(It's) Maturity sometimes. Handling things," A&M coach Jimbo Fisher said. "And also who you go play on the road. That matters, too. You better forget about who's a road team and figure out who you're playing on the road.
"What makes any stadium hard to play in it? The players on the other team. Why is the crowd all loud? Because the players are playing real good. You get good players; it makes it tough."
LSU has good players but hasn't been a good team. The Tigers are just 5-6 and hoping to become bowl eligible in what is likely their final game under coach Ed Orgeron.
Even if this isn't a typical LSU team, there figures to be a typically raucous LSU crowd.
"I've never played there, but it's the SEC. It's going to be rocking," A&M sophomore defensive back Antonio Johnson said. "It's going to be loud, but it's nothing we haven't seen at Kyle Field."
The Aggies should be able to handle a loud crowd. The better question is whether they can handle LSU's resurgent defense.
LSU has limited its past three opponents to 311 yards or less of total offense. In that stretch, only Alabama reached 20 points. The Tigers have been particularly stingy against the run.
That's a legitimate concern because the Aggies struggled to run consistently in three of their four games away from Kyle Field.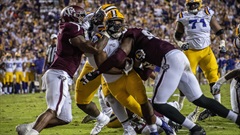 TexAgs
Not surprisingly, trouble running has led to troubles for quarterback Zach Calzada. He has passed for just 590 yards with three touchdowns and four interceptions on the road.
Yet, A&M should instruct Calzada to throw deep. LSU has allowed 16 passing plays of at least 30 yards. Disintegrating Florida (17) is the only SEC team to have allowed more.
Besides, Calzada throws an accurate deep ball. He showed that with a perfectly-placed 30-yard touchdown pass to Moose Muhammad in last week's 52-3 blowout of Prairie View.
He also showed that against Ole Miss with a perfectly-placed that Demond Demas dropped. He had a 49-yard pass to Caleb Chapman against Auburn. He threw a beautiful 25-yard touchdown pass to Ainias Smith against Alabama. He hit Demas for a 70-yard touchdown against New Mexico.
When running, the Aggies should attack the edges of the LSU defense. That probably means getting the football more to Devon Achane rather than Isaiah Spiller. LSU's run defense has been bolstered inside with the return of tackle Glen Logan from injury.
The A&M defense must play well. LSU's offense has been largely stagnant of late. The Tigers have scored 17 points or less in their past three SEC games.
LSU's running game is sporadic, and the pass protection is erratic. The Tigers have given up 32 sacks.
Meanwhile, A&M has a strong pass rush and a good — though sometimes vulnerable — run defense. Contain LSU running back Tyrion Davis-Price and pressure quarterback Max Johnson, and the Tigers probably won't reach 20 points again.
The Aggies must also get off to a fast start. A&M was outscored 39-6 in the first half of road games against Colorado, Arkansas and Ole Miss.
They led Missouri 28-7 at halftime of the other road game.
Do those things, and A&M's performance might be reminiscent of another old movie — "The Road Warrior."
If not, Aggies will remain road worriers.
Never miss the latest news from TexAgs!
Join our free email list
PRESENTED BY