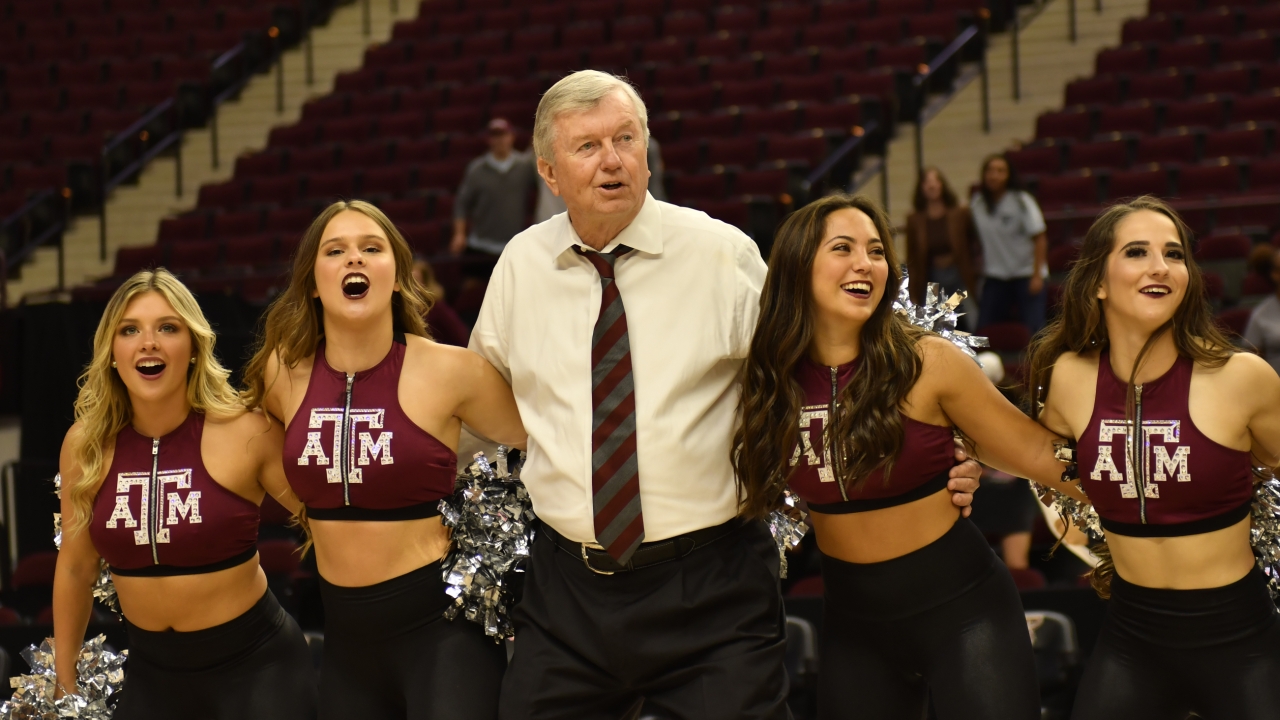 Texas A&M Women's Basketball
Aggies dominate offensively in season opener against A&M-CC, 87-54
---
Basketball officially returned to Aggieland Tuesday evening with No. 23 Texas A&M defeating A&M-Corpus Christi, 87-54, kicking off hall of fame head coach Gary Blair's 19th and final season with the Aggies.
"You just adjust, and that's what I've done for 50 years. You adjust, I really thought we would see more zone but we didn't have it," Blair said. "But we saw a well-coached team on the other end and we needed to go against that. Forget the score because it didn't seem like a 30 point game. We'll make adjustments, I got good coaches and I'll let them work."
Shots were abundant from all around tonight with four players breaking double digits and a program-record 12 three-pointers being tied with guards Jordan Nixon and Destiny Pitts leading the effort with three triples each. The Aggies' unselfish brand of basketball also culminated in 23 assists in the contest.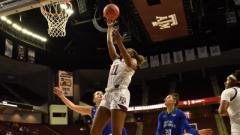 Celina Hernandez, TexAgs
"Last game we didn't shoot the ball very well," guard Kayla Wells said. "It felt like the rim was this wide when you hit the first one so you keep hitting and finding each other and finding who was hot, I thought that was important"
"The beauty of this basketball team is that we move the ball well, we look great doing it and I think we find each other," Nixon said. "There were some moments Kayla had some open shots, Destiny had some open shots, and skipped it, Destiny was spotting up ready to go. Trusting each other, confidence, playing Aggie basketball and being unselfish."
Off the tip, the Aggies took a couple of possessions to get settled as the Islanders got out to an early lead.
The contest soon turned into a back and forth round with both sides capitalizing off of a fast-paced playstyle. Nixon heated up the Aggies' offense with two consecutive 3-pointers to garner much-needed momentum.
In the face of an early half-court press from the Islanders, Kayla Wells managed to establish a strong inside game for A&M as center Sydnee Roby followed suit, muscling her way through the low post for 8 first-half points off of a perfect 3-3 from the field.
The 3-ball continued to benefit the Aggies as Pitts started off the second half with a quick 'catch and shoot' ball from Wells.
Texas A&M found shots from all spots on the floor and maintained a well-oiled offense through much of the third. Qadashah Hoppie, one of three transfers, led A&M's second unit behind three assists and 10 points at the end of the third quarter.
Sahara Jones provided the Maroon & White with a much-needed spark off a fast bucket and trip to the foul line to begin the final frame. Nixon continued to orchestrate the Aggies offense, finding Pitts for a three on her seventh assist of the night.
After two consecutive empty trips at the line, the Aggies were shooting a rough 45.5% on free throws halfway through the fourth quarter despite finding great low-post positioning. Shooting woes at the stripe would result in an overall 53.6% (15-28) on the night.
"Free throws are not going to bother me tonight, but it will bother me tomorrow during practice. We'll do a lot better job at shooting.
"Free throws are not going to bother me tonight, but it will bother me tomorrow during practice. We'll do a lot better job at shooting," Blair said. "But we got there 28 times, but we let them have 22 free throws and that's where not talking and switching on defense switching to tonight. They kept getting shots underneath the basket and we'll correct that hopefully."
Freshman guard Keslynn Oxendine lit up the floor for the Aggies in the final two minutes with back-to-back triples, earning her first career points and adding the finishing touches to an outstanding offensive showcase by A&M.
Though the Aggies closed out the season opener with a win, the team is still eager to continue building chemistry and clean up the mistakes made in today's game.
"Every day in practice, one percent better every day, get one more assist, turn the ball over one fewer time, just finding that chemistry," Nixon said. "Chemistry is everything and I feel that people overlook that, but we have it and it's going to continue building just as long as we put our energy into it."
"What we focus on will continue to improve. It starts with us."
Up next the Aggies will host Southern on Thursday night at 7:00 p.m. to kick off a four-game homestand.
Never miss the latest news from TexAgs!
Join our free email list