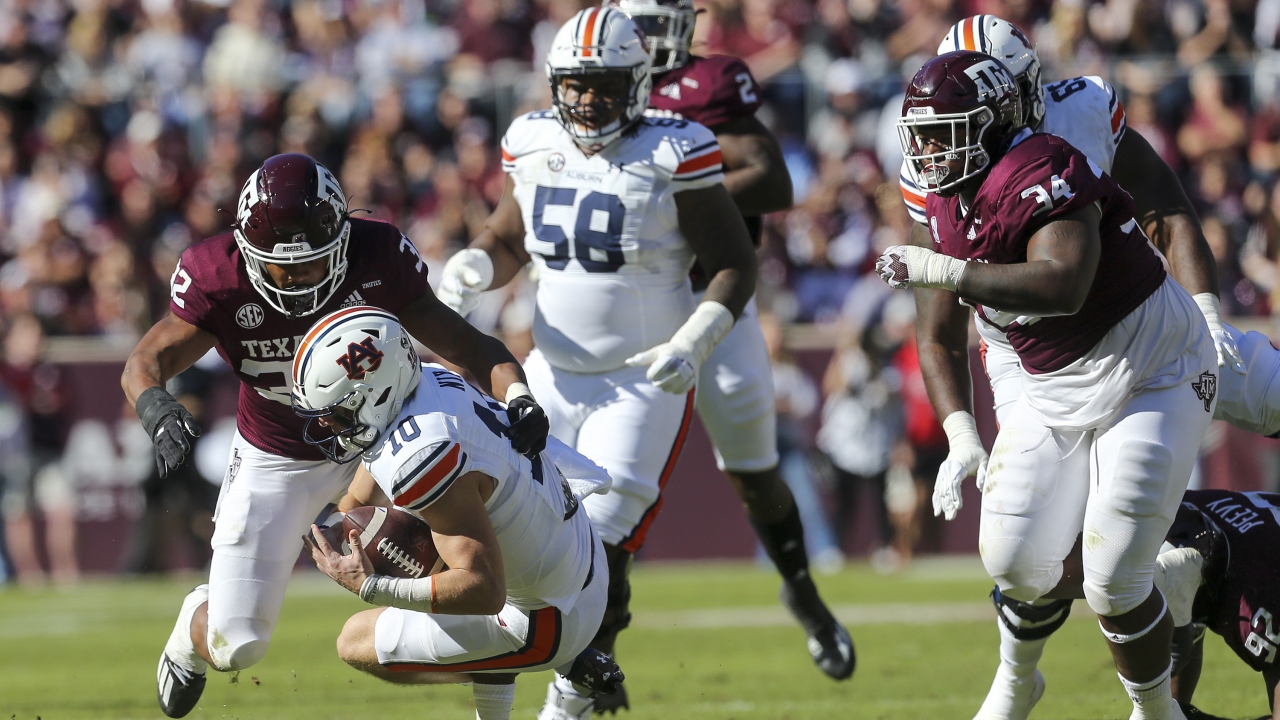 Photo by Thomas Shea-USA TODAY Sports
Texas A&M Football
Post Game Review: No. 14 Texas A&M 20, No. 13 Auburn 3
---
Defensive struggle. Defensive win.
In a top-15 showdown at Kyle Field, No. 14 Texas A&M defeated No. 13 Auburn, 20-3, in a contest that did not feature an offensive touchdown. The Aggies outgained the Tigers 409-226 on the day.
Auburn picked up a quick first down and moved into A&M territory on the opening drive of the contest. After an incompletion and a short three-yard run by Tank Bigsby on second down, Tyree Johnson sacked Bo Nix to force the game's first punt.
The Aggies' first possession started very similar to Auburn with a quick first down. Facing fourth-and-1 at their own 37, Isaiah Spiller fell forward to keep the drive alive. A 25-yard pass to Jalen Wydermyer then moved the Ags into plus territory. Two more first downs gave A&M first-and-goal at the 5, but Derek Mason's defense forced the Ags to settle for a 21-yard field goal by Seth Small.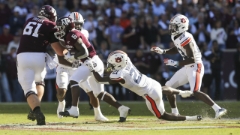 Thomas Shea-USA TODAY Sports
Nix & Co. responded with a 14-play march, picking up a pair of third-down conversions along to way. However, the Tigers also settled for three as Anders Carlson converted a 32-yard attempt.
Devon Achane elected to return the ensuing kickoff but failed to advance beyond the 10. A&M's offense sputtered, giving the ball back to Nix and the Tigers at the Auburn 47 following a 53-yard boot by Nik Constantinou.
Mike Elko's unit responded with another stop, highlighted by an explosive TFL from Edgerrin Cooper and a strip by Johnson on third down. While Nix was able to regain possession, the Tigers punted it back to the Aggies.
Taking over at the 16, A&M again went three-and-out. Despite being tackled, Constantinou's second punt went for 43 yards, and there was no flag for roughing or running into the kicker.
After the defense forced a three-and-out, Ainias Smith called for a fair catch at the 7 but was tackled by Ladarius Tennison, which moved the Aggies to the 20. Spiller took the second play of the series for 18 yards, but A&M ultimately punted from the 45. Constantinou's boot was fair caught at the Auburn 18.
Aided by an ineligible man downfield penalty against Auburn, Elko's squad forced yet another three-and-out. Beginning at their 30, A&M moved into Auburn territory but failed to score as Small pushed a 42-yard attempt wide right.
The defensive struggle continued as Auburn was forced to punt with 1:11 remaining in the opening half, and the Aggies elected to kill the clock.
A&M's offense continued to sputter, opening the third with a three-and-out. Fortunately, Constantinou flipped the field as the Tigers took over at their 28.
Nix and steady running by Bigsby led the Tigers into the red zone, but Carlson's 33-yard field goal attempt faded right and missed as the score remained deadlocked at 3-3.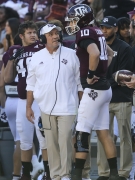 Thomas Shea-USA TODAY Sports
A 49-yard deep bomb from Zach Calzada to Caleb Chapman moved the Aggies to the Auburn 32 as the duo connected again on the very next play for 10 yards. Calzada then hit Smith on a contested grab for 18 yards to the 4-yard line. Consecutive false starts backed A&M into first-and-goal at the 14. A hold on second down pushed the Aggies back to the Auburn 24. Calzada ran for ten on a quarterback draw before coming up with an apparent injury. Small gave the Aggies a 6-3 lead with a 29-yard field goal.
A&M's defense pitched another quick three-and-out as Spiller opened the next offensive series with a 23-yard run to the A&M 35. Calzada then returned to the game, and facing third-and-8, he zipped an 18-yard strike to Smith for the Aggies' first third-down conversion of the afternoon. On the final play of the third, Spiller rushed for 15 to Auburn's 30-yard line. However, A&M stalled. Fortunately, Small nailed a 47-yard to give the home team a 6-point edge.
Nix coughed up the game's first turnover as Jayden Peevy forced a fumble that Micheal Clemons scooped up and returned 24 yards for the game's first touchdown. Calzada rifled a strike to Smith for the 2-point conversion and a 14-point lead.
Again Auburn punted quickly, but on what looked to be a massive run for Achane, Donovan Kaufman punched the ball free at the 27, turning a 68-yard run into a turnover as Auburn regained possession at their 5-yard line.
On the ensuing possession, Auburn faced fourth-and-1. Bigsby rushed for two to keep the drive alive, but three plays later, the Tigers faced fourth-and-13. A completion of 12 yards was not enough to move the chains as A&M took over on downs at the Auburn 46 with 6:50 to play.
Need a conversion on third-and-9, Calzada found Chapman for 18 yards and a fresh set of downs, allowing the Aggies to continue to bleed to the clock. Miscommunication on third-and-2 led to Calzada taking a two-yard loss. Small gave the Ags a three-score lead with 3:15 to play with his third field goal of the game.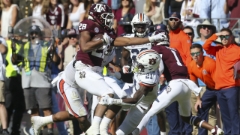 Thomas Shea-USA TODAY Sports
On fourth-and-5, Jaylon Jones picked off Nix with 2:43 to play to seal the win.
Now winners of four straight, Texas A&M travels to Oxford next Saturday to face Lane Kiffin and the Ole Miss Rebels.
RUMBLED: Defense was king as both Mike Elko and Derek Mason controlled a game in which only a combined 23 points were scored. There was not an offensive touchdown in the contest. A&M's defense held Auburn to just 73 rushing yards as the Aggies racked up 217 on the ground.
STUMBLED: Texas A&M's ball catchers had the drops early. Jalen Wydermyer dropped three. Ainias Smith dropped what would have been a first down. Even cornerback Tyreek Chappell dropped an interception that was thrown right to him. All those came in the first half.
UNSUNG HERO: Jayden Peevy made the biggest play of the day, forcing the Bo Nix fumble that led to A&M's defensive touchdown. Peevy only had three tackles but played a crucial role in stopping Auburn's inside running game.
TURNING POINT: With first-and-goal at the 4-yard line, back-to-back false starts pushed the Aggies back before they had to burn their first timeout of the second half. A hold against Jahmir Johnson pushed A&M back further. Calzada suffered an injury on a 10-yard second down. Despite the brutal stretch, Seth Small gave the Aggies a three-point edge with 3:39 to play in the third. They never relinquished the lead.
KEY STAT: Second-half points. Texas A&M outscored the visitors 17-0 in the final 30 minutes as the Aggies earned their first-ever home victory over the Tigers.
Scoring Summary
First-quarter
A&M: 7:12 - Seth Small 21-yard field goal. Drive: 14 plays, 80 yards. TOP: 5:21. Texas A&M 3, Auburn 0
AUB: 0:20 - Anders Carlson 32-yard field goal. Drive: 14 plays, 60 yards. TOP: 6:52. Texas A&M 3, Auburn 3
Third-quarter
A&M: 3:39 - Seth Small 29-yard field goal. Drive: 10 plays, 68 yards. TOP: 5:37. Texas A&M 6, Auburn 3
Fourth-quarter
A&M: 13:40 - Seth Small 47-yard field goal. Drive: 9 plays, 58 yards. TOP: 3:18. Texas A&M 9, Auburn 3
A&M: 13:04 - Micheal Clemons 24-yard fumble recovery for a touchdown (2-point conversion is GOOD). Texas A&M 17, Auburn 3
A&M: 3:15 - Seth Small 37-yard field goal. Drive: 7 plays, 26 yards. TOP: 3:35. Texas A&M 20, Auburn 3
Never miss the latest news from TexAgs!
Join our free email list