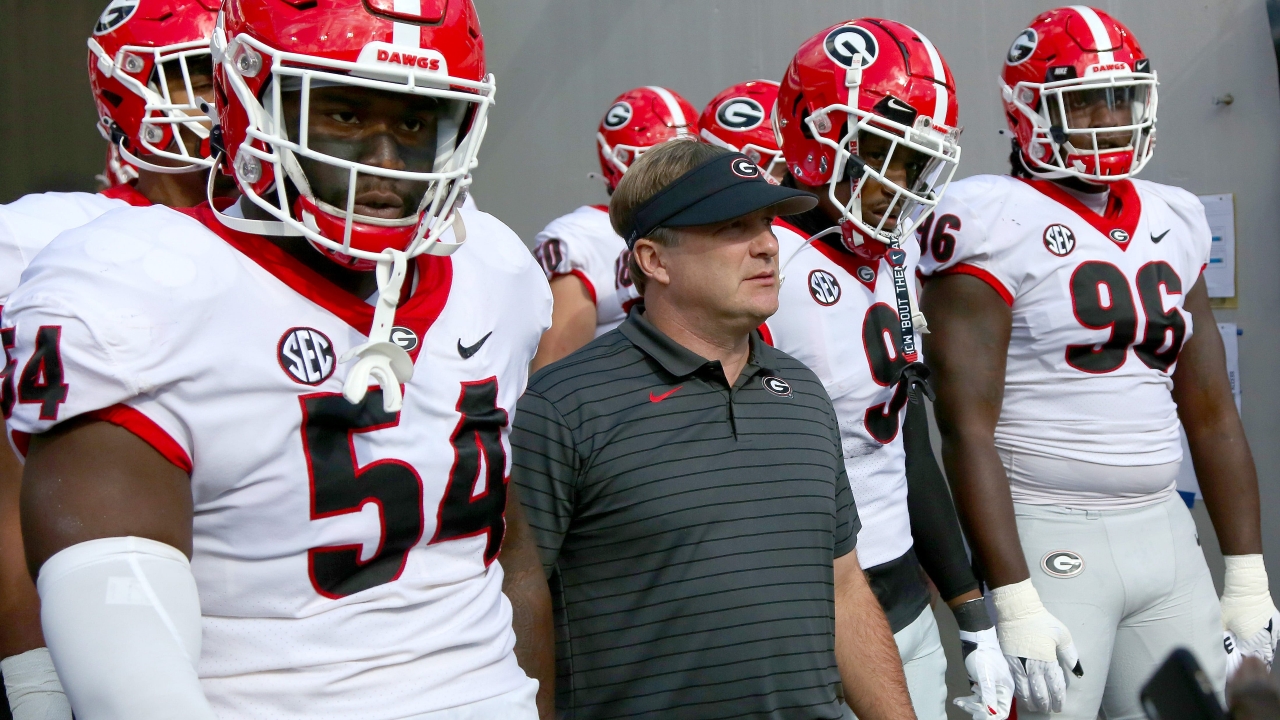 Photo by Brad McClenny/USA TODAY NETW
Texas A&M Football
SEC Round-Up: Plenty of potential for chaos to shake up playoff picture
---
The Southeastern Conference is the only league that has put two teams into the College Football Playoff at once. In 2018 Georgia and Alabama were in the four-team field along with Clemson from the Atlantic Coast Conference and Oklahoma from the Big 12.
The SEC hopes to put two teams in the field again this season. However, that could require another "first."
Barring unforeseen upsets, No. 1 ranked and undefeated Georgia will face No. 2 Alabama (7-1) in the SEC championship game. If a one-loss Alabama upset Georgia, both SEC teams would likely be included in the field. But what if Georgia won?
Could Alabama become the first two-loss team to get into the playoff field?
Or what if Texas A&M or Auburn ran the table to finish 10-2 and then upset Georgia?
Could either of them get in the playoff over say… Oklahoma, which has struggled in the weak Big 12, Wake Forest from the even weaker ACC or Cincinnati, which plays a spongy-soft Group of Five schedule?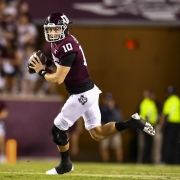 Maria Lysaker-USA TODAY Sports
No objective person would argue Alabama — or A&M, which defeated Alabama — isn't better than OU, Wake Forest or Cincinnati.
But even observers from the SEC Network doubt a two-loss team could get in.
"At the end of the day, you can say maybe a two-loss Alabama team that lost to a Georgia in the SEC championship is still one of the better teams in the country," SEC Analyst Jordan Rodgers said. "But in a way, to me, that's a play-in game."
"While (the playoff) is still four I think we have to punish losses and honor wins as much as possible. So, I think it would be really really tough. There would have to be a lot of chaos for sure."
Chaos? You want chaos?
What if No. 6 Cincinnati loses? That would effectively eliminate the Bearcats. What if Michigan State defeats Ohio State, which would give the Buckeyes two losses?
If Oklahoma or Wake Forest lose they would be one-loss teams that have been largely unimpressive in poor conferences.
One-loss Oregon could lose again.
The SEC Network's Laura Rutledge agreed chaos is necessary, but wouldn't rule out the possibility.
"Things would have to be in such chaos elsewhere," she said. "Let's say they (Alabama) lose to Georgia in the SEC Championship on a fluke play or even a situation where Alabama looks like the more dominant team for the majority of the game and somehow they end up losing."
"I do think the committee could be in a tough spot. As we saw, the committee is ranking very intently on strength of schedule. That's how it's supposed to be right? You're supposed to take the four best teams."
Records do not necessarily reveal the best teams. Cincinnati has a win over 7-1 Notre Dame, but the remainder of Cincinnati's current opponents are a combined 17-31. The Bearcats have had trouble with some of those opponents, beating Navy by a touchdown and struggling to beat Tulane.
Would Alabama or A&M or Auburn be unbeaten against Cincinnati's schedule? Or Oklahoma's? Or Wake Forest's?
Probably.
Would Cincinnati, Oklahoma or Wake Forest be unbeaten if they faced an SEC schedule?
Probably not.
"I do think (the committee) can be in a bit of a conundrum," Rutledge said. "If you're putting like a Cincinnati against a two-loss Alabama that just barely lost to Georgia in the SEC championship, that's going to be a tough one for them.
"They're probably going to say Alabama is the better team and will create a better college football playoff."
However, acknowledging that doesn't mean the committee would actually select a two-loss SEC team. Those outside the SEC footprint would be irate.
"You're not supposed to think about, 'What would fans say about that?'" Rutledge said. "It's hard as a human being to not let that creep in."
"I think with all the conversation around expansion of the playoff that it would be really difficult putting a two-loss SEC team in as opposed to giving another conference or another team an opportunity."
Around the SEC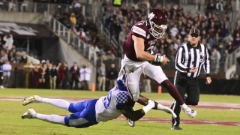 Matt Bush-USA TODAY Sports
Who's hot: Mississippi State quarterback Will Rogers is on a serious roll. He's passed for 300 yards or more in six straight games. Big deal, right? That's what quarterbacks do in coach Mike Leach's offense. But Mississippi State has also won three of its last four games and two of those were over ranked opponents — Texas A&M and Kentucky. He completed 92 percent of his 39 passes in the 31-17 win over Kentucky last week.
Who's not: Kentucky's pass defense has come upon hard times. The Wildcats have allowed at least 250 passing yards in three consecutive games. It's one thing that Mississippi State's Rogers passed for 344 years on them. It's quite another that Georgia's Stetson Bennett riddled the Wildcats for 250 passing yards and three touchdowns.
The pressure is on: Florida coach Dan Mullen can't really be in jeopardy of losing his job, right? Surely not after posting 21 wins in his first two seasons in Gainesville. Except, the Gators are just 4-4 this year after finishing 8-4 and losing their last three games of last season. Or put it this way: Since beating Tennessee 31-19 on Dec. 5 last season, Florida has only beaten Florida Atlantic, South Florida, Tennessee and Vanderbilt. Last week the Gators were beaten soundly by arch-rival Georgia. Then, Mullen blew off a question about recruiting because — as he said — it's not "recruiting season." Recruiting season? Fortunately for Mullen, the Gators remaining schedule includes South Carolina, Samford, Missouri and Florida State. That should ensure another 8-win season. Of course, too many 8-win seasons will get you fired in Gainesville.
Keep an eye on: The Arkansas secondary has had problems in recent SEC games. The Razorbacks allowed 287 passing yards to Ole Miss and 292 to Auburn. A big part of the problem is the loss of star safety Jalen Catalon, who is out for the remainder of the season after undergoing shoulder surgery. Sophomore safety Myles Slusher has started in place of Catalon. He's not necessarily the reason the Razorbacks are struggling, but he is in a difficult position of replacing the best player. Mississippi State's passing game would stress a healthy secondary. The Razorbacks could be in trouble unless Slusher and his cohorts in the secondary dramatically raise their level of play.
Best matchup: Texas A&M's Ainias Smith is one of the best receivers in the SEC. Auburn cornerback Roger McCreary is one of the best at his position. If/when they face off in man-on-man coverage, that will match up two future NFL players who should get All-SEC recognition.
This week's SEC schedule
Auburn at Texas A&M
LSU at Alabama
Mississippi State at Arkansas
Florida at South Carolina
Missouri at Georgia
Tennessee at Kentucky
Liberty at Ole Miss
Never miss the latest news from TexAgs!
Join our free email list