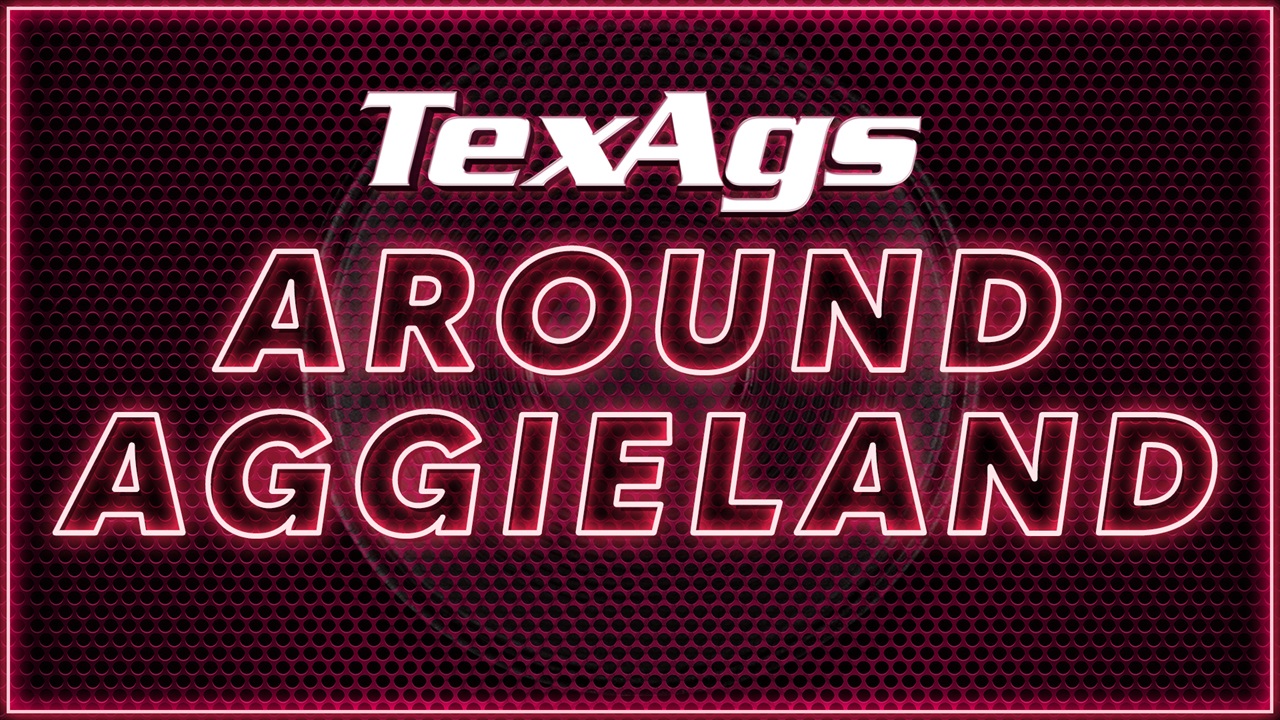 Texas A&M Football
Around Aggieland (10/25)
---
During Monday's edition of TexAgs Radio, Richard Zane joined to take us Around Aggieland and provided updates from the gridiron, the pitch and beyond as it was a busy weekend for Texas A&M Athletics.
---
Football (6-2, 3-2 in SEC)
Texas A&M dominated South Carolina on Saturday night, defeating the Gamecocks, 44-14, to retain the James Bonham Trophy for the eighth consecutive season.
The Aggies led 31-0 at halftime and held the Gamecocks to just 15 yards of total offense through the first three quarters.
Ainias Smith returned a punt 95 yards for a touchdown to open the scoring.
Jalen Wydermyer caught a pair of touchdowns and became the program's all-time leader in receiving yards by a tight end (1,306).
Both Isaiah Spiller (102) and Devon Achane (154) each crossed the century mark for the second consecutive week.
Tyree Johnson sacked quarterback Zeb Noland twice. Postgame, Johnson was wearing a walking boot that was described as "precautionary."
In the fourth quarter, Tyreek Chappell and Deuce Harmon each registered their first career interceptions. The Aggies had three takeaways in the game.
Winners of three straight games, the Aggies moved up in both polls and are now ranked No. 14 in the AP and Coaches polls.
For their performances vs. South Carolina, a number of Aggies have been nominated for SEC weekly awards, and the winners were announced on Monday:
No. 14 Texas A&M is off this week and will be back at Kyle Field on Saturday, November 6, to host Auburn at Kyle Field.
Auburn is currently 5-2 (2-1 in SEC), ranked No. 18 in the AP Poll and plays No. 18 Ole Miss at Jordan-Hare Stadium this week.
Kickoff time and TV information for A&M-Auburn will be announced on Monday.
Soccer (7-8-2, 3-5-1 in SEC)
On Sunday afternoon, G Guerrieri and the Aggies earned a hard-fought 2-1 win over Vanderbilt in the regular-season home finale.
20' - Karlina Sample scored her first goal of the season off a Barbara Olivieri assist.
30' - Vanderbilt's Hillary Schroeder tied the match.
67' - Olivieri scored the game-winning goal, her fifth of the season, off assists by Maile Hayes and Lauren Geczik.
Texas A&M will conclude the regular season on Thursday night as they face Missouri in Columbia.
Kickoff is scheduled for 6:00 p.m. CT and will be streamed on the SEC Network+
The Southeastern Conference Tournament begins on Sunday, October 31, in Orange Beach, Alabama.
Equestrian (2-1, 1-0 in SEC)
No. 5 Texas A&M pulled off a comeback victory on the road against No. 9 South Carolina, prevailing 10-8.
Down 6-3, the Aggies took seven of the final 10 points to earn their first conference win of the season.
Rhian Murphy earned Most Outstanding Performer honors in Flat.
Devon Thomas earned Most Outstanding Performer honors in Fences.
Volleyball (11-9, 4-6 in SEC)
In a back-to-back in Starkville, Aggie volleyball dropped both matches with Mississippi State this weekend in four sets.
Saturday: Mississippi State 3, Texas A&M 1

23-25, 25-20, 25-27, 16-25
Mallory Talbert had a team-high 13 kills along with 2 aces and 3 blocks.
Camille Conner had 34 assists, and Sabrina Sustala had 19 digs.

Sunday: Mississippi State 3, Texas A&M 1

11-25, 25-22, 15-25, 21-25
Lauren Davis had 12 kills, and Morgan Christon had 11.
Conner had 37 assists, and Macy Carrabine had 12 digs.
Texas A&M has the weekend off and will be back in action next Thursday, November 4, when they begin a back-to-back with Auburn at Reed Arena in Bryan-College Station.
Bird Kuhn will speak to the media on Thursday this week despite having no matches on the schedule.
Men's Golf
Playing in the Golf Club of Georgia Collegiate this weekend in Alpharetta, No. 9 Texas A&M finished second with a program record (in relation to par) 38-under for the tournament.
On Sunday, the Aggies shot a tournament-best 18-under 272.
No. 11 Pepperdine won the tournament at 42-under, setting a tournament record.
Individually, Sam Bennett finished third at 12-under, and Walker Lee finished fifth at 11-under.
With the fall slate officially in the books, Texas A&M will return at the end of January to play in the Sea Best Invitational in Ponte Verda, Florida.
The tournament runs from January 31 through February 1 and will be held at the Dye Valley Course.
Women's Golf
Gerrod Chadwell & Co. will close their fall slate this week as the Aggies play in The Ally at West Point, Mississippi.
The tournament begins on Monday, October 25, and concludes on Wednesday, October 27.
Hosted by Mississippi State, other SEC teams competing in the event include Alabama, Arkansas, Auburn, Florida, Kentucky, LSU, Missouri, TCU, Tennessee and Vanderbilt.
Texas A&M's start lineup includes Hailee Cooper, Adela Cernousek, Blanca Fernández García-Poggio, Amber Park and Zoe Slaughter. Brooke Tyree will compete as an individual.
Baseball
A former Texas A&M baseball player will win the World Series as Brooks Raley of the Houston Astros and AJ Minter of the Atlanta Braves each helped their teams win the pennant this weekend.
Game 1 of the World Series is set for Tuesday night. First pitch is set for 7:09 p.m. CT on FOX.
Men's Tennis
The Aggies travel to Columbia, South Carolina, this weekend to play in the South Carolina Invitational.
The tournament begins on Friday, October 29, and ends on Sunday, October 31
Cross Country
Texas A&M runs in the SEC Championships on Friday morning at the Gans Creek Course in Columbia, Missouri.
The men's 8,000m race begins at 10:08 a.m. CT, and the women's 6,000m race begins at 10:50 a.m. CT.
The event will be televised on the SEC Network.
Softball
Jo Evans & Co. continues the fall slate on Friday as they host Texas State at Davis Diamond for their fourth fall exhibition game.
First pitch is set for 6:30 p.m. CT and admission will be free.
Swimming & Diving
Both the men's and the women's teams are off this week and will return to the pool on Friday, November 5, when they host TCU at the Rec Center Natatorium.
Never miss the latest news from TexAgs!
Join our free email list