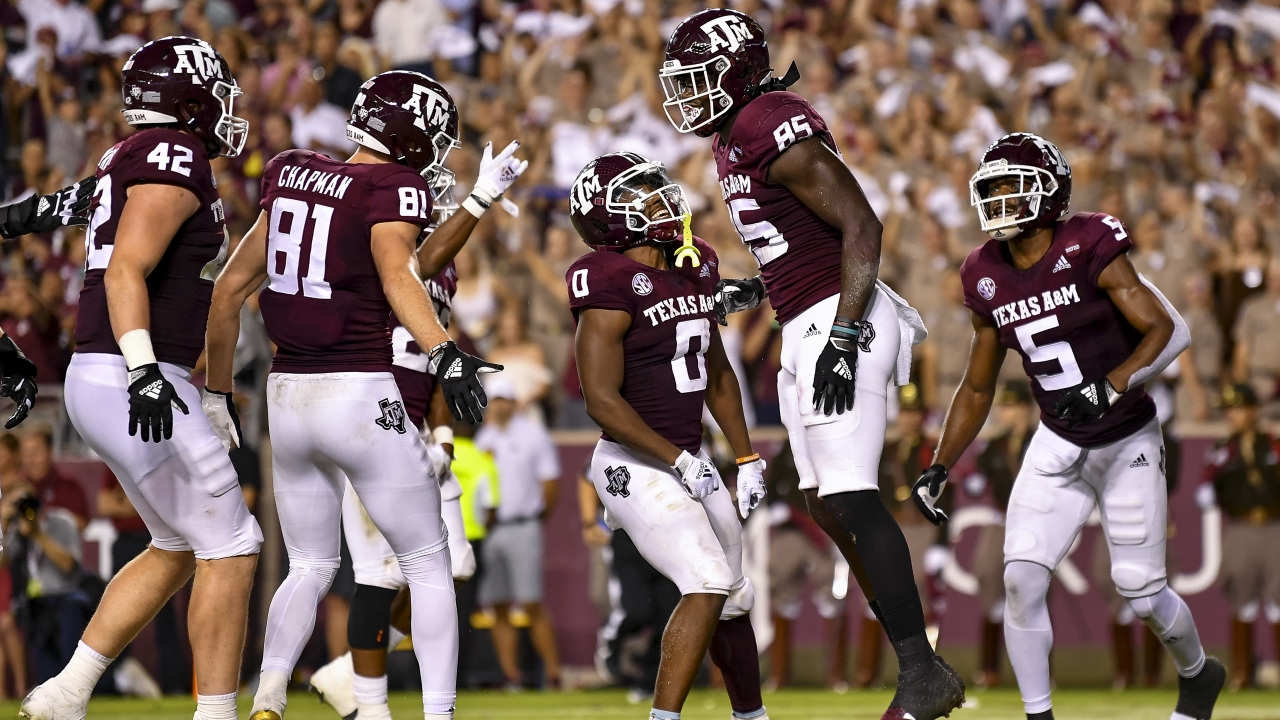 Photo by Maria Lysaker-USA TODAY Sports
Texas A&M Football
Post Game Review: No. 17 Texas A&M 44, South Carolina 14
---
Super-sized shellacking of South Carolina.
No. 17 Texas A&M rolled South Carolina in a 44-14 beat down at Kyle Field on Saturday night. The Aggies outgained the Gamecocks, 477-185, as the dominance of A&M's defense was on full display.
The rout started early. A horse-collar against DeMarvin Leal on the second play of the game pushed South Carolina into Aggie territory, but then the visiting offense sputtered. Ainias Smith fielded the ensuing punt at his own five, made a couple of men miss and was off to the races, taking it 95 yards to the endzone.
Mike Elko's defense pitched a quick three-and-out, bringing the Aggie offense out for the first time. After picking up a first down on the ground, Zach Calzada threw into coverage, resulting in an interception at the South Carolina 44-yard line.
A&M's defense held firm again, and on the following drive, the Aggies turned to Isaiah Spiller, handing it to the junior tailback seven times for 53 yards. After a hold against Kenyon Green set the Ags up in first-and-20, Calzada threw a dart to Jalen Wydermyer for a 25-yard touchdown.
Again, Zeb Noland and South Carolina's offensive possession was short-lived as the Aggies took over at their 27-yard line. A pass-interference penalty against Cam Smith on third down kept A&M's drive alive and pushed them into South Carolina territory. The Ags found the endzone once more on a well-designed screen to Wydermyer as he followed Bryce Foster for 28 yards to the goal line.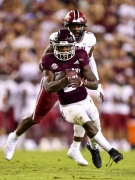 Maria Lysaker-USA TODAY Sports
An errant snap on the Gamecocks' next possession flew over Noland's head and was recovered by Aaron Hansford at the South Carolina 6-yard line. Three plays player, Spiller found paydirt on a one-yard touchdown run.
Tyree Johnson's sack on third down highlighted A&M's third three-and-out of the game, but a 73-yard punt by Kai Kroeger rolled to the Aggies 6-yard line. Seven straight carries by Devon Achane moved A&M to midfield before Calzada connected with Wydermyer for seven yards and a first down. A beautiful back-shoulder throw to Demond Demas for 27 yards moved the Aggies into the red zone. However, A&M settled for a 32-yard field goal by Small to cap a 14-play, 7:04 drive to end the half.
To open the third quarter, Calzada led a nine-play, 64-yard drive that included a 33-yard completion to Jalen Preston, but A&M again settled for a Seth Small field goal, this one from 28 yards.
On South Carolina's first possession of the second half, another Johnson sack cemented the fourth three-and-out of the night for the Gamecocks.
After moving across midfield, the Aggie offense stalled, and Small's 47-yard attempt was blocked by Darius Rush.
A&M's defense continued to hand the ball back to the offense. Five consecutive Achane runs moved the Aggies 74 yards to the endzone as the sprinter busted a 35-yarder to give A&M a 41-0 advantage with three minutes to play in the third.
South Carolina again went three-and-out, but Beamer elected to go for it on fourth-and-4 at their own 31. Edgerrin Cooper came up with a stop on a three-yard pass to force the turnover-on-downs, but more concerning was the fact that Johnson had to be helped off with an apparent injury.
On the second play of the final stanza, Small tacked on a 31-yard field goal to push A&M's lead to 44.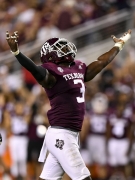 Maria Lysaker-USA TODAY Sports
Aided by a roughing-the-passer against Shemar Turner and an unsportsmanlike-conduct call against Leon O'Neal on fourth-and-10, the Gamecocks finally moved into the red zone and ultimately scored on a 9-yard carry by MarShawn Lloyd to wreck the shutout.
With A&M subbing in its second-team offense led by backup quarterback Blake Bost, the Ags quickly went three-and-out as Nik Constantinou finally saw his first action as his 56-yard boot was returned by Josh Vann for 20 yards to the USC 35. However, after picking up a first down, Tyreek Chappell intercepted Jason Brown in the endzone for the Aggies' second takeaway of the night.
After another three-and-out and Constantinou punt, the Gamecocks again moved into A&M territory, but a Deuce Harmon interception gave the Aggies the ball at their 41-yard line.
Bost & Co. went on another short drive, and the Gamecocks responded with a garbage-time touchdown with 12 seconds remaining.
With the James Bonham Trophy staying in the Lone Star State for the eighth consecutive year, the Fightin' Texas Aggies will be on the bye next week before they host Auburn at Kyle Field on November 6.
RUMBLED: For the second consecutive week, the Aggies had a pair of 100-yard rushers. Devon Achane rushed for 154 yards on 20 carries, including a 35-yard touchdown run. Isaiah Spiller ran for 102 on 18 tries and also had 20 receiving yards on three receptions. Kudos to the Maroon Goons for paving the way yet again.
STUMBLED: South Carolina's offense was atrocious, but this is just a creative way to give Mike Elko's defense the praise they deserve. A&M held the Gamecocks to just 185 yards of total offense. A&M sacked South Carolina quarterbacks three times and made seven tackles behind the line of scrimmage. Almost all of the positive yardage the Gamecocks found came against A&M's backups, as the Aggies allowed 170 yards in the fourth quarter alone.
UNSUNG HERO: Tyreek Chappell came away with a late interception, the first pick of his young A&M career.
TURNING POINT: After Ainias Smith returned the game's first punt 95 yards to the house, the contest was over.
KEY STAT: South Carolina was 1-for-11 on third downs. The Aggies were 5-for-10. A&M's defense forced five three-and-outs.
Scoring Summary
First-quarter
A&M: 12:30 - Ainias Smith 95-yard punt return for a touchdown. Texas A&M 7, South Carolina 0
A&M: 0:57 - Zach Calzada 25-yard touchdown pass to Jalen Wydermyer. Drive: 10 plays, 90 yards. TOP: 4:44. Texas A&M 14, South Carolina 0
Second-quarter
A&M: 10:36 - Zach Calzada 28-yard touchdown pass to Jalen Wydermyer. Drive: 9 plays, 73 yards. TOP: 4:12. Texas A&M 21, South Carolina 0
A&M: 8:36 - Isaiah Spiller 1-yard touchdown run. Drive: 3 plays, 6 yards. TOP: 0:40. Texas A&M 28, South Carolina 0
A&M: 0:00 - Seth Small 32-yard field goal. Drive: 14 plays, 79 yards. TOP: 7:04. Texas A&M 31, South Carolina 0
Third-quarter
A&M: 12:03 - Seth Small 28-yard field goal. Drive: 9 plays, 64 yards. TOP: 2:57. Texas A&M 34, South Carolina 0
A&M: 3:01 - Devon Achane 35-yard touchdown run. Drive: 5 plays, 74 yards. TOP: 2:33. Texas A&M 41, South Carolina 0
Fourth-quarter
A&M: 14:54 - Seth Small 31-yard field goal. Drive: 5 plays, 20 yards. TOP: 1:20. Texas A&M 44, South Carolina 0
USC: 12:07 - MarShawn Lloyd 9-yard touchdown run. Drive: 7 plays, 75 yards. TOP: 2:47. Texas A&M 44, South Carolina 7
USC: 0:12 - Jason Brown 12-yard touchdown pass to Traevon Kenion. Drive: 9 plays, 59 yards. TOP: 1:45. Texas A&M 44. South Carolina 14
Never miss the latest news from TexAgs!
Join our free email list