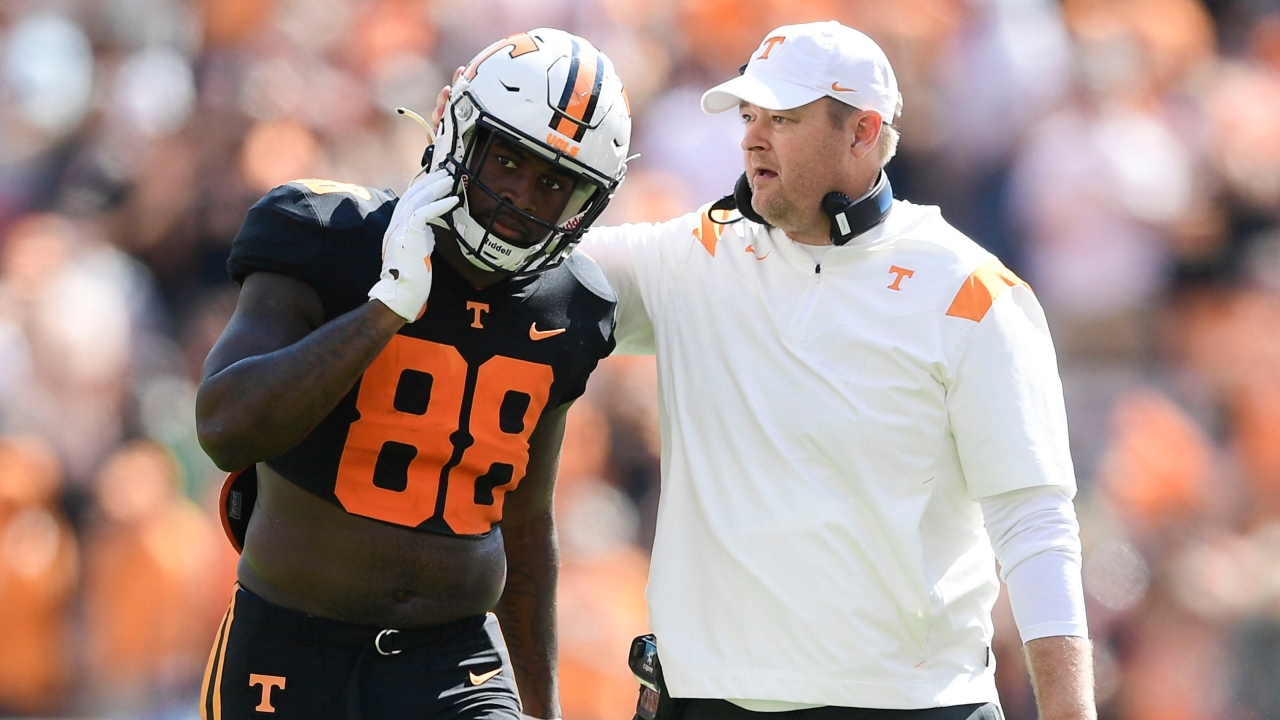 Photo by Calvin Mattheis/News Sentinel/USA TODAY NETWORK
Texas A&M Football
SEC Round-Up: Can Tennessee reignite the 'Third Saturday in October' rivalry?
---
There was a time when the clash between Big Ten powerhouses Michigan and Minnesota was among college football's most intense rivalries. They began playing for "the little brown jug" as a trophy in 1904.
Times change. Minnesota's football prowess faded, while Michigan's climbed. Since 1968 Minnesota has won just four times. The brown jug remains at stake, but it's hardly a rivalry.
Times change in the Southeastern Conference, too.
Tennessee and Alabama once had an annual grudge match. If it is still a rivalry, it's like a rivalry between a bug and a windshield.
Tennessee, of course, is the bug that's been splattered by Alabama for 14 consecutive years.
The Tide has been so dominant that LSU has even objected to that game being played annually. The argument is Alabama gets an easy victory over Tennessee every year, while LSU has to punch it out with Florida on an annual basis.
The Tigers have a point, too.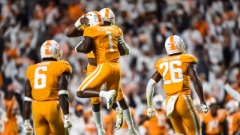 Bryan Lynn-USA TODAY Sports
The last time Tennessee won, running back Arian Foster scored a touchdown with 3:28 remaining for a 16-13 victory. Foster retired in 2016 after a successful NFL career and now is a musical artist known as Bobby Feeno.
There is little question Alabama's winning streak will extend to 15 years on Saturday. Alabama (6-1, 3-1) is ranked fourth in the nation. Tennessee (4-3, 2-2) likely will finish fourth in the SEC East Division.
The only real question is whether the "Third Saturday in October" — a game no longer always played on the third Saturday in October — is still a rivalry?
Earlier this week Alabama coach Nick Saban insisted it still is.
"Well you can say it however you want to say it, but it's significant if you don't have success in the game because it's significant to a lot of people," Saban said. "And what happened however many years will have no impact on this game and the only thing that matters is what happens now."
First-year Tennessee coach Josh Heupel agreed. Kind of.
"For us, it's really important that we continue to build the culture and build our program," Heupel said. "Absolutely it's important to get a win in this football game and rivalry between the two schools. But for us, it's about controlling the controllables and continuing to grow and to prepare in the right way."
In truth, Alabama-Tennessee has become more a tradition than a rivalry.
It's a tradition the winning players celebrate by smoking victory cigars.
And it has become a tradition that Alabama players smoke them after smoking the Volunteers.
Around the SEC
Who's hot: Somebody has to play defense for LSU, right? Linebacker Damone Clark certainly is. He leads the SEC with 79 tackles. Clark has been especially productive of late. He's posted double-digit tackle totals in each of the Tigers' last four games.
Who's not: Ole Miss's run defense has been exposed and exploited in SEC play. Alabama rushed for 210 yards on the Rebels. Then, Arkansas rolled up 350 yards. Tennessee followed with 222 last week. That's an average of 260.6 yards in SEC play. Overall, the Rebs are allowing 198.3 yards to rank 111th in the nation against the run.
Keep an eye on: LSU running back Tyrion Davis-Price has slapped the Tigers out of a rushing coma. LSU had not managed more than 84 rushing yards in four games against FBS opponents until two weeks ago. But Davis-Price rushed for 147 yards and scored two touchdowns against Kentucky. Then, he exploded for 287 yards and three touchdowns in a win over Florida last week. Look for another big outing from him. The Tigers face Ole Miss.
The pressure is on: The Tennessee Volunteers offensive line has allowed 25 sacks thus far. That's a whopping eight more than the next leakiest line (South Carolina). Next, the Vols face Alabama. Tide linebacker Will Anderson leads the SEC in sacks after posting four last week. Tennessee quarterback Hendon Hooker may get to know Anderson real well.
Best matchup: For all of South Carolina's problems, its defensive line is actually pretty solid. DE Kingsley Enagbare is a 2020 All-SEC selection with 15 career sacks. Meanwhile, junior DT Zacch Pickens is a former five-star recruit. Senior DE Aaron Sterling and senior DT Jabari Ellis complete the defensive front. They pose a challenge for the Texas A&M offensive line that has made considerable progress in recent weeks. All-American Kenyon Green is playing at a high level, while freshman center Bryce Foster and tackle Reuben Fatheree have steadily improved.
This week's SEC schedule
South Carolina at Texas A&M
Tennessee at Alabama
LSU at Ole Miss
Mississippi State at Vanderbilt
Arkansas vs Arkansas-Pine Bluff at Little Rock
Never miss the latest news from TexAgs!
Join our free email list
PRESENTED BY