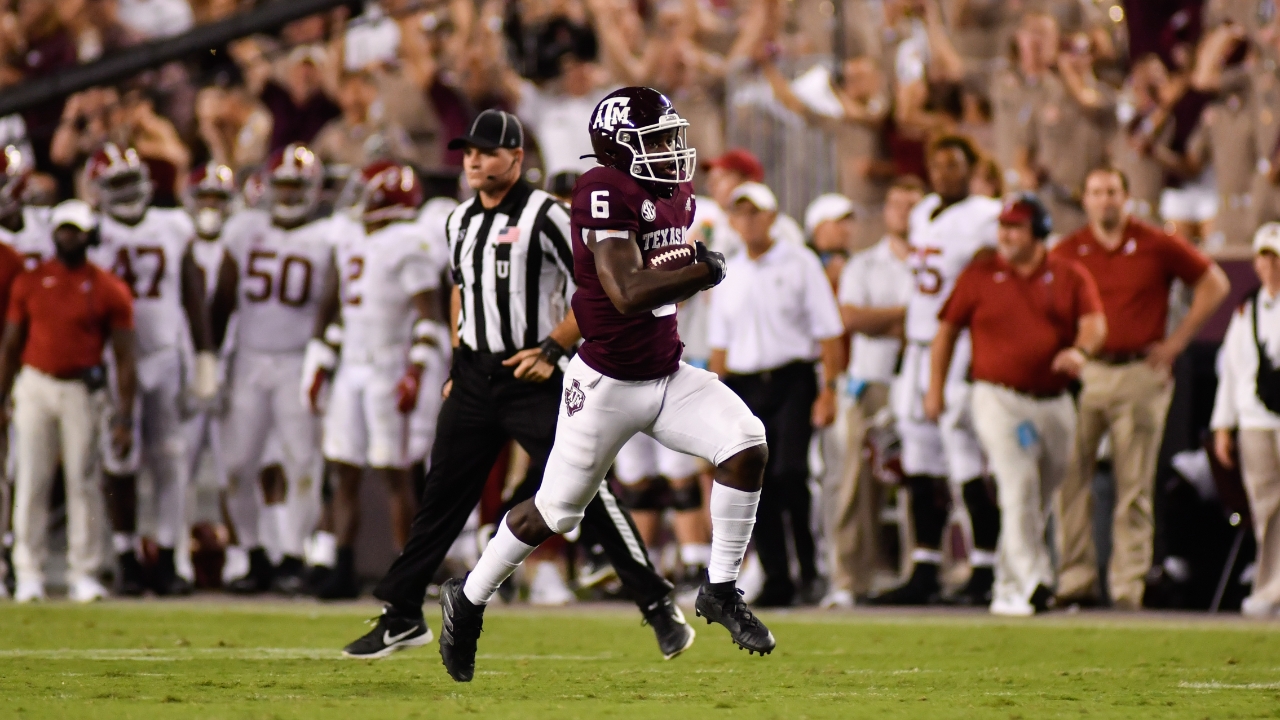 Photo by Jamie Maury, TexAgs
Texas A&M Football
Devon Achane named SEC Special Teams Player of the Week
---
Ninety-six yards. House call.
On Monday, Texas A&M's Devon Achane was named the Southeastern Conference's Special Teams Player of the Week following his performance in the Aggies' monumental upset of No. 1 Alabama. The speedster made his presence felt with a 96-yard kickoff return for a touchdown in the third quarter.
The Crimson Tide had just blocked a punt and recovered it in the endzone for a touchdown. A&M's lead had been trimmed to seven. Kyle Field needed a jolt.
Enter the Mo City Von.
Achane fielded Will Reichard's kick at his own four, followed Jalen Preston through a hole created by Max Wright, Jalen Wydermyer and Isaiah Raikes, moved to his left at the 30 and outran everybody to the goal line for an electrifying score.
"I couldn't believe it," Achane said. "The hole was so big. It was just like, 'Is this for me?' It was just amazing."
Preston started celebrating before Achane even crossed midfield knowing no one would catch the blazing Achane. An elated 12th Man erupted. The track star changed the game.
"It just gave us a lot of momentum," Achane said. "It was a big opportunity for us. We were talking about it even before it happened."
The touchdown gave the Ags a 31-17 lead with 23 minutes to play. It was the first kickoff return for a touchdown by an Aggie since Jashaun Corbin's 100-yard score to open the 2018 Arkansas game.
A sophomore from Fort Bend Marshall, Achane introduced himself to the nation in last year's Orange Bowl by breaking off a 76-yard touchdown run to seal a win over North Carolina. On Saturday, he showed he can impact multiple phases of the game.
Devon Achane: Pat Henry's and Ryan Brauninger's favorite Texas A&M football player.
Never miss the latest news from TexAgs!
Join our free email list