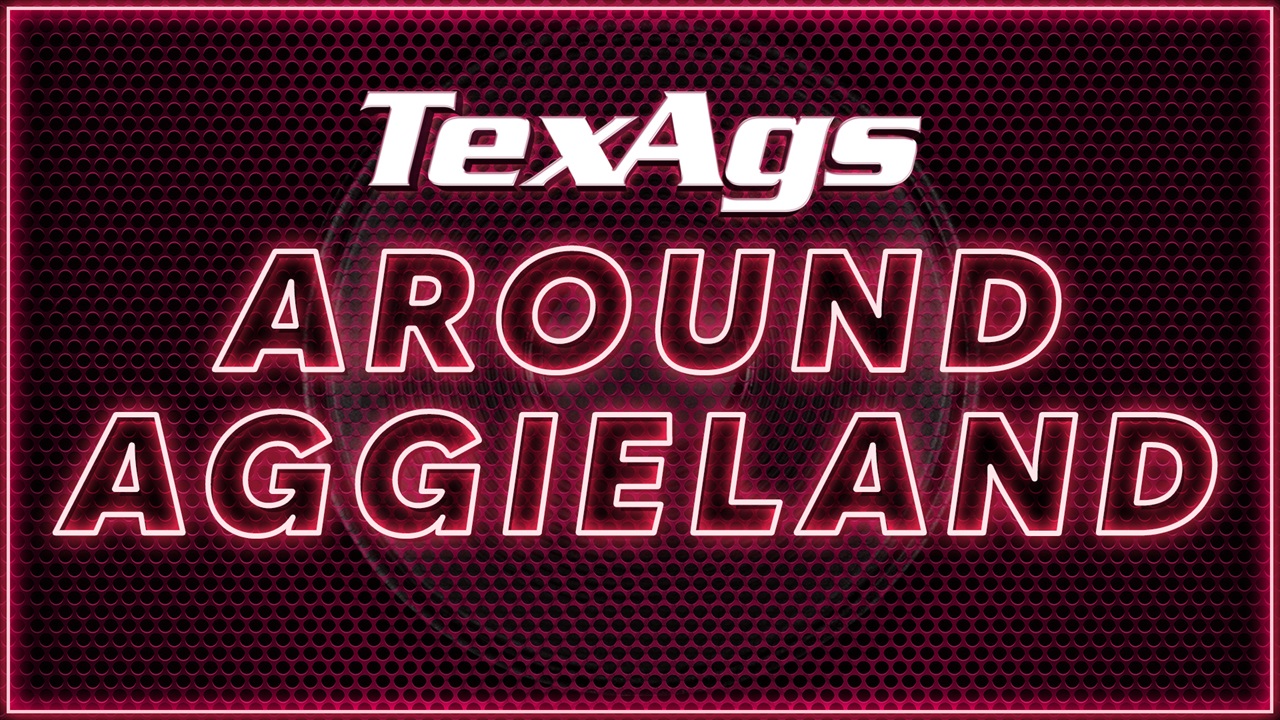 Texas A&M Football
Around Aggieland (10/4)
---
During Monday's edition of TexAgs Radio, Richard Zane joined to take us Around Aggieland and provided updates from the gridiron, the pitch and beyond as it was a busy weekend for Texas A&M Athletics.
---
Texas A&M University's 145th Birthday
On October 4, 1876, the Agricultural & Mechanical College of Texas held its first classes. Class was set to begin on October 2, 1876, but only six students had enrolled, resulting in a two-day delay. The school only had 40 students and six faculty members when it opened its doors as the first public institution of higher learning in the State of Texas.
Football (3-2, 0-2)
On Saturday night, previously-ranked No. 15 Texas A&M fell to Mississippi State, 26-22, at Kyle Field.
The Aggies allowed 408 passing yards in the loss.
As a result, the Aggies have dropped to unranked in the AP Poll (No. 15 last week) and Coaches Poll (No. 13 last week).
Jimbo Fisher and select players will speak to the media on Monday afternoon.
Also joining Monday's press conference will be baseball's Jim Schlossnagle, basketball's Buzz Williams, volleyball's Bird Kuhn, soccer's G Guerrieri and cross country's Wendel McRaven.
Full coverage of Monday's press conference will be available on TexAgs.com and @TexAgs on Twitter.
Texas A&M hosts No. 1 Alabama on Saturday night at Kyle Field.
Kickoff is set for 7:00 p.m. CT on CBS.
It will be the first time the Aggies play the primetime game on CBS since joining the SEC in 2012.
Volleyball (10-4, 3-1)
Bird Kuhn & Co. earned a split this week as the Aggies faced No. 20 Tennessee in Knoxville on Saturday and Sunday.
Saturday: No. 20 Tennessee 3, Texas A&M 0

19-25, 20-25, 21-25
The Vols' attacking percentage was .250, while A&M's was a microscopic .080.
Morgan Christon led the Aggies with 10 kills.

Sunday: Texas A&M 3, No. 20 Tennessee 2

24-26, 25-23, 17-25, 25-21, 17-15
Christon had a game-high 20 kills, while Lauren Davis added 16 and Destiny Cox had 15.
Camille Conner registered 9 kills (.421) and had 45 assists.
The Aggies are back at Reed Arena this week for a pair of matches against the Georgia Bulldogs (4-10, 0-3) on Thursday and Friday.
Thursday: 7:00 p.m. CT, streaming on SEC Network+
Friday: 7:00 p.m. CT on the SEC Network
Soccer (5-6-1, 1-3-0)
Texas A&M suffered yet another defeat on Friday night, falling to No. 12 Tennessee, 3-1, at Ellis Field.
The Aggies' losing streak has reached four matches, the longest in program history.
Barbara Olivieri and Maile Hayes returned to action after dealing with their respective injuries.
53': Carissa Boeckmann opened the scoring courtesy of an assist from Jai Smith.
Tennessee scored three unanswered goals (56', 63', 76') to win the match.
The Aggies travel to Baton Rouge on Thursday night to face LSU (8-3, 1-2)
First kick is set for 6:00 p.m. CT, streaming on the SEC Network+.
Baseball
Jim Schlossnagle and the Aggies will face Houston at Olsen Field at Blue Bell Park on Friday night for their first exhibition game of the fall.
First pitch is set for 6:00 p.m. CT.
Admission will be free, and the contest will not be televised.
A&M received another verbal commitment over the weekend as Grayson College catcher JD Gregson has given his pledge to the Maroon & White.
Men's Basketball
The 2021 Maui Jim Maui Invitational will not take place in Hawaii as the event has officially been moved to Las Vegas.
The tournament will now be played at the Michelob ULTRA Arena at Mandalay Bay.
Texas A&M will face Wisconsin on Monday, November 22, and the game will be televised on ESPN2.
Men's Tennis
Playing in the ITA All-America Championships in Tulsa, Okla. on Sunday, Texas A&M's Guido Marson and Luke Casper have advanced to the qualifying round of the tournament.
Marson defeated Arizona State's George Stroupe and Omaha's Matt Hulme.
Casper defeated Georgia Tech's Kashan Chopra and Liberty's Josh Wilson.
The qualifying first round will see Noah Schacter, Matthis Ross and Pierce Rollins join Marson and Casper in singles action.
Texas A&M also has three doubles pairings in the doubles competition.
The qualifying round runs Oct. 4-5, and the main draw runs from Oct. 6-10.
Women's Tennis
Texas A&M wrapped up play in the H-E-B Invitational in Waco on Sunday.
Jeanette Mireles finished as the tournament's runner-up behind Arkansas' Morgan Cross.
The Aggies begin play in the ITA All-American Championships in Charleston, South Carolina, on Monday morning.
Swimming & Diving
The women's team begins the 2021-22 slate on Thursday as they face Houston at the CRWC Natatorium.
The meet begins on Thursday at 2:00 p.m. CT and will not be televised.
The men's team opens the season this weekend as they travel to Dallas for the SMU Classic at the Robson & Lindley Aquatics Center.
The meet begins on Friday, October 8, at 6:30 p.m. CT and will conclude on Saturday morning.
Never miss the latest news from TexAgs!
Join our free email list